U.S. Supreme Court Won't Open Its Grounds to Demonstrations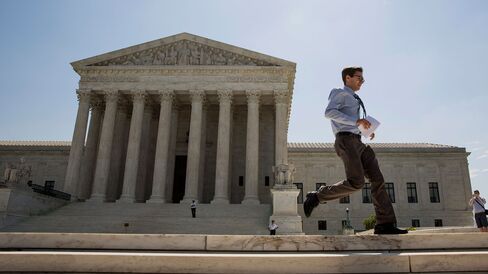 The U.S. Supreme Court has long said that free speech has limits. It turns out one of those limits is at the court's property line.
The justices Monday turned away a First Amendment challenge to a federal law that bars demonstrations and signs on the Supreme Court grounds, including the 20,000-square-foot plaza that fronts the marble building.
The rejection leaves intact a federal appeals court ruling that said the 1949 measure was a reasonable way to maintain decorum and promote the idea that the high court is immune from public opinion.
Demonstrators are now confined to the public sidewalk that runs in front of the court building, across the street from the U.S. Capitol. The Supreme Court ruled in 1983 that the demonstration ban couldn't be enforced on the sidewalk.
Civil rights activist Harold H. Hodge Jr. challenged the law. He was arrested on the plaza in 2011, while a student at the College of Southern Maryland, for wearing a sign that said, "The U.S. Gov. Allows Police To Illegally Murder And Brutalize African Americans And Hispanic People."
The case is Hodge v. Talkin, 15-863.
Before it's here, it's on the Bloomberg Terminal.
LEARN MORE