Obama Cites Bullying of Transgender Students in Bathroom Fight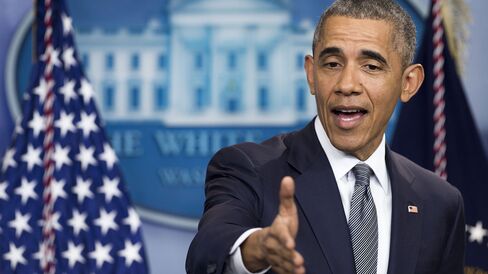 President defends guidance to schools in Buzzfeed interview

Some Republicans instruct schools to disregard U.S. letter
President Barack Obama pleaded with politicians and parents who have fought over transgender students' use of school bathrooms to step back and consider the vulnerability of the children involved.
"Kids who have a different sexual orientation or are transgender are subject to a lot of bullying, potentially," Obama said in an interview with BuzzFeed News on Monday. "They are vulnerable."
That, he said, should be obvious to "anybody who's been in school, in a high school, who's been a parent."
Republican political leaders and social conservatives have furiously criticized a directive the Obama administration issued Friday instructing all U.S. public schools to let transgender students use bathrooms and locker rooms based on their gender identity.
Mississippi Governor Phil Bryant and Arkansas Governor Asa Hutchinson, both Republicans, instructed schools in their state to disregard the guidance. Texas Republican Lieutenant Governor Dan Patrick said the state would forfeit federal funding for its schools rather than follow the guidance.
Culture Wars
Obama's comments, along with the legal guidance issued jointly by the Education and Justice departments, have placed the administration in the midst of the latest dividing line in the country's culture wars. Earlier last week, the administration sued North Carolina over a state law forcing transgender people to use public restrooms based on the sex identified on their birth certificate.
In the BuzzFeed interview, which was broadcast live on the Facebook and YouTube social media platforms, Obama made a passionate case that public officials give weight to the impact of their actions on a minority group subject to harassment, particularly in schools.
"It is part of our obligation as a society to make sure that everybody is treated fairly and our kids are all loved and they're protected and their dignity is affirmed," he said.
While the letter the administration sent to all U.S. school districts isn't legally binding, it explains the Obama administration's interpretation of their requirements under federal gender discrimination laws, implicitly carrying the threat of a lawsuit or federal funding cut-off for school districts or colleges that don't comply.
Obama said his administration issued the legal guidance in response to requests from schools around the country for advice on how to proceed.
"Courts will affirm or reject how we see the issue," Obama said. In the meantime, his administration thought it "appropriate" to "give them our best judgment about how to approach it."
Before it's here, it's on the Bloomberg Terminal.
LEARN MORE