Clinton Testimony Tied to Benghazi Records Sought by Group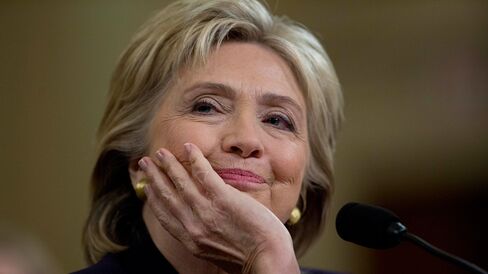 Conservative watchdog asks court permission to query candidate

Judicial Watch sued to obtain documents concerning 2012 attack
Hillary Clinton's sworn testimony is sought by a conservative watchdog group seeking records related to the September 2012 attack on the U.S. diplomatic compound at Benghazi, Libya.
Judicial Watch made its request known in a filing late Monday with U.S. District Judge Royce Lamberth, who previously said the Washington-based group could engage in "limited discovery" in its 2014 lawsuit. The case involves the U.S. State Department's response to a demand for information tied to the terrorist assault that left U.S. Ambassador Chris Stevens and three other Americans dead.
The case threatens to provide another distraction for Clinton, the front-runner for the Democratic presidential nomination, and revive Republican criticism of how she handled Benghazi while serving as secretary of state. Clinton already is under scrutiny for her use of a private e-mail address to conduct public business.
Judicial Watch has been pursuing records related to Clinton's tenure, including those stored on her private e-mail server. This is the first time the group has expressly sought permission to question her.
The case before Lamberth is the second in which a Washington federal judge has ruled that concerns about the adequacy of the State Department's response to public record requests warrant the questioning of Clinton aides and possibly the candidate too.
The other judge, U.S. District Judge Emmet Sullivan, has said Clinton could be questioned if needed in a second Judicial Watch case, but only with his prior permission.
Sullivan is presiding over a Freedom of Information Act case concerning production of records relating to top Clinton aide Huma Abedin's employment by the State Department, the Clinton Foundation and an outside consulting firm. On May 4, Sullivan approved the group's request to question Abedin, and Clinton's one-time chief of staff, Cheryl Mills, among others.
"Judicial Watch continues to clog the courts with its partisan lawsuits intended only to hurt Hillary Clinton's presidential campaign," Brian Fallon, a spokesman for the Clinton campaign, said in an e-mail. "This suit's original purpose was to chase bogus allegations about Benghazi talking points, but with that conspiracy theory debunked, it is now being repurposed to continue to attack Hillary Clinton."
The cases are Judicial Watch v. U.S. Department of State, 14-cv-1242, and 13-cv-01363, U.S. District Court, District of Columbia (Washington).
Before it's here, it's on the Bloomberg Terminal.
LEARN MORE