Puerto Rico Bill in Slow Motion as House Timetable Slips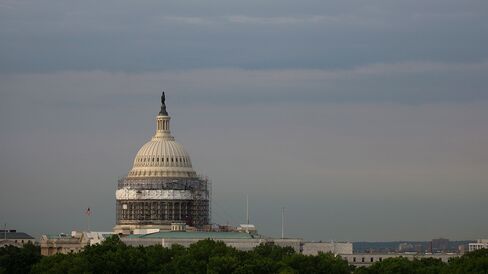 House Republicans say any changes in bill will be minor

Bishop suggests Congress may have several weeks to act
House Republicans are struggling to agree on their latest version of a stalled bill to address Puerto Rico's financial crisis amid signs that lawmakers' urge to act quickly is waning.
While the island faces a crucial payment deadline on July 1 for part of its $70 billion debt load, it's unclear how soon, if at all, Congress will be able to get the measure to the president.
"Nothing's do or die," House Natural Resources Chairman Rob Bishop told reporters earlier this week. The Utah Republican indicated that Congress might not even need to act on a bill until June -- after lawmakers take a one-week break from Washington starting on Memorial Day.
"The correct answer is I'd like to see it happen as soon as possible," Bishop said. "The accurate answer is it doesn't actually have to happen this work period. It's amazing what can be done if you actually need to."
The basic framework of the bill will remain similar to previous versions, Bishop said, including the creation of an outside fiscal control board in return for allowing the territory to restructure its $70 billion in debt.
Distracted Ryan
Bishop had been planning to unveil the bill earlier this week, but it's been delayed by continued haggling over details between Republicans, Democrats and the U.S. Treasury Department.
Another obstacle has been that House Speaker Paul Ryan, whose office has been involved in shaping the ultimate product, was distracted this week by a high-profile summit aimed at mending fences with Donald Trump, his party's presidential nominee.
Ryan, in a statement Friday, said legislation will be introduced "in the coming days."
"Let me be clear: There will be no taxpayer bailout of Puerto Rico," Ryan said in the statement.
Congress has already missed one deadline for a bill to prevent Puerto Rico from defaulting on its debt, leading the island to default on $370 million in bond payments at the beginning of May. Now, an even heftier $2 billion payment by Puerto Rico comes due on July 1. That amount will include more than $700 million in general obligation bonds that are supposed to be guaranteed under the island's constitution.
Questions Remains
Whether this next version of the bill will gain enough rank-and-file support by then to advance through Bishop's committee, the full House, and then the Senate remains a question.
Already, Bishop on Friday was expressing uncertainty over whether the committee would meet on Wednesday next week to advance the bill, as previously anticipated.
He said, "That may give some heartburn to some members," suggesting some panel members may want more time to review the measure. He said that in conversations so far, most are ready to proceed on Wednesday.
The earlier version of the bill, H.R. 4900, was scrapped on the eve of its scheduled markup last month. Objections raised by the Treasury Department, as well as by Republicans and Democrats on the Natural Resources Committee, signaled its success was unlikely.
Bishop said Friday that some of the alterations involved clarifying language to address some of those objections.
Overall, he said the basic process and powers of a proposed federal oversight board to help the territory deal with its debt haven't changed.
But there are potential storm clouds. Bishop said Democratic objections remain to provisions that would allow a reduction in the island's minimum wage and affect some retiree pensions.
Bishop emphasized that the larger goal is to help Puerto Rico in a way that doesn't amount to a taxpayer bailout, adding that "there is no reason this should be a partisan bill."
He wouldn't say whether he believes the bill has enough support from Republicans on his committee to be approved without Democratic help.
Before it's here, it's on the Bloomberg Terminal.
LEARN MORE