Wall Street Bets on a Democrat for the First Time Since 2008
Contributions from bankers to Republican presidential candidates dried up in the first three months of the year.
Wall Street's bet on the presidential race broke hard for Hillary Clinton this year, as the bankers' favorite Republican hopefuls fizzled and left the race.
Clinton gathered almost 70 cents of every $1 spent in the presidential race by employees of the six biggest U.S. banks in the first quarter, according to data compiled by Bloomberg Government based on Federal Election Commission reports.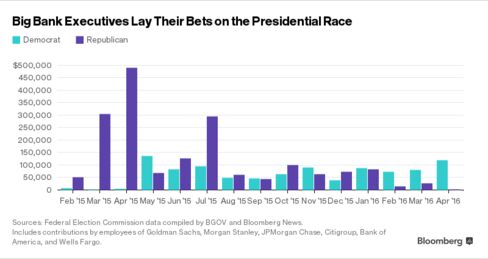 It's a sharp turnabout for the bankers, who favored Republican Mitt Romney in the last presidential race, and who sent the biggest share of their early money during this election cycle to Jeb Bush and his allies. Not since President Barack Obama's first presidential run in 2008 has Wall Street favored a Democrat, the data show.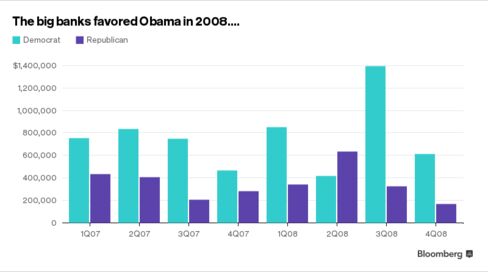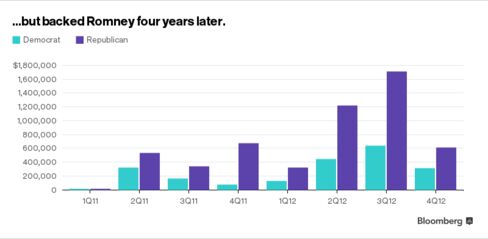 The change came in the first quarter, when Bush and the other Wall Street favorite, Marco Rubio, lost a series of Republican primary contests to Ted Cruz and Donald Trump. Rather than back the victors, many Republican-leaning Wall Street donors opted to stay out of the race altogether. The data is current through the end of March. Cruz dropped out of the race this month, leaving Trump as the presumptive nominee.
Spending by bankers on Republican presidential candidates and their allies, including super-political action committees and national party committees, dropped to just $52,514 in the first quarter—down from an average of $439,000 over the four previous quarters—while the Democrats raised $270,098. Last year, Republicans outraised them $1.8 million to $695,415. The data include money from employees of the six biggest banks: Goldman Sachs Group Inc., Morgan Stanley, JPMorgan Chase & Co., Bank of America Corp., Citigroup Inc. and Wells Fargo & Co.
The figures offer a potential warning to Trump, who is seeking to build a fundraising operation rapidly for the general election after mostly self-funding his primary run. Last week, he named a former Goldman Sachs banker, Steven Mnuchin, as his top outside fundraiser.
Yet executives at big U.S. banks have shown little interest in supporting him so far. Of the $12 million he raised through March 31, only $4,323 came from these employees, the data show. He's alarmed the business community with proposals to renegotiate free-trade agreements, and he roiled Wall Street again last week by suggesting the U.S. Treasury should buy its debt back at a discount.
"If you're talking about an investment in politics, in this election it's not clear what as a banker you're getting," said Anat R. Admati, a Stanford University finance professor, citing a lack of specific policies from Trump's campaign. "There's a lot of uncertainty."
Even without the banks' support, Trump will probably be able to get all the money he needs by targeting small amounts from millions of Americans, said Sam Geduldig, a Washington lobbyist whose clients include financial firms. "He can run an operation closer to what [Bernie] Sanders is doing and Obama did in '08," Geduldig said in an e-mail. "That should be concerning to Hillary Clinton."
The pace of political giving by the bank employees is running far behind the 2008 election cycle and about even with 2012's. Since the federal bailout of the banking sector at the end of 2008, Wall Street support has become something of a liability for politicians. Clinton has caught flak, for instance, for giving lucrative speeches to Wall Street firms. One of her most prominent backers during her last presidential run, Goldman Sachs Chief Executive Officer Lloyd Blankfein, was asked on CNBC in February if he's still behind her.
"I don't want to help or hurt anybody by giving them an endorsement," Blankfein said.
—With assistance from Bill Allison in Washington.
Before it's here, it's on the Bloomberg Terminal.
LEARN MORE