Chris Christie Takes Broader Role in Trump Campaign
The New Jersey governor will serve as chairman of the team planning the presumptive Republican nominee's transition to the White House.
Donald Trump on Monday announced New Jersey Governor Chris Christie will serve as chairman of the team planning the presumptive Republican nominee's transition to the White House.
Trump's campaign said in a statement that he is taking "critical steps to gear up for the general election against potential Democratic nominee Hillary Clinton, or whoever," after ousting his final primary competitors last week.
"Governor Christie is an extremely knowledgeable and loyal person with the tools and resources to put together an unparalleled Transition Team, one that will be prepared to take over the White House when we win in November. I am grateful to Governor Christie for his contributions to this movement," Trump said in the statement.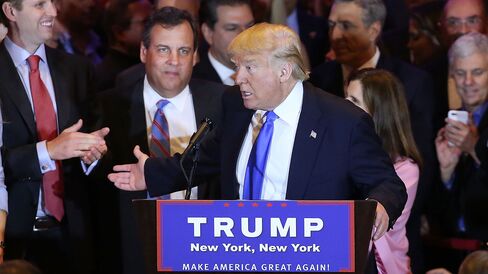 Christie, who made a surprise endorsement of Trump in February after dropping his own presidential bid, will oversee "an extensive team of professionals preparing to take over the White House," the statement said.
Brian Murray, a spokesman for Christie, declined to comment.
Christie's support offers Trump a bridge to Republican establishment, even as House Speaker Paul Ryan, a Wisconsin Republican, refuses (so far) to endorse the real-estate developer and TV personality. Ryan and Trump are scheduled to meet in Washington on Thursday.
Through Christie, Trump stands to reach a vast Republican fundraising apparatus. During Christie's chairmanship of the Republican Governors Association, he raised a record-breaking $102 million. The Trump campaign is seeking to raise at least $1 billion with the Republican Party before Election Day in November.
In March, Trump began laying the groundwork to install another ally—Ray Washburne, Christie's top finance adviser—as the top fundraiser at the Republican National Committee.
The news follows Trump's announcement last week that Ben Carson, another former political rival, would lead his efforts to find a vice president.
Christie's Transition
Christie, who rose to record high approval ratings after his handling of New Jersey's response to Hurricane Sandy, saw much of that goodwill obliterated in January 2014 by the so-called Bridgegate scandal over politically motivated lane closings at the George Washington Bridge. Allies of the governor allegedly closed local access lanes at the world's busiest bridge to punish a local mayor who'd refused to endorse Christie in his re-election effort.
In his own 2009 transition, which came after 12 years of Democratic rule, Christie's team tapped Democrats including the state senator representing New Jersey's second-largest city and former state Treasurer John McCormac, who served in that post under former Governor James McGreevey.
Christie, 52, defeated Democrat Jon Corzine in the 2009 election as voters rejected the incumbent's handling of the state economy amid the worst U.S. recession since the Great Depression. Unemployment rose to a 32-year high of 9.8 percent that September, double the 4.8 percent figure when Corzine took office in January 2006.
After the election, the succession of power was marked by a sense of fiscal crisis, as members of the transition team warned the state faced an $8 billion hole in its budget and was just weeks away from missing payrolls payments.
David Samson, an attorney and chairman of the Port Authority of New York and New Jersey during the closings, served as chairman of Christie's transition team. Even Corzine, the former co-chief of Goldman Sachs Group Inc. ousted by Christie, pledged to cooperate with the effort.
As U.S. attorney for New Jersey, Christie charged the father of Jared Kushner, who is married to Ivanka Trump, with tax evasion, witness tampering and illegal campaign contributions. The indictment accused Charles Kushner, a real-estate mogul who was one of the top Democratic donors in the country at the time, of setting up his brother-in-law with a prostitute in a New Jersey motel and videotaping the episode. After pleading guilty to 18 counts, he received a two-year sentence in federal prison.
The elder Kushner turned his firm Kushner Companies over to his son Jared after the conviction.
Before it's here, it's on the Bloomberg Terminal.
LEARN MORE