Trump Taps Goldman Alum as Uneasy Wall Street Weighs Its Options
Mnuchin is a `fresh, untainted face' in fundraising circles

The Dune Capital Management CEO's goal is $1 billion
A prince of Wall Street has cast his vote: Trump.
Less than 48 hours after Donald Trump locked up the Republican presidential nomination with a primary win in Indiana, Steven Mnuchin, a second-generation alumnus of Goldman Sachs Group Inc., threw his weight, and connections, behind him. Mnuchin will be Trump's national finance chairman, looking to tap a network of bankers and hedge-fund managers for campaign cash. His goal is to raise $1 billion from donors of all stripes.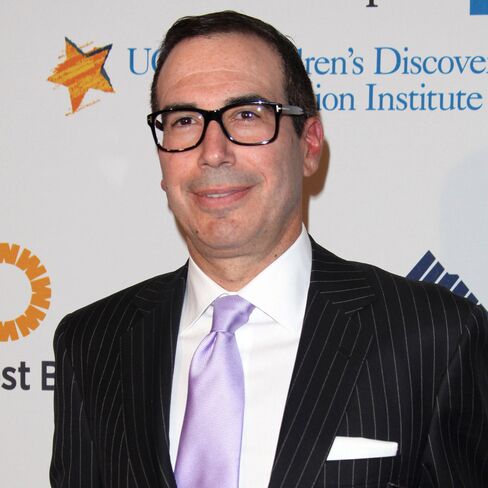 Thomas Barrack, founder and chairman of Colony Capital and a Trump supporter, called Mnuchin a "fresh, untainted face" in fundraising circles, and said his financial independence, earned at Goldman and as head of Dune Capital Management, was an advantage. "What may be perceived as a lack of expertise in the Republican Party, in this instance, is a big benefit," Barrack said. "He doesn't owe anybody anything."
But Mnuchin has his work cut out. The appointment of someone prominent in an industry Trump has criticized exposed political fault lines, even as it signaled the candidate is trying to embrace a community that's played crucial roles in past elections and has largely given him the cold shoulder. And it came as he struggles to gain broad support with establishment Republicans; House Speaker Paul Ryan said Thursday that he's not ready to support Trump, and the last two Republican Presidents, George H.W. Bush and George W. Bush, have no plans to attend the convention in Cleveland.
Hedge Fund Guys
In several ways, it's surprising that Mnuchin was quick to get on board. He and his father, also a former Goldman Sachs partner, have donated in the past to Hillary Clinton, the leading Democratic candidate. And in this year's election, Goldmanites have been notably absent from list of donors to Trump, whose hallmark policies include expelling illegal immigrants and renegotiating trade deals. Moreover, Trump himself has derided Mnuchin's current peers as "hedge fund guys," vowing to end the carried interest loophole that gives them preferential tax treatment.
At the Milken Institute Global Conference in Beverly Hills, California, this week, some of the industry's biggest donors said they won't support Trump, while others said they're still deliberating.
Ken Griffin, founder of $24 billion hedge fund Citadel, is taking a wait-and-see approach, according to a person familiar with his thinking. Paul Singer, a New York hedge-fund billionaire who is among the most active Republican fundraisers, recently helped arrange an anti-Trump advertising campaign. But he isn't backing Clinton, either, and will focus his contributions on the House and Senate, according to a person with knowledge of his thinking.
Goldman Ties
Former U.S. Representative Barney Frank, a Democrat who helped write the post-financial crisis Dodd-Frank Wall Street Reform and Consumer Protection Act, said he'd be amazed if Mnuchin could persuade many of his former colleagues to support Trump.
"It would surprise me if we saw a group of highly intelligent, sophisticated people who understand how the economy works line up for him," Frank said. "They are on the whole rational people, and I cannot think that they would have any sense of confidence."
Mnuchin has continued to cultivate his ties as a fixture at Goldman alumni events, which he typically attends with his father, Robert, according to a person who has seen them there. The son remains close to some senior Goldman leaders, the person said.
Smart People
The Mnuchins bear a kind of Wall Street pedigree that's come under attack in this year's presidential race. Robert was known as a pioneer of institutional stock trading at Goldman in the 1960s. He left in 1990 and became an art dealer with a New York gallery specializing in postwar works, according to its website. Steven, the second-youngest of five siblings, attended the prestigious Riverdale Country School and then Yale University, where his roommate was Edward Lampert, who would go on to become a hedge-fund manager and run Sears Holdings.
The younger Mnuchin trained at Salomon Brothers then joined Goldman in 1985. He spent 17 years there, climbing to partner and head of the mortgage department before joining Hank Paulson in the executive suite as chief information officer in 1999. Mnuchin was front and center for the advent of instruments like collateralized debt obligations and credit-default swaps, and he has called securitization "an extremely positive development" for its ability to finance part of the economy and businesses efficiently. The pitfalls of that approach came later, he's said.
Soros Backing
He cashed in on Goldman Sachs's 1999 initial public offering and left in 2002 to join Lampert's hedge fund. A year later he started a fund with George Soros's money, and in 2004, he formed Dune with two other ex-Goldman partners.
Mnuchin led a group that raised $1.55 billion to buy IndyMac Bank, the California mortgage lender that collapsed in 2008, from the Federal Deposit Insurance Corp. Notoriously press-shy, Mnuchin endured 2011 protests on the lawn of his Bel Air mansion by foreclosed homeowners angered at his lender's handling of soured mortgages. In 2014, he agreed to sell the bank, rebranded as OneWest Bank, to CIT Group Inc., the commercial lender run by John Thain, another Goldman alum.
Mnuchin said Thursday he's already gotten calls from fellow hedge-fund managers and others on Wall Street expressing their support. To those who worry about what a Trump presidency would look like, Mnuchin said he's convinced the candidate would place smart people in positions of power.
Meeting Trump
A registered Republican, Mnuchin said he joined the presumptive Republican nominee at Trump Tower on April 19, the night he won the New York primary. The next day, Trump asked him to take the job.
"Donald's appeal is way beyond the traditional political candidates, and what he stands for and represents is a completely new approach," Mnuchin said.
The two men appear to share an appreciation for distilling complex ideas into simple decisions, according to Jay Dweck, who as a Goldman Sachs partner in the early 2000s worked with Mnuchin on technology projects. Mnuchin was adept at homing in on the central facts needed to make an informed choice, said Dweck, chief technology officer at Arxis Capital Group, an automated trading firm. "He's good at cutting through the chaff to get to the wheat. It's a sensible choice for Trump."
Predicting Victory
More people on Wall Street may take a fresh look at Trump now that he appears bound for the general election in November.
"When I say Donald Trump's going to win, it's not that I'm wildly rooting for him, although I don't dislike Donald Trump," DoubleLine Capital's Jeffrey Gundlach said in an interview with Fox Business Network's "Wall Street Week" set to air Friday. "It's just like, I think it's going to happen."
Trump and Mnuchin have known each other for 15 years and have done business together, Mnuchin said, declining to comment further on the nature of their dealings. They worked together on real estate deals in Florida and Hawaii, according to a person who knows both of them. In 2008, Trump sued lenders including Dune Capital seeking to extend the term of a construction loan for a Chicago skyscraper. He dropped the case in 2009. Court records don't make clear what the outcome was for Dune Capital.
Mnuchin sounded a confident note about the prospects. "My expectation is there will be a lot of people on Wall Street who support Donald."
Before it's here, it's on the Bloomberg Terminal.
LEARN MORE