Ryan's #NotYetTrump Stance Gives Cover to Nervous Republicans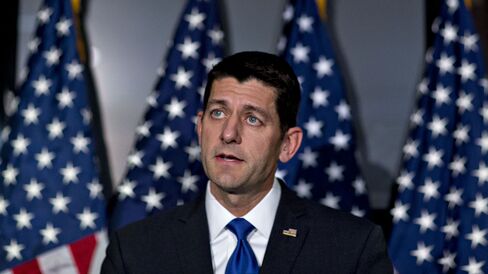 Speaker's strategy risks that party may not be able to unite

Many Republicans fall in line but there's fear of a bloodbath
Paul Ryan may have acted with his heart when he said he wasn't ready to endorse Donald Trump, but there are already doubts he can sustain that position or have any impact on the presumptive Republican nominee's approach.
The volatile real-estate magnate has effectively taken over the Republican Party by ignoring advice and rebukes from party leaders, including Ryan, one of its top officials as House speaker. And it's unclear whether Trump will be willing -- or able -- to reshape his image.
Vin Weber, a former Minnesota congressman and Trump critic, said he backed Ryan's move, but predicted the speaker will have to cave -- and quickly -- even if Trump refuses to change. "Paul in all likelihood cannot sustain this position for very long," he said.
Weber didn't think it was a tenable position for Ryan to go to the party's convention -- which Ryan will chair -- without having endorsed Trump. "He's not going to let himself get into that position and Trump knows that," he said. "He's going to have to find some excuse for getting on board."
Even so, Ryan's decision to withhold his backing appears to stem from fears shared by many Republicans of a bloodbath at the polls in November.
"If he doesn't change his tone and temperament, this thing is going south fast," former Representative Tom Davis of Virginia said of Trump.
Davis, a former House Republican campaign chairman, said the party's candidates in marginal districts are very worried about Trump. "In some of these neighborhoods, putting a Trump sign on your lawn is akin to a hate crime," he said.
With control of the Senate and, in a worst-case scenario for Republicans, even the House at stake, Ryan is providing some cover for those lawmakers, Davis said. Some members, including Barbara Comstock of Virginia and Ann Wagner of Missouri, have already echoed Ryan's comments in local newspapers, saying Trump has yet to earn their support.
But the move was condemned in some corners of the party. Former Speaker Newt Gingrich pronounced Ryan's decision to hold back his endorsement a "big mistake."
"He is the speaker of the House. He has an obligation to unify the party, he has an obligation to reach out," Gingrich, a Trump backer, said on Fox News Channel.
Time to Heal
Ryan and Trump could still repair their rift quickly.
Former Senate Majority Leader Trent Lott said he's not overly concerned about Thursday's back and forth between Ryan and Trump. "This is just part of a process," he said, noting that the contest for the party's nomination ended unexpectedly early when Trump's remaining rivals dropped out during the week. "I don't know that Paul had thought that through."
The speaker has invited the presumptive presidential nominee to meet with House Republican leadership on May 12, according to Ryan's political office. The pair would also meet separately with Republican National Committee Chairman Reince Priebus.
The meetings are aimed at beginning "a discussion about the kind of Republican principles and ideas that can win the support of the American people this November," Ryan's political office said in a statement.
Related story: Paul Ryan Spoils Trump's Victory by Withholding Endorsement
On Thursday, Ryan told CNN that "I hope to support our nominee. At this point, I'm just not there right now. Trump quickly retorted: "I am not ready to support Speaker Ryan's agenda."
Davis said he hopes Trump listens this time.
"Trump is absolutely crazy to say 'I don't need you,'" Davis said. "They could win it if they ever get their act together."
'People are Bailing'
Davis said there is still time for the party to unify before the convention in Cleveland in July but that Trump should move quickly or risk winning only a handful of states.
"People are bailing on him," said Davis, who was known as a party moderate in Congress.
Republicans vowing not to back Trump include former presidential hopeful Jeb Bush, as well as Senators Lindsey Graham of South Carolina and Ben Sasse of Nebraska, who is hoping to recruit a third-party candidate.
"I really believe the Republican Party has been conned here and he is not a reliable Republican," Graham said on CNN Friday.
Weber praised Ryan for hitting the pause button.
"He sent a signal to lots and lots of Republicans and Republican-leaning voters across the country that you can be part of the Republican Party even if you have questions about Donald Trump," he said.
Principled Conservatism
Weber said he thinks Ryan was motivated by his principles, not political considerations.
"He thinks of himself as a leader in the party of Lincoln, Reagan and Jack Kemp, and this guy is not in the tradition of any of those people," Weber said. The late Kemp, one of Ryan's mentors, was an architect of President Ronald Reagan's tax cuts as a House member in the 1980s, pushed for a more inclusive Republican Party and served as Bob Dole's running mate in 1996.
Ryan's critiques of Trump include both tone -- calling for an end to bullying -- and core policy differences on immigration and trade, where the pair are in opposite camps.
A senior House Republican aide said there was no timeline for Ryan to make a decision to endorse, and Ryan would keep much of his focus on his day job of running the House, rather than commenting on the campaign every day. Ryan also continues to develop what amounts to a parallel issues campaign with a slate of policy proposals that he has pledged to roll out in coming months.
Ryan's Fundraising
Behind the scenes, Ryan has been actively fundraising for members he thinks are helping to drive his agenda project and support the party -- and are clear in their conservative ideology.
In the first quarter of 2016, Ryan appeared at 35 events in Washington that raised about $3.7 million for House Republicans' campaigns. He has done events for people in the most conservative faction of the GOP conference, such as Jim Jordan of Ohio, then turned around to help raise money for members like Ohio's David Joyce, who is known for his easygoing demeanor and bipartisan alliances, Ryan's allies said.
Ryan has made a point to be seen working in tandem with Majority Leader Kevin McCarthy, barnstorming California with him in early March, making stops in several cities over 72 hours to raise money for the National Republican Congressional Committee.
Those viewed as team players, such Representative Jeb Hensarling of Texas, who has led on regulatory reform, and Greg Walden, chairman of the National Republican Congressional Committee, are rewarded with close access and fundraising aid.
Between his leadership PAC, Prosperity Action, and Ryan for Congress, Ryan has distributed $350,000 to campaigns across the country since he became speaker, according to records compiled by his political team.
Listening Time
The public feud between Ryan and Trump, however, could overshadow this work if the pair can't reconcile quickly. Lott said both Ryan and Trump could have chosen their words more carefully, but he added that Trump should listen to Ryan.
"The Ryan agenda is one we had back in the 1980s that helped elect Ronald Reagan," Lott said.
But there are also things Republicans can learn from Trump, Lott said. "He did tap into a vein of concern with average working Americans that has been underestimated by both parties," he said. "People are concerned about job security, they're concerned about our foreign policy. They're concerned about the economy not growing more and they feel threatened by the flood of immigrants coming in. They feel threatened by trade agreements. A lot in the so-called establishment didn't realize that, and Trump did."
Democrats are already hoping to exploit the unprecedented Republican divisions, with Hillary Clinton's campaign running ads showing numerous Republican officials criticizing Trump, and President Barack Obama piling on Friday.
"Not just Republican officials but more importantly Republican voters are going to have to make a decision about whether this is the guy who speaks for them and represents their values," Obama said.
Before it's here, it's on the Bloomberg Terminal.
LEARN MORE