Syria Cease-Fire Extends to Aleppo With Its Duration in Dispute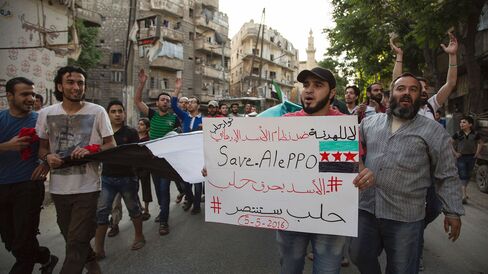 City largely calm on Thursday, with shell killing one person

U.S. seeks `open-ended' pause while Syria sees 48-hour limit
A U.S.-Russia agreement extending a "cessation of hostilities" in parts of Syria to the besieged northern city of Aleppo largely held on Thursday, although its intended duration remained in doubt.
"It appears today, at least, there's a decrease in the level of violence," U.S. State Department spokesman Mark Toner told reporters in Washington. While Toner said the U.S. would like to see the pause in Aleppo fighting "continue and be as open-ended as possible," he acknowledged that Syrian authorities have insisted on "a 48-hour time limit."
The streets of the city were largely calm on Thursday, with one death reported after a shell crashed into a government-held area, the U.K.-based Syrian Observatory for Human Rights monitoring group said by e-mail. At least 285 people have died in 13 days of violence in the city, the group said.
Ending an upsurge of fighting around Aleppo, Syria's most populous city and main commercial hub before the war, is crucial to restoring a broader truce brokered in February by Russia and the U.S. For 13 days, Syrian rebels and forces loyal to President Bashar al-Assad had traded rockets and bombs across Aleppo and its outskirts as the government renewed attempts to retake the rest of the city and the province.
"Our aim here ultimately is to get the cessation back to credible enforcement or a credible state in the coming days and weeks," Toner said on Wednesday. The fighting "needs to stop," he said.
An earlier, temporary truce that began last weekend only covered portions of east Damascus and the port city of Latakia.
Russian Foreign Minister Sergei Lavrov said Tuesday in Moscow that an accord was near after holding talks with the UN's envoy for Syria, Staffan de Mistura. It could clear the way for a new round of talks between the government and opposition in Geneva in efforts to end a five-year war civil war. Those discussions broke down last month when a key opposition group walked out and fighting spiked in Syria.
"May is going to be an important month for Syria and for all of us," de Mistura said Tuesday. If hostilities cease in Aleppo, then "we will be restarting and pushing also for the humanitarian access and for the intra-Syrian talks. Everything is connected, nothing is a condition but everything is connected," he said.
Before it's here, it's on the Bloomberg Terminal.
LEARN MORE