Campaign Wrap: Primary Turnout Numbers Favor Trump in November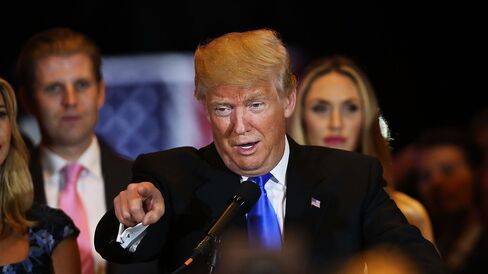 Even as Donald Trump's rise has scrambled conventional political wisdom, the lessons of past primary battles should give pause to those doubting the businessman's chances in the general election.
Republicans have had more extensive voter turnout than Democrats in this primary season, and in the recent past the party that amassed the most primary votes won the presidency, Bloomberg Intelligence's Julie Chariell writes

Republican candidates have received a total of 25 million votes so far, versus 22 million for Democrats
In the last three presidential elections with competitive primaries on both sides—1992, 2000, and 2008—the party with more votes during the nomination fight has ultimately won
The caveat: These past races involved politicians who adhered to well-established campaign tactics, while Trump's candidacy may have fractured his own party
He may also have galvanized key voting blocs against him—Latinos in particular—in ways that make the GOP's advantage in primary turnout irrelevant
Many more people vote in the general election than in the nomination contests; in 2008, about 57 million people cast ballots in the primaries of both parties combined, while turnout in November surpassed 131 million

ENDORSEMENTS
House Speaker Paul Ryan said he's not ready to endorse Trump right now
"At this point he needs to do more to unify the party," he said on CNN
Trump needs to show he can "share our values" of conservatism and limited government
West Virginia Coal Association endorsed Trump
Trump "has said he will reverse the Democratic regulatory assault that has cost the coal industry more than 40 percent of our production and jobs since 2008," organization President Bill Raney says in statement
Former presidents George H.W. Bush and George W. Bush won't endorse Trump, Texas Tribune reports

ON THE TRAIL
Hillary Clinton said in an interview with the L.A. Times editorial board that she'd continue to push back on Trump when he derides her for basing her candidacy on her gender
"The whole idea of 'playing the woman card,' which he charged I was doing, and by extension other women were doing, has just lit a fire under so many women across the country'
Bernie Sanders told NPR he's going to stay in the race against Clinton until "the last vote is counted, and that will be in" Washington D.C.'s June 14 primary
He said he has a shot at winning primaries in California, West Virginia, and Oregon
On CNBC, Trump floated the idea of renegotiating the U.S. debt if the economy slumps
"I have borrowed knowing you can pay back with discounts"
The businessman called himself "the king of debt"
He is set to visit Capitol Hill next week to meet with Republican lawmakers, Politico reports
Trump also tweeted a picture of himself eating a taco bowl from the Trump Tower Grill for Cinco De Mayo, saying "I love Hispanics!"

VEEPSTAKES
Chris Christie would be a drag on a Trump ticket, according to N.J. Republicans in a Monmouth Poll
41 percent of state's Republicans say Trump picking their governor would hurt his campaign; 15 percent say would help; 37 percent say wouldn't matter
Trump on CNBC says 40 percent chance his VP pick is one of 16 Republicans he beat in primaries

"Unlikely" that he'd pick Ohio Gov. John, the last of his rivals to fold his tent
Ohio Sen. Rob Portman, who's been floated as a potential Trump running mate, isn't interested in the job, according to his spokesman
"Rob is not interested in anything but continuing to serve Ohio in the U.S. Senate," spokesman Corry Bliss said, according to Politico
Portman seeking Senate re-election in November
Asked on CNBC about Sen. Jeff Sessons, R-Ala., as a possible running mate, Trump says he "would make a good anything"

SASSE-Y
Sen. Ben Sasse, a Nebraska Republican elected in 2014 and seen as a rising star in the party, wrote an open letter on Facebook calling for a third-party presidential candidate
"There are dumpster fires in my town more popular than" Clinton and Trump, he wrote
There's both room and an appetite for another candidate, he wrote
Huffington Post says third-party candidate, while virtually assuring Clinton the White House, might otherwise serve GOP purposes
"A third-party conservative candidate could potentially draw in Republican voters disaffected by having Trump on top of the ticket, thereby giving a much-needed boost to down-ballot candidates"

STAFF MOVES
Trump named Dune Capital Management CEO Steve Mnuchin his national finance chairman
Politico reports that Mnuchin has donated repeatedly to Clinton in the past
Mnuchin told Bloomberg his aim is to raise $1 billion, and the campaign is close to signing fundraising agreement with the RNC
Clinton is expanding her general election team as she ramps up her focus on November, NBC reports
Aide Marlon Marshall becomes director of states and political engagement, running the battleground team; Brynne Craig will serve as his chief of staff, Addisu Demissie will be senior staff member on team
Michelle Kleppe will serve as national organizing director
Meg Ansara will become battleground states director

ADS
Clinton and Sanders are both airing ads in Guam ahead of the territory's caucus this weekend, Politico reports
Guam, which conducts its Democratic caucus on Sat., has 12 delegates up for grabs
Clinton reserved $22k in air time from Tues. through Sat., while Sanders reserved $12k from Thurs. to Sat.

POLLS
NJ-GOP: Trump was poised for a big primary win even before his victory earlier this week—he lead Ted Cruz and John Kasich with 70% support, according to Monmouth University poll

ETC.
Trump took concrete steps toward presidential bid just days after Mitt Romney lost in 2012, Washington Post reports
Filed to trademark "Make America Great Again" on Nov. 19, 2012; U.S. Patent and Trademark Office registered trademark to Trump on July 14, 2015
Billionaire media mogul Barry Diller told CNBC he believes Trump is "evil"
Romney will skip the party's July convention, Washington Post reports
Romney has been vocal critic of Trump's, delivering a searing speech in March that called him "a phony" and "a fraud"
Boxing star Oscar De La Hoya says Trump cheats at golf: AP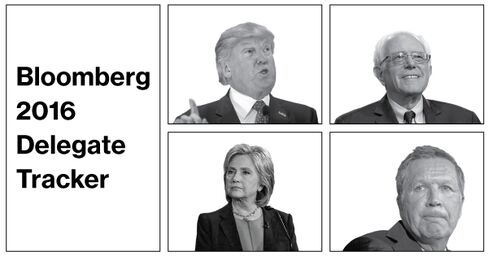 Before it's here, it's on the Bloomberg Terminal.
LEARN MORE