Horse Race
Clinton Zeroes In on Trump, Republicans as Sanders Vows Fight to the Convention
The Democratic front-runner will have to keep a rearguard for the primary fight while engaging the general-election battle.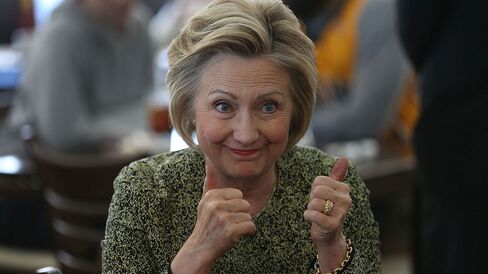 Vermont Senator Bernie Sanders' refusal to cede any ground in the Democratic presidential race to all-but-certain nominee Hillary Clinton is being treated more as a distraction than a threat by a campaign trying to solidly focus on Donald Trump and the general election.
"We cannot let Barack Obama's legacy fall into Donald Trump's hands," Clinton said Sunday at the Detroit NAACP's Fight for Freedom Fund dinner during a speech filled with direct and indirect jabs at the Republican front-runner.
"We've got some candidates in this race who are trying to divide us," she said. "We've got some candidates in this race who are stoking hatred and inciting violence. We've got some candidates in the race who are trying to set Americans against one another. We've got some candidates in this race who act as though Americans have no memory."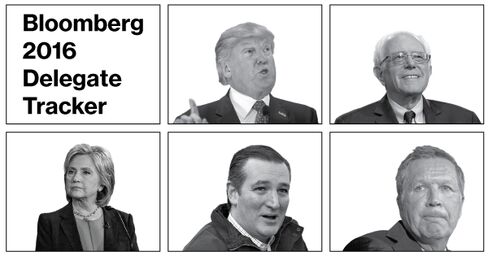 Sanders wasn't the target of those characterizations or of anything else Clinton told the crowd of 6,000 that gathered for fried chicken and sweet tea in a cavernous convention center. Republicans—particularly Trump—are her focus as she prepares for an expensive and potentially vicious general election.
Clinton's aides and allies acknowledge she can't completely put the primary fight out of her mind, especially with Sanders on Sunday vowing that Democrats will have a contested convention in July. They next face off in the race will be Tuesday's Indiana primary, where an NBC News/Wall Street Journal/Marist poll released Sunday shows the former secretary of state with a 50 percent to 46 percent lead over Sanders, a result within the margin of error.
Indiana is one of 14 remaining Democratic contests that will award 1,206 delegates by the time they wrap up June 7. Going into the primary, Clinton has 1,645 delegates awarded so far through primaries and caucuses compared with Sanders' 1,318. She also has support from 520 superdelegates—party officials and officeholders who aren't bound to results from balloting—while Sanders has backing from 39, according to a tally by the Associated Press. A total of 2,383 delegates, pledged or not, are needed to claim the Democratic nomination.
Sanders is making a stand on pledged delegates.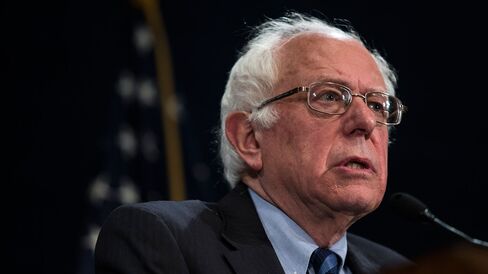 "It's virtually impossible for Secretary Clinton to reach the majority of convention delegates by June 14 with pledged delegates alone," he told reporters at the National Press Club in Washington on Sunday.
Clinton will have to keep a rearguard for the primary fight while engaging the general-election battle. "She has to do both," said Michigan Senator Debbie Stabenow, one of the superdelegates who's endorsed Clinton despite the fact Sanders won in the state. "You'd always like to be in a situation where you don't have that, but I think they'll manage it."
Even while fending off Sanders, the extended primary fight on the Republican side between Trump, Texas Senator Ted Cruz, and Ohio Governor John Kasich can work to Clinton's advantage. Joe Trippi, a veteran of several Democratic presidential campaigns, cited the example of George H.W. Bush's success in 1988 in defining then-Massachusetts Governor Michael Dukakis while the Democratic nominating process dragged on and President Barack Obama's ability in 2012 to focus on Mitt Romney before the Republican was able to fully secure the nomination.
"A majority of her attention has got to turn to the general election, to defining Trump. And the more she can, the better the chances she has of winning in November," Trippi said.
Clinton's travel schedule reflects the dueling priorities. She'll spend Monday and Tuesday making stops in Kentucky and West Virginia, which both have primaries in May. In a nod to the general election, she will also visit Ohio, a general election swing state, on Tuesday and spent part of Sunday in Michigan. On Thursday and Friday, she'll be campaigning and fundraising in California, using a Cinco de Mayo stop at East Los Angeles College to talk about immigration and other issues important to Latinos in both the primary and the general.
Clinton is using a substantial amount of her time on the stump to go after Trump, whether on his claims that she's playing the "woman card" to win votes or chiding him for stirring up the discontent that leads to violent protests at his events. Her speeches were once full of knocks on Sanders, but now she often goes days without mentioning him in public.
The California trip, along with a visit this week from former President Bill Clinton, is as much about making sure that Sanders doesn't have a chance to gain on her lead in the most delegate-rich state—it awards 546 pledged delegates to the Democratic National Convention and she leads by an average of just under 7 points in polling, according to Real Clear Politics—as it is about bringing in a few million dollars more for her campaign. While the first $2,700 that any individual gives is put into Clinton's primary fund, any money that goes unspent can roll over to the general election.
Clinton out-raised Sanders in April, $26.4 million to $25.8 million, according to announcements from their campaigns. She entered May with about $30 million on hand and also brought in more than $9.5 million for the Democratic National Committee and state parties last month, her team said Monday.
She'll be back in California again later in May to do more fundraising, and invitations have also been sent out for events with her this month in Texas, Washington, and New York. Bill Clinton and their daughter, Chelsea Clinton, are also keeping busy fundraising schedules, and top aides including campaign manager Robby Mook and longtime aide Huma Abedin, the campaign's vice chair, are headlining their own events.
Seeing little reason to spend heavily on a nomination race the campaign views as already won, Clinton's staff hasn't bought any TV or radio time in any of the states with May and June primaries.
Sanders is spending about $1 million on ads in Indiana during the week leading up to Tuesday's primary, and senior media adviser Tad Devine said the campaign will decide on a state-by-state basis where it needs to spend money next. In California, which has several pricey advertising markets, the Sanders team will try to use earned media to get TV time.
"We'll continue to use media as needed, we probably don't need it as much as we did before, he's much more established and known now than he was when we started this thing," Devine said. "But a lot of our campaigning is gonna be, and I think California will be a great example of this, what I call barnstorming. He's gonna go out, we're gonna try to generate, have big events. We're really good at that."
Sanders' persistence could put a dent in Clinton's plans, particularly in California. "If she has to keep spending primary money against him and not against Trump and doesn't have time to start defining the terms of the general election, that hurts her," Trippi said.
Clinton allies are already looking ahead. The largest super-PAC supporting her, Priorities USA Action, has booked $84.4 million worth of ad time between June and Nov. 1, according to Kantar's Campaign Media Analysis Group.
"It's a constant push and pull" to get through the primary while also preparing for what's next, Representative Dan Kildee of Michigan said. "But we have to remember that the goal here is to make sure that we win the White House and have a Democratic president."
—With assistance from Arit John and Tim Higgins.
Before it's here, it's on the Bloomberg Terminal.
LEARN MORE