Fossil Fuels
Clinton Walks Back Coal Remarks After Confrontation in West Virginia
The Democratic front-runner got an earful during a campaign stop in Williamson, West Virginia.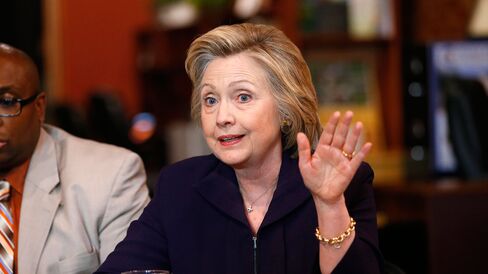 Democratic presidential front-runner Hillary Clinton tried to make amends with West Virginia voters Monday after a laid-off miner confronted her over comments she made weeks ago about putting the coal industry "out of business."
The exchange during a visit to a health center in Williamson, West Virginia, highlighted the challenge Democrats will face in November winning over working-class voters in states where that have lost jobs in manufacturing and mining.
"I don't mind anybody being upset or angry" about the struggles of the industry, its workers and their families, Clinton said. "That's a perfect right for people to feel that way. I do feel a little bit sad and sorry that I gave folks the reason and the excuse to be so upset with me because that is not what I intended at all."
Clinton tried to walk back remarks she made at a March town hall in Ohio, when she said, "We are going to put a lot of coal miners and coal companies out of business." On Monday she said she was trying to characterize what's going to happen if the industry continues on the decline in the U.S.
While coal generates about 40 percent of the world's electricity, tighter emissions regulations has cut profits for mining companies. In April, Peabody Energy filed for bankruptcy, joining at least eight other U.S. miners that did so in the previous year
Clinton was responding during a roundtable discussion to a question from Bo Copley, who said he lost his job in the coal industry. He chided her for sounding a supportive note toward coal at the start of the conversation in contrast to her March statement, which has been widely circulated in coal country. Outside, hundreds of protesters—some holding Donald Trump-for-president signs—booed Clinton's arrival and chanted "Hillary go home!"
"I just want to know how you can say you're going to put a lot of coal miners out of a lot of jobs and come in here and tell us how you're going to be our friend," he asked her.
"I don't know how to explain it other than what I said was totally out of context from what I meant because I have been talking about helping coal country for a very long time," she responded at the start of several minutes of back-and-forth with Copley. "I understand the anger and I understand the fear and I understand the disappointment that is being expressed."
At the March town hall, Clinton talked about "how to bring economic opportunity using clean renewable energy as the key into coal country."
Republicans seized on her comments in West Virginia. "Given her steadfast support for Obama's War on Coal, her promise to 'put a lot of coal miners and coal companies out of business' may have been one of the few honest moments she's had this entire campaign," Michael Short, a spokesman for the Republican National Committee, said in a statement.
Copley also told Democratic West Virginia Senator Joe Manchin, who joined Clinton at the event, that he would be hurt politically by backing her. Manchin acknowledged it's possible but said he was doing what's right for West Virginians by supporting Clinton. Clinton said she was "well aware" that Manchin "is putting his neck on the line for me."
Before it's here, it's on the Bloomberg Terminal.
LEARN MORE