Cruz Says Trump's Outsider Claim Is 'Greatest Fraud' on Voters
`Obama-Clinton economy is a disaster,' Texas senator says

As Indiana vote looms, brushes off losses in five NE states
Donald Trump is committing "fraud" by running for the Republican presidential nomination as an outsider, said Texas Senator Ted Cruz, who's trying to overtake the billionaire businessman.
"Trump is attempting to perpetuate one of the greatest frauds in the history of modern elections, which is he's trying to convince people he's some sort of outsider," Cruz said Sunday on CBS News' "Face the Nation."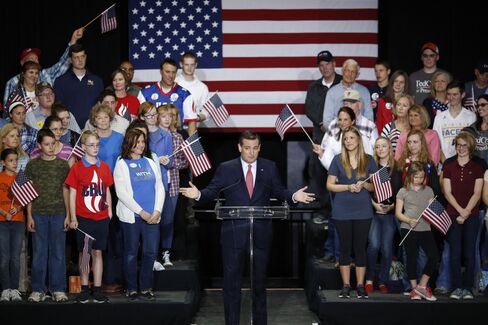 Cruz, facing a key primary election in Indiana, was scheduled to appear on five political talk shows on Sunday. He called Trump, who has a wide lead in pledged delegates for the Republican nomination, "the essence of the Washington insider."
Most opinion polls ahead of Tuesday's Indiana ballot show Trump with a small lead, although at least one has put Cruz ahead, according to the average compiled by RealClearPolitics.
The Texan dismissed Trump's advantage in the Republican delegate race. Trump has 996 delegates to Cruz's 565, according to the latest Associated Press tracker, moving closer to the 1,237 needed to win the party's nomination. On April 26 Trump swept five primary elections in five northeastern states.
'Impassioned Minority'
The New York real estate mogul "has an impassioned minority" of supporters and benefited from the large number of candidates initially running to be the Republican party's candidate, said Cruz.
Brushing off Trump's April sweep of elections in five northeastern states, Cruz said, "He did well close to home and the media reacted with breathless excitement," and predicted that Trump would not reach 1,237 delegates before the Republican National Convention in Cleveland in July.
Indiana, a winner-take-most state with 57 delegates on offer, is the largest of any state until the California primary on June 7.
On NBC's "Meet the Press," Cruz took aim at President Barack Obama, saying that "job creation has not gone up" during the Democrat's two terms in the White House. "The Obama-Clinton economy is a disaster," he said, looking to tie Democratic front-runner Hillary Clinton to the current administration.
Labor Department figures show that the U.S. has strung together 73 months of private-sector job growth since the 2008-2009 recession, the longest on record. Private employers have created more than 14 million jobs during that span.
On CNN's "State of the Union," Cruz talked very little about his own policies instead sought to conflate Trump with Clinton.
"Behind the Donald Trump mask is Hillary Clinton," Cruz said.
Before it's here, it's on the Bloomberg Terminal.
LEARN MORE