Joe Biden Looks for Pope's Help on Cancer After Son's Death
The leader of Biden's faith is hosting medical conference

Cancer `moonshot' depends on foreign and corporate allies
The Vatican helped President Barack Obama seal a climate deal and restore diplomatic relations with Cuba. On Friday, Vice President Joe Biden sought a lift from Pope Francis for the White House's "moonshot" effort to cure cancer.
Speaking at a Vatican conference on regenerative medicine, Biden asked foreign governments and pharmaceutical companies to join a U.S. endeavor to share data and resources to speed the development of new cancer treatments.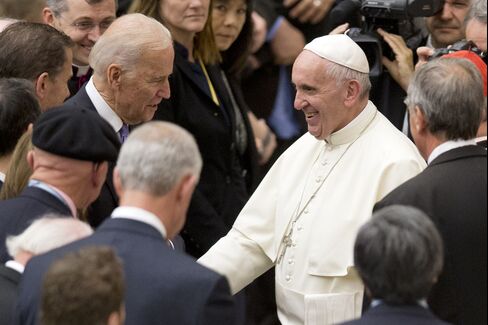 "I am calling for philanthropists, corporations and governments around the world to increase their investments in ways that improves patient outcomes," Biden said. "There's an overwhelming need for public-private partnerships to bring together all of the human, financial, and knowledge resources at our disposal to make a quantum leap."
One year ago next month Biden lost his oldest son, Beau, to cancer, and the White House's moonshot research program has been cast as a tribute to his memory. On Friday, Biden invoked his son's memory and his Roman Catholic faith in urging international action.
He said that all religions shared a common basis in faith, hope, and love and those could inspire the medical research effort.
"All of you here, scientists, doctors, philanthropists, patients embody all three," he said. "We can use our intelligence and capacity to make things better."
Papal Support
Biden thanked Francis for "more comfort than even he I think will ever understand" after the loss of his son and introduced him to his younger son, Hunter, after they'd finished their public comments.
Francis has proved a friend to the White House on policy issues as well. That includes Cuba -- where the Vatican hosted secret talks between the two hostile governments before they restored relations in December 2014 -- and on climate change and the Obama administration's plans to admit more war refugees to the U.S.
Biden hopes his audience will similarly boost the cancer program. That momentum could prove helpful persuading Republicans in Congress to provide the $1 billion the White House has requested for the program, as well as corporate and foreign allies. Celebrities -- including U2's The Edge -- were also in the hall for Biden's address.
Francis urged governments and other organizations to help care for cancer sufferers even when effective treatments aren't available and to support the White House initiative.
"We know sometimes we cannot find fast treatments or cures, but we can be fast in caring for these people, who often feel ignored," he said. "May you be capable and generous cooperators."
Seeking Allies
White House officials say many countries want to work with Biden on the cancer program. Leaders of the U.S., Japan and South Korea are planning a joint meeting on the cancer effort, while other nations including China, Israel and the United Arab Emirates have expressed interest.
Many of those nations have indicated they're willing to make financial commitments of their own, White House officials say. But the vice president also hopes to get other governments to reduce regulatory hurdles, improve information sharing and scale back competing, parallel research on cancer treatments that may duplicate U.S. programs.
Researchers and governments are often reluctant to share data on their cancer work, either because of regulatory and privacy requirements or to protect their intellectual property. Some countries have broad databases on health outcomes that might be mined, while others are conducting human clinical studies that span decades and generations.
"We should develop international standards on data so that when one oncologist or medical center creates an electronic health record for a patient, those records can be shared and compared with data from other medical centers across the world," Biden said. "And there should be international standards to obtain, preserve, and share patient samples -- so when patients contribute their tissue or tumors for research, we make the best use of it."
One of the most promising areas for collaboration is immunotherapy, a new area of cancer research focused on encouraging the body's own immune system to target and destroy cancer cells.
Immunotherapy's Promise
Former President Jimmy Carter was treated with the Merck & Co. drug, Keytruda, after announcing last August that he suffered from melanoma that had spread to his brain; he said in December that he is cancer-free. Sean Parker, the founder of the music-sharing service Napster and a former president of Facebook Inc., announced earlier this month he was donating $250 million to immunotherapy research.
But so far, immunotherapy drugs have only worked in a minority of patients, and only against some types of tumors.
The moonshot initiative aims to broaden the early success of immunotherapy to almost all solid tumors by better understanding the immune systems' anti-cancer mechanisms. The White House program also aims to help develop new combination therapies for cancer, as well as better methods of early cancer detection.
Before it's here, it's on the Bloomberg Terminal.
LEARN MORE