Fitbit Knocks Out Jawbone Patents at U.S. Trade Agency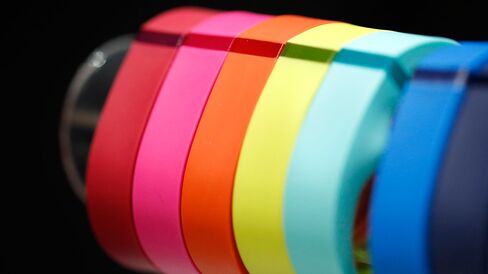 Fitbit Inc. won a ruling that invalidated the last of the Jawbone Inc. patents that were the subject of a dispute at the U.S. International Trade Commission.
The ruling Thursday lessens the chance that Fitbit would face an import ban on bringing its fitness trackers, which are made overseas, into the U.S. It's not completely out of the woods yet -- ITC Judge Dee Lord is letting Jawbone pursue claims Fitbit stole important trade secrets.
The companies compete in the market for wearable fitness trackers, with Fitbit far in the lead. The fight has been marked with claims that Fitbit lured Jawbone employees who brought with them key information on things like product design and marketing plans.
Fitbit, which said there's no evidence the former workers gave the company any of that information, has for now focused most of its legal arguments on fighting the patent claims with much success.
The judge had already said other Jawbone patents were invalid, and some claims were withdrawn by Jawbone. In her most recent order, she said Jawbone patents "seek a monopoly on the abstract ideas of collecting and monitoring sleep and other health-related data."
Jawbone said it would appeal the patent ruling.
"The two patents that are the subject of the ITC ruling represent only a portion of Jawbone's case against Fitbit and a small subset of Jawbone's overall patent portfolio," the company said in an e-mailed statement. "The court confirmed that Fitbit will face a trial in 10 days on claims that it misappropriated Jawbone's trade secrets."
The trade secret case is scheduled for trial May 9 in Washington.
Fitbit has its own patent-infringement case pending at the agency and Jawbone has accused Fitbit of anticompetitive conduct.
The case is In the Matter of Certain Activity Tracking Device Systems, 337-963, U.S. International Trade Commission (Washington).
Before it's here, it's on the Bloomberg Terminal.
LEARN MORE