Hoosiers
Trump Seeks Knockout Blow in Indiana
The Republican front-runner campaigns with former Indiana University basketball coach Bobby Knight.
Donald Trump can sense that victory is near.
The Republican front-runner said he's campaigning hard to win Tuesday's presidential primary in Indiana and that if he prevails, his party's nomination contest will be "over."
Trump dismissed his rivals, Senator Ted Cruz of Texas and Ohio Governor John Kasich, and scoffed at Cruz's Wednesday announcement that he had selected former Hewlett-Packard CEO Carly Fiorina as his running mate.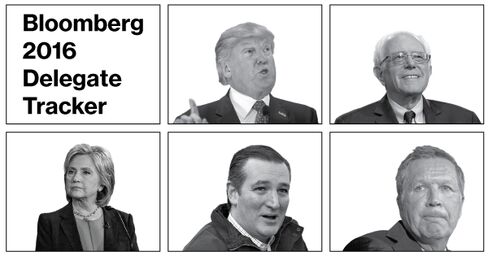 "First of all, Cruz can't win. What's he doing picking vice presidents?" Trump told 5,000 people at the Indiana State Fairgrounds. "He's the first candidate who is mathematically eliminated that picked a vice presidential candidate."
Joined by his son Donald Trump Jr., 38, and revered former Indiana University basketball coach Bobby Knight, Trump vowed to return on a three-day swing through the Hoosier State starting Sunday. "If we win Indiana, it's over, it's over," Trump said,
An April 22 Fox News poll had Trump leading Cruz 41 percent to 33 percent, but the poll was taken before Cruz and Kasich announced a political alliance to try to keep the billionaire from securing the 1,237 delegates needed for the nomination and force a contested convention. Kasich has stopped campaigning in Indiana to clear the way for Cruz, who, in turn, agreed not to compete in Oregon and New Mexico. Trump attacked the alliance as "collusion."
Knight, the winningest coach in Indiana University basketball history who was fired amid allegations that he choked a former player, could hardly have been a more enthusiastic surrogate, calling Trump the "most prepared man in history" to be president.
"They talk in a negative way when they want to about Donald, and say he isn't presidential," Knight said. "I don't know what the hell that means. To me, I think of Harry Truman, they said Harry Truman wasn't presidential. And damn, he went on to be one of the three best presidents in U.S. history. [Trump] will at some point be one of those also."
Tailoring his message to his Indiana audience, Trump said he'd force Carrier Corporation to stay in the U.S. The company announced earlier this year it would move manufacturing jobs from Indianapolis to Mexico City.
"If you leave, there are consequences," Trump told the crowd during a portion of the speech in which the rowdy crowd grew silent to hear his every word. Trump reiterated that he would impose a higher tax on companies like Carrier that move out of the U.S.
Trump also boasted of his endorsement by former heavyweight boxing champion Mike Tyson, who was convicted of rape in the state in 1992.
"Mike Tyson endorsed me, I love it," Trump said, adding, "You know all the tough guys endorse me, I like that."
Before it's here, it's on the Bloomberg Terminal.
LEARN MORE