Road Map
Sanders Says Democratic Party Must Prove It Stands With Workers
Facing improbable odds of catching Hillary Clinton, Sanders turns to trying to shape the party's agenda for the general election and beyond.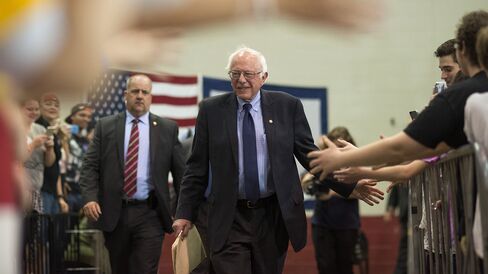 Bernie Sanders said the Democratic Party must demonstrate that it will represent the interests of working-class Americans over the wealthy in order to regain control of Congress and to continue winning elections in the future.
Facing improbable odds of catching Hillary Clinton in the Democratic presidential nomination race, Sanders on Thursday turned to trying to shape the party's agenda for the general-election campaign and beyond.
Sanders said that despite the Republican Party's "fringe agenda," Democrats lost control of the Senate and saw their House minority shrink in the 2014 midterm elections because most young people and low-income voters didn't turn out to cast ballots.
"I think the reason for that is the Democratic party up to now has not been clear about which side they are on of the major issues facing this country," the Vermont senator said while campaigning in Springfield, Oregon. "And here is the truth: You can't be for Wall Street and for the working people of this country."
Sanders has been under pressure from some party officials and fellow Democratic senators to ease up his attacks on Clinton to prevent the party from splintering. After losing four of five northeast state primaries to Clinton last Tuesday, Sanders has been shifting his focus to influencing the party platform.
Sanders also said the Democratic Party needs to fight for election laws that will increase voter participation, including automatic registration, same-day registration and open primary elections. He again urged the party to adopt a true 50-state strategy for political gains and to not ignore states that long have been controlled by Republicans.
The Sanders campaign has said repeatedly since Tuesday that the candidate plans to compete in all of the remaining primaries and pick up as many delegates as possible ahead of the Democratic National Convention in July. In recent days, Clinton backers Senators Dianne Feinstein and Sherrod Brown have publicly offered to mediate any negotiations between the two campaigns, and Brown suggested Clinton work with Sanders to shape the party's platform.
Clinton currently has 2,165 delegates while Sanders has 1,357, according to an Associated Press count that includes superdelegates. It takes 2,383 delegates to secure the nomination. The primary May 3 in Indiana is the next contest, followed by Kentucky and Oregon on May 17. The last round of primaries is June 7.
In Springfield, Sanders again highlighted his differences with Clinton on policy, including her past support for trade deals that he opposed. He also said there's overwhelming evidence that he's the strongest general-election candidate, based on his support among independent voters and the enthusiasm his campaign has created.
After the losses on Tuesday, Sanders senior adviser Tad Devine said the campaign would reassess how it would move forward. The next day Sanders announced the campaign was laying off "hundreds" of paid staff members in states where voting was completed while keeping its operations going in the remaining primary states, including California.
Before it's here, it's on the Bloomberg Terminal.
LEARN MORE