Republicans Still Planning to Party in Cleveland—Even If There's Convention Drama
The social calendar will be full, no matter how many ballots it takes to settle on a nominee.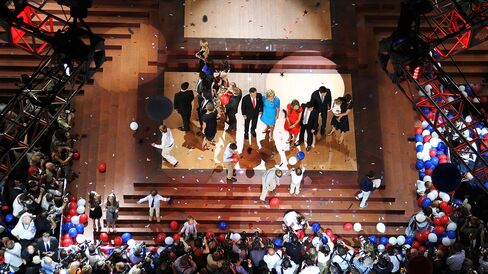 Republicans want lobbyists and politicians to know there's plenty of opportunity to party this summer at their national convention in Cleveland. A 39-page guide for those who want to host soirees boasts that the city's Wonder Bar has the largest whiskey collection downtown. If that's not exclusive enough, the Alley Cat Oyster Bar ("Boat docking is available") and the cruise ship Goodtime III ("3 beverage bars, 2 dance floors, cocktail parties for up to 800 guests") are available for rental.
In case the guide doesn't convey the message, the host committee for the convention is more explicit on its website: It'll be "the party of the year for the GOP." To encourage Republicans to imbibe at local establishments, the state legislature extended last call in and around Cleveland to 4 a.m., an hour and a half later than normal, during the convention, which runs July 18-21.
You can understand why Cleveland might anticipate a week of carousing. Over the past three decades, Republicans (and Democrats) have arrived at their conventions with the hard work of choosing a presidential nominee behind them, leaving ample time for buffet breakfasts, VIP tours, open bars and the late-night receptions. About the hardest decision facing delegates most years is wine or beer.
But Republicans may not empty as many bottles this year. The Cleveland gathering could harken back to a time when conventions were contentious, unscripted and unpredictable, with multiple candidates fighting it out on multiple roll-call ballots that outlast primetime and bleed into party time.
"Our plan has been that we will have a presumptive candidate"—someone who arrives at the convention with the 1,237 delegates in hand to clinch the nomination—"and are planning accordingly," said Steve King, chairman of the convention's Committee on Arrangements. "That's not to say what-if scenarios haven't come up and are being discussed."
The last multiple-ballot convention was 1948 for Republicans, 1952 for Democrats. Since then, conventions have become more like coronations, with nightly themes, on-stage celebrity cameos (hey, isn't that Jason Sehorn and Angie Harmon?), theatrical roll calls of state delegations and epic balloon drops, all serving as warmups for the late-night party and concert circuit.
This year, Cleveland expects some 1,200 events at local venues and attractions during convention week, most of them planned by corporations, media, politicians and state delegations. The city's role as host "isn't dependent upon certainty in the political landscape," David Gilbert, president and chief executive officer of the Cleveland 2016 Host Committee, said in an e-mail. "We'll have a fun and festive atmosphere in Cleveland for our guests to enjoy as time allows."
The made-for-TV staging and precision choreography of the Republican convention reached its current apex in San Diego in 1996, when the final night's program was accelerated to ensure Bob Dole's acceptance speech "would begin and end in time for the balloons to drop before 11 p.m. Eastern Daylight Time," according to CQ Almanac. At the 2004 Republican convention in New York City, red hats identified members of an "official proceedings' task force" whose duty was to assure "that all speakers stayed on message and that nothing altered the precisely timed-to-the-minute schedule," Thomas Edsall wrote in his 2006 book, Building Red America.
The convention's official program and schedule is typically dictated by the nominee-in-waiting, said Kim Mosser Knapp, who was deputy director for official proceedings at the 2008 Republican convention and assistant to the director of operations in 2004. How to stage a contested convention "is a challenge that I'm sure people are discussing right now," she said.
"It'll be exciting to watch, just as a bystander," she said. "But I am a little bit relieved that I'm not in charge of it."
The transformation of conventions into four-day pep rallies only intensified the party scene.
The social calendar at the 1996 Republican convention included the first "warehouse party" honoring former House Speaker John Boehner, which has become a hot-ticket tradition at conventions since then. There also was the party at the San Diego Zoo, hosted by George magazine, that was described by Los Angeles Times reporters Bill Boyarsky and Amy Wallace as "so glitzy they even made the animals work late, with zoo employees parading several small captives around on leashes. They urged guests to play with the beasts, which included two baby tigers."
At the 2000 Republican convention in Philadelphia, invitations for a corporate-sponsored martini-and-cigar night honoring Representative David Dreier arrived in a cigar box, and the party favors included silver-plated martini glasses, the Washington Post reported. A standout social event in St. Paul, Minnesota, in 2008—sponsored by those party animals at the Minnesota AgriGrowth Council—featured "an ice-sculpture-adorned martini bar," a "cornstalk-lined red carpet" and a live performance by Styx, the Star Tribune reported.
In Tampa in 2012, the Distilled Spirits Councils of the United States rented out the Florida Aquarium for a bash that offered shots of 18-year Macallan Scotch, "an elaborate Patron Tequila station atop dripping ice sculptures," and the spectacle of two mermaids swimming in the fish tanks, according to U.S. News & World Report.
Cleveland will be the sixth Republican convention for Randy Duncan, a businessman and local party official in Salina, Kansas, who this year will be an alternate delegate, backing Ted Cruz. His list of memorable convention moments includes Mike Huckabee jamming on bass guitar in 2012, a cruise on San Diego bay in 1996 ,and dinner and drinks on a vintage train car in 2008.
He predicts a fight over rules will begin the moment this convention is gaveled to order. "It's not just going to be a festive party for four days," he said, a change he welcomes.
"I like a nice party, a nice get-together," he said, "but I'm looking forward to the fact that we'll actually get to vote on something."
Before it's here, it's on the Bloomberg Terminal.
LEARN MORE