Psst! Don't Tell a Soul I Live in Greenwich and I Went for Trump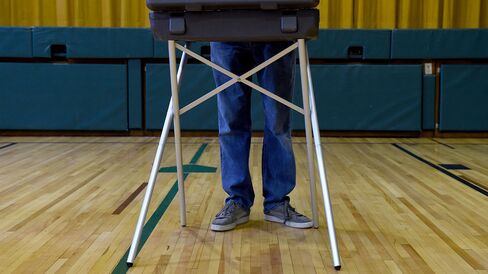 Frontrunner takes hedge-fund town with hidden army of support

No guarantee of November triumph as Clinton wins more votes
To Donald Trump supporters in Greenwich, Connecticut, it's a hush-hush world, except for the brave few like Jim Campbell.
When he extolled the virtues of a Trump presidency at a political dinner a couple months ago, Campbell, a successful real-estate man, knew he was a rarity in Connecticut's GOP circles: a local committee leader willing to vouch for the party's bombastic frontrunner. On the campaign trail Trump had slammed the Wall Street crowd that makes up so much of the town's citizenry. What Campbell hadn't counted on is what happened next. A handful of financial professionals approached with offers to do anything they could for Trump's candidacy -- on the down-low.
Trump's don't-ask, don't-tell army came through in a big way Tuesday in this suburb of 62,000, where the median home value is $1.4 million and hedge funds seem as plentiful as crab-apple blossoms in spring. They delivered the town and helped win the Nutmeg State for Trump, who won 48 percent of the Greenwich Republican ballots cast, or 3,007 votes. Second-place John Kasich came in with 41 percent, and Ted Cruz landed in third, shy of 9 percent.
"It was very surprising," said Trump supporter Nicole Rakoczy, 33, a real-estate agent having a glass of wine at the Sundown Saloon on Greenwich Avenue. After all, Greenwich is grand estates with climbing ivy and horses with only the best saddles, seen by many as a quintessential hamlet for that New England species of Republican: cool, calm and moderate. Here, Prescott Bush raised his children, including the 41st president, George H.W. Bush.
Then there was Trump's blasting of hedge-fund managers in August. "They make a fortune, they pay no tax," he said. "The hedge funds guys are getting away with murder.''
Rocco Umbro, who builds homes for wealthy clients, said they dismissed such talk as "hype to get the attention of the blue-collar worker," not as a threat.
"They don't think he's going to hammer them," Umbro, 67, said over lunch at the Plaza Restaurant in Greenwich's downtown. "Everybody I know was strong for him."
Winning Validation
For Rakoczy, Trump's victory in Greenwich and sweep of the five state primaries was validation that he's a winner. "I think he's on his way to the nomination now," she said.
The White House may be another matter. When Connecticut went for Barack Obama by wide margins in the last two presidential elections, Greenwich voters picked him over Republican John McCain and then Mitt Romney over the sitting president. In the Democratic primary on Tuesday, Hillary Clinton won 3,206 votes in Greenwich, 199 more than Trump.
Others interviewed Wednesday cited Trump's favorite-son status as a factor in his Greenwich win. Trump owned a resplendent eight-bedroom home with its own putting green on the waterfront in the 1980s. His former wife, Ivana, took ownership in the couple's divorce settlement, according to Tamar Lurie, a family friend and real-estate broker. Lurie said Ivana sold the house to its current owner in 1998. The property has been on the market for more than a year, listing for $45 million.
"The town appreciates his conservative values," Lurie said of Greenwich's former resident.
The stealth nature of the Trump support in Greenwich recalls former New Hampshire Governor John Sununu's comments before the Feb. 9 New Hampshire primary, which Trump won. Sununu, who worked in the George H.W. Bush White House, was fiercely anti-Trump. He and his wife were asked by a Washington Examiner reporter if they knew anyone who supported Trump. They looked at each other and finally said there was one guy down the street, the newspaper reported.
Country Club
Some of the frontrunner's support in Greenwich is not so hidden or as mysterious as the Sununus would have it, according to Campbell, the town committee chairman who has since stepped down.
"Greenwich is not just a country club town," he said. "It has a diverse population with people who share the frustrations of those who support Trump nationally."
Nick Kourdis, a Greek immigrant and owner of the Plaza Restaurant, said people like him support Trump because they are fed up with the "deterioration" of America. Kourdis, 64, is especially upset with all the people he claims are on public assistance and not working.
Zac Casey, 29, is a commercial fisherman who was busking with his guitar for spare change on Greenwich Avenue the day after the Trump victory. He said he will support Trump over Clinton in the general election.
If asked, Casey said, he would talk about Trump. But, he admitted: "I do try not to advertise it."
Before it's here, it's on the Bloomberg Terminal.
LEARN MORE