Christie's Ex-Allies Say Political Revenge Is No U.S. Crime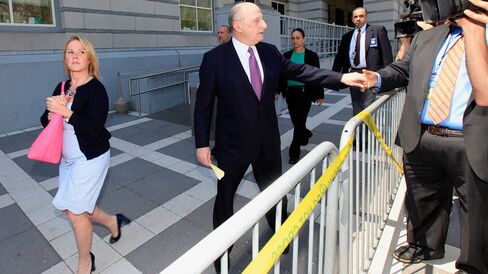 Kelly, Baroni ask judge to dismiss traffic jam indictment

Prosecutors say Fort Lee residents had right to free movement
The creation of four days of traffic jams near the George Washington Bridge almost three years ago by former allies of New Jersey Governor Chris Christie spawned a scandal and prosecution unlike any other in U.S. history.
A federal judge heard arguments Thursday from lawyers for two former Christie allies that prosecutors twisted the law so much to find a crime to match the facts that she should dismiss the charges before a trial scheduled for Sept. 12.
The question is whether U.S. Attorney Paul Fishman misapplied the law in charging Bridget Anne Kelly and Bill Baroni. They're accused of closing lanes near the bridge to create traffic jams and punish the mayor of Fort Lee, New Jersey, Mark Sokolich, for failing to back Christie's re-election in 2013.
"There is no other case that has been prosecuted at any time with facts similar to this," Kelly's attorney, Michael Critchley Jr., argued in federal court in Newark, New Jersey. "All we're talking about here is inconvenience and traffic. We're not talking about a constitutional right to be free of inconvenience and traffic."
Prosecutors alleged in a nine-count indictment last year that Kelly and Baroni misappropriated resources of the Port Authority of New York & New Jersey, which owns the bridge. They are also accused of defrauding the Port Authority of property rights and depriving the people of Fort Lee of their civil rights to travel without unreasonable government restriction.
Constitutional Right
This is the first criminal civil rights case citing such a constitutional right to intrastate travel. Christie wasn't charged in the scandal, which was a drag on his failed Republican bid for the White House.
Baroni's lawyer, Michael Baldassare, said prosecutors have been "fundamentally unfair" because he hasn't gotten all materials he deserves from a law firm, Gibson Dunn & Crutcher LLP, hired by the governor's office to investigate. Taxpayers paid $8 million to Gibson Dunn, which U.S. District Judge Susan Wigenton criticized last year for using "opacity and gamesmanship" in producing a 360-page report that cleared the governor of wrongdoing.
Defense lawyers have subpoenaed Gibson Dunn for more records, which Baldassare said has produced new evidence. Baldassare said he would seek phones used by Christie and his current chief of staff, Regina Egea, when they exchanged texts during testimony to a state legislative committee on Dec. 9, 2013, about the traffic jams.
Lawyers argued about two counts alleging Kelly and Baroni violated Section 666 of the Title 18 of the U.S. Code, a provision typically used for fraud and embezzlement involving agencies receiving federal funds. Fishman's office "searched for something -- anything -- it could use to bring charges," Baldassare said in a written request to dismiss the case. Section 666 "does not criminalize political revenge in the form of traffic."
Critchley said the prosecution is misguided.
'Metaphysical Benefit'
"The defendants did not receive anything, and the Port Authority did not lose anything," Critchley told the judge. "The only benefit that the government alleges is the metaphysical benefit that Ms. Kelly and Mr. Baroni enjoyed in punishing Mayor Sokolich."
Assistant U.S. Attorney David Feder said the conspiracy produced more than just the inconvenience of four mornings of traffic jams.
Baroni and Kelly "deceitfully used Port Authority resources to gridlock Fort Lee," Feder said. "They tried to make it as difficult as possible to drive. They chose the first day of school. When Mayor Sokolich called to find out what was going on, they froze him out."
They covered their tracks with a cover story, Feder said, calling their conduct "outrageous." He said case law has established that people have a right to travel on local roadways free from restrictions.
Tangible Benefit
Kelly and Baroni benefited "in a tangible, financial sense because misappropriating employee services" let them obtain labor paid by the Port Authority, prosecutors wrote in court papers. While the motive for those prosecuted under the law is usually greed, here it was to punish Sokolich, they said.
Baroni was deputy executive director of the Port Authority and Kelly was Christie's deputy chief of staff. They are accused of plotting with former Port Authority executive David Wildstein, who pleaded guilty and is helping prosecutors. Before the hearing, Baroni and Kelly hugged and chatted.
Prosecutors also said Baroni testified falsely to the state Assembly Transportation Committee in November 2013 about the lane closings. Baroni said he was granted immunity to testify and can't be prosecuted for his statements. Prosecutors replied that his testimony was unsworn and he didn't get immunity.
Wigenton said she will rule "as quickly as we can."
The case is U.S. v. Baroni, 15-cr-00193, U.S. District Court, District of New Jersey (Newark).
Before it's here, it's on the Bloomberg Terminal.
LEARN MORE