Veep-Stakes
Ted Cruz Announces Carly Fiorina as Running Mate
The former HP CEO has been fierce in her criticism of both Donald Trump and Hillary Clinton.
Seeking to bounce back after two weeks of losing at the primary polls, Ted Cruz took a step usually reserved by candidates until after they become a presidential nominee: he revealed a running mate.
The Texas senator on Wednesday announced the selection of former Hewlett Packard chief executive Carly Fiorina as his vice presidential candidate if he emerges from the July convention headed for the White House. With fewer delegates up for grabs than he needs to clinch the nomination, victory at the ballot box is mathematically impossible for Cruz.
"If I am nominated to be president of the United States, I will run on a ticket with my vice presidential nominee Carly Fiorina," Cruz told cheering supporters at a rally in Indianapolis.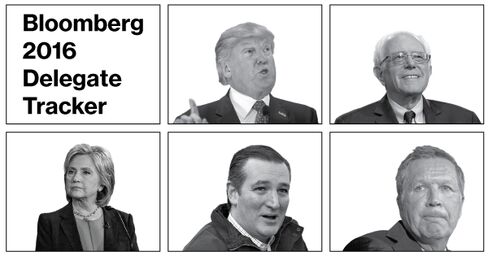 "Over and over again, Carly has shattered glass ceilings," Cruz said, calling her "a woman of extraordinary intelligence" with a strong moral foundation. "The characteristics you look for in a vice president are indeed the characteristics you look for in a president," he said.
Fiorina, the 61-year-old former chief executive officer of Hewlett-Packard Co., has been a top surrogate for Cruz throughout the nomination process and, like Cruz, campaigned as as an outsider candidate looking to shake up Washington politics. She left the race after finishing seventh in New Hampshire's first-in-the-nation primary in February.
"Today I'm very proud and very honored to announce that I have accepted Senator Ted Cruz's offer to be his vice presidential Republican nominee," Fiorina said after Cruz's lengthy introduction. "Ted Cruz could not be more right when he says there is a lot at stake. And in fact, this is a fight—this is a fight for the soul of our party and the future of our nation."
Fiorina also reprised some of the themes from her failed presidential campaign as she joined forces with Cruz.
"Our country is being taken away from us by the elites, by the crony capitalists, by the special interests who have captured both parties," she said. "It is time. We must take our country back. This is the fight of our time, and I believe Ted Cruz is the man to lead that fight. I am prepared to stand by his side and give this everything I have."
For Cruz, the selection was a chance to make a break from a tough night in which Donald Trump won all five Northeast states voting in the so-called Acela primary. Trump emerged from the contests to label himself the "presumptive nominee," leaving Cruz badly in need of changing the narrative of the campaign as he makes a play to stop the front-runner in Indiana.
Ford O'Connell, managing director of Washington communications firm Civic Forum Strategies and former campaign official for Republican John McCain, called the move a Hail Mary.
He said presidential hopefuls have three big events: the day they announce; when they clinch the nomination; and the day they announce their vice presidential pick. The announcement by Cruz came nearly three months before the convention in Cleveland.
"It's a good move given that he's sinking faster than the Titanic," O'Connell said. "This shows you the dire straits he's in. He's in such trouble he's willing to give this up now just to stay in the narrative."
Back in 1976, Ronald Reagan named a running mate before the Republican convention in a similar attempt to boost his bid against Gerald Ford, who was sworn in as president after Richard Nixon resigned in scandal. Ford ended up winning the nomination before losing the general election to Jimmy Carter. Reagan ran again four years later, turning Carter into a one-term president.
During his recent campaign swing in Wisconsin, Cruz was joined on the stump by Fiorina. He seemed intrigued by the prospect of pitting her against Clinton.
"Carly terrifies Hillary Clinton," Cruz told supporters on March 28 in Rothschild, Wisconsin, a line he echoed on Wednesday. "I can just see Hillary thinking about Carly and tossing and turning and tossing and turning—in her jail cell."
The crowd went wild.
Fiorina, for her part, stressed at the time that Trump was an entrenched member of the establishment and argued that he had no intention of upending it, despite his rhetoric.
Trump led the Republican race with 950 delegates after some of those from the latest primaries were awarded, almost 77 percent of the number he needs, according to the Associated Press. He was followed by Cruz at 560 and Ohio Governor John Kasich at 153.
After a rocky start that saw her relegated to the "kiddie debates," Fiorina's attacks against Trump elevated her last year but the momentum soon stalled. Despite her compelling personal story—she was the first woman to lead a Fortune 20 company, she has survived cancer, and she lost a stepchild to drug addiction—Fiorina failed to convince many voters that her background best prepared her to be commander-in-chief.
Questions about her tenure at Hewlett-Packard, especially regarding her role in the company's 2001 merger with Compaq Computer Corp. and the mass layoffs that came with it, further hindered her argument that she was suited to lead the country.
—With assistance from Michael C. Bender and Sahil Kapur.
Before it's here, it's on the Bloomberg Terminal.
LEARN MORE