Trump Asks for Jury Trial in New York Real Estate School Suit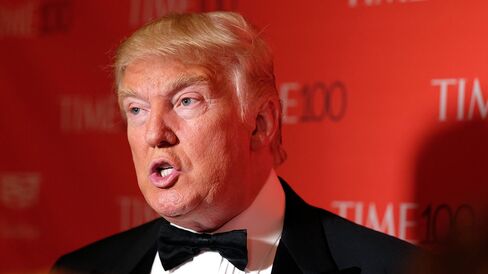 Attorney General Schneiderman says Trump has no right to jury

Trump seeking permission to take case to highest state court
Donald Trump asked that a jury of residents, from the only New York county that he didn't win in last week's Republican primary, decide whether he defrauded students of his namesake real-estate school.
An attorney for Trump, Jeffrey Goldman, told a state court judge during a hearing Tuesday that he intends to seek a jury trial of the lawsuit, in which New York Attorney General Eric Schneiderman alleges that Trump University swindled students out of $40 million.
"We think we'll get a fair trial before a jury," Goldman said. "We also think we'll get a fair trial before a judge. They don't want to go to trial."
If Trump wins his fight for a jury trial, the panel would come from Manhattan, or New York County -- the only county in the state he lost in the primary, according to the state's Board of Elections.
The suit is one of at least three legal battles over the school, which has become fodder for Trump's opponents as he fights for the nomination. Former students filed two class-action lawsuits in California.
A New York appeals court last month reinstated a fraud claim against Trump University, allowing Schneiderman to seek monetary penalties if he wins the case, including restitution for the alleged victims and disgorgement of profits.
Trump is seeking permission to challenge that decision before the state's highest court in Albany.
Consumer Bureau
Jane Azia, the head of Schneiderman's Consumer Frauds and Protection Bureau, said she doesn't believe Trump has a right to a jury trial under state law. She didn't say whether Schneiderman's office would oppose one. The attorney general said in a statement he intends to call Trump and the school's former president, Michael Sexton, as witnesses at trial.
"I am very pleased the judge has indicated her intention to move as expeditiously as possible to trial, as thousands of Mr. Trump's alleged victims have been waiting years for relief from his fraud," Schneiderman said in a statement.
New York State Supreme Court Justice Cynthia Kern told Azia to decide whether Schneiderman's office wants to proceed with both of its fraud claims, which would require the attorney general to prove that students relied on Trump's statements in deciding whether to enroll.
Kern said she would reconsider her decision to allow depositions in the case if Schneiderman decides not to pursue a fraud claim that requires proof of intent or knowledge of wrongdoing and evidence that students relied on Trump's statements.
Next Hearing
The judge asked both sides to schedule another hearing in the case after Trump gets a decision on whether the case will be heard by the Court of Appeals in Albany, the state's top court, which might come within months.
Goldman said the case may be tried as early as the fall, although pretrial questioning of witnesses might delay proceedings by years.
The case is Schneiderman v. Trump Entrepreneur Initiative LLC, 400965-2012, New York State Supreme Court, New York County (Manhattan).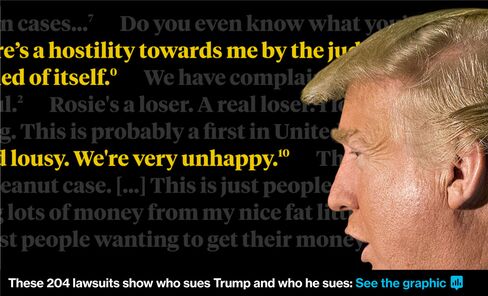 Before it's here, it's on the Bloomberg Terminal.
LEARN MORE