Campaign Wrap: Five Eastern Seaboard States Casting Votes
Maryland, Delaware, Pennsylvania, Rhode Island, and Connecticut all hold presidential primaries that polls indicate will give a further boost to the front-runners for each party's nomination.
Polls close in each state at 8pm ET
Donald Trump appears set for major wins in all 5 states in the GOP race

He leads John Kasich and Ted Cruz by over 20 points in each one, according to RealClearPolitics average of polls
FiveThirtyEight gives him a greater-than 99% chance of winning Md., Penn., R.I., and Conn.; website didn't analyze Del.

Among the Democrats, Hillary Clinton has held steady lead over Bernie Sanders in Md., Del, and Pa.; polls are tighter in Conn. and R.I.

FiveThirtyEight says Clinton has 99% chance of winning Pa., 97% chance of winning Md., and 76% chance of winning Conn.; Sanders has 59% chance taking R.I.

Sanders' senior strategist Tad Devine said the campaign will reassess its path forward tomorrow and decide how Sanders' bid will continue, New York Times reports

"If we are sitting here and there's no sort of mathematical way to do it, we will be upfront about that," Devine said

Today's results could put Sanders so far behind in pledged delegates that given Clinton's hold on superdelegates, his nomination chances are almost nil

ON THE TRAIL
Sanders said on MSNBC he would give "very serious" thought to picking a woman as his vice presidential running mate
He said Sen. Elizabeth Warren "has been a real champion" for working class voters
His wife Jane Sanders said on CNN that the couple would release tax returns from before 2014 when Clinton releases transcripts of her paid. private speeches paid to Wall Street groups
Trump tweeted that newly announced Cruz-Kasich alliance to block him in key states already is "under great strain"
He said pact isn't being honored, is "almost dead"
Trump also tweeted that Sanders should run as an independent since he's been treated "terribly" by Democratic Party
Politico reports that Trump has shifted more power back to campaign manager Corey Lewandowski after becoming frustrated at new adviser Paul Manafort's efforts to overstep his bounds
Kasich reiterated that his pact with Cruz to collaborate is simple matter of resource allocation, not indication he's giving up his campaign
The Ohio Gov. said on NBC he's not doing town halls or TV ads in Ind., "but I am in other states and I will be at" GOP natl convention

DELEGATES
Trump canceled delegate-outreach trip to Va., according to Washington Post
Post cites logistics as reason

STAFF MOVES
Republican lobbyist David Urban, who served as chief of staff to former Sen. Arlen Specter of Pa., is advising Trump campaign, Politico reports

ENDORSEMENTS
GOP Sen. Pat Toomey said he voted for Cruz today in Pa.
Toomey may face tough re-election campaign in fall
Michael Geer, who leads Pennsylvania Family Council, endorsed Cruz

ETC.
Trump moves foreign policy speech set for tomorrow from Natl Press Club in Washington to different venue
Address moved to the Mayflower Hotel, AP's Jill Colvin tweets
Bloomberg's Sahil Kapur reported that speech is first in series Trump plans to portray himself as more sober and serious
Senate Democratic leader Harry Reid said he doesn't think Sanders has path to nomination
"Bernie should do what he wants to do," he said
Trump registered his grounded airplane to Delaware-based limited liability company he controls, thus bypassing potential weeks of waiting for renewal of registration to previous company, New York Times reports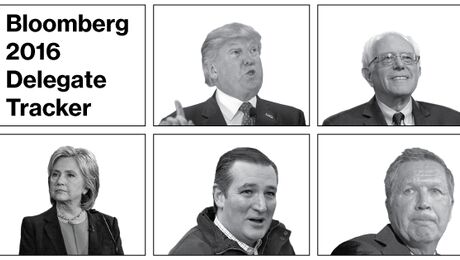 Before it's here, it's on the Bloomberg Terminal.
LEARN MORE