As Voting Ends in 'Acela Primary' Trump Looks for Five-State Sweep
After five primaries Tuesday, attention will quickly move to Indiana and what's viewed as the last best opportunity by Trump's opponents to slow his momentum.
With polling places set to close at 8 p.m., Donald Trump is poised to sweep five Northeast primaries Tuesday as the Republican presidential campaign enters a critical week that ends with a primary in Indiana that may dramatically shape his chances of winning the nomination.
Democrats Hillary Clinton and Bernie Sanders are also competing in the contests in Connecticut, Delaware, Maryland, Pennsylvania, and Rhode Island in what's become known as the "Acela primary" because of the Amtrak route through the region. The former secretary of state is expected to widen her already formidable lead.
Trump and Clinton appear increasingly likely to be headed for a general-election face-off. Clinton is better positioned to get there, while Trump's path could become clearer if he has a strong showing Tuesday and a week later in Indiana's May 3 primary.

The Republican front-runner has announced plans to rally Tuesday evening with his supporters at Trump Tower in Manhattan, as he did a week ago after his massive win in New York's primary. The former secretary of state plans an evening rally in Philadelphia, where her party will host its national convention in late July.

Before the votes were counted, an anti-Trump group conceded the businessman will probably sweep all five states. "Just as we anticipated with New York, we expect Donald Trump to carry all five states," Our Principles PAC said in a statement that also predicted that Trump will win a total of 94 to 109 delegates in the five states.

The voting follows a non-compete deal announced Sunday by Trump's remaining rivals, Senator Ted Cruz of Texas and Ohio Governor John Kasich.

The agreement -- part of an effort to try to stop dividing the anti-Trump vote -- calls for Kasich to avoid campaigning in Indiana and focus his resources elsewhere. In exchange, Cruz won't compete in Oregon and New Mexico, which hold their primaries on May 17 and June 7. Trump has repeatedly labeled the plan "collusion."
The deal, which could be expanded later, carries with it considerable risk. If Trump still manages to win Indiana, it could make him look close to unstoppable for the remaining primaries in May and early June.
"Donald Trump is likely to win some states and the media is going to have heart palpitations this evening," Cruz told supporters at a Tuesday evening rally in Knightstown, Indiana. "The media is going to say the race is over. The media is going to say Donald Trump is the Republican nominee."
Whatever Tuesday's outcome, attention has already shifted to the Hoosier State. Trump is expected to campaign there Wednesday with legendary former Indiana University basketball coach Bobby Knight, after delivering a foreign policy address in Washington.
Indiana is viewed as the last best opportunity by Trump's opponents to slow his momentum. It's also where his two remaining rivals have agreed to first implement a long-shot plan they hope will help keep him from winning the 1,237 delegates needed for the nomination.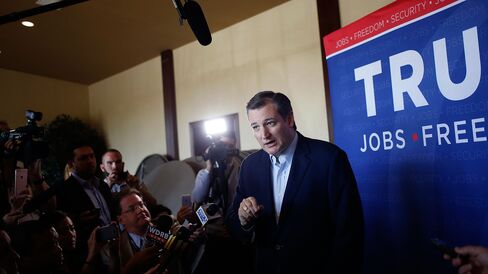 Indiana's strong social-conservative streak makes it friendlier territory for Cruz than the more moderate Kasich. The state has 57 delegates, with the statewide winner getting 30 and each of nine congressional districts awarding three.
"Tonight, this campaign moves back to more favorable terrain," Cruz said in Indiana.
Polling in Indiana has been minimal so far and none has yet captured any movement following the announcement of the Cruz-Kasich pact. A RealClearPolitics average of recent polls showed Trump with a roughly 6-point advantage over Cruz, with Kasich recording about 19 percent.
Tuesday's primaries offer a total of 172 delegates on the Republican side, with 462 at stake for the Democrats.
Pennsylvania is potentially the biggest prize of the night for both parties. On the Republican side, however, the outcome in the commonwealth will be more symbolic than delegate-binding. While the statewide winner will get 17 delegates, the remaining 54 can vote for any candidate they like on the first ballot at the party's July nominating convention in Cleveland.
In a Fox News interview Tuesday, Trump trashed the Cruz-Kasich deal.
"I think it's collusion. I think it's pathetic. It makes them both look weak," Trump said. "It is a rigged system. In certain ways it's corrupt and people are understanding it."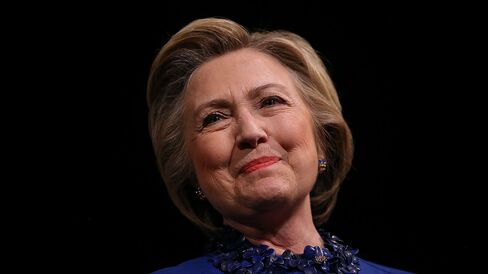 Prior to Tuesday's voting, Trump led the Republican race with 845 delegates, according to an Associated Press tally. He was followed by Cruz at 559 and Kasich at 148. Clinton had 1,944 of the 2,383 delegates and super delegates needed to win, compared to 1,192 for the Vermont senator.
Clinton barely mentioned Sanders on the campaign trail Monday, instead focusing most of her criticisms on Trump and Cruz. In an evening town-hall interview with MSNBC, she implied she'd put in place a half-woman Cabinet if elected president. "I am going to have a Cabinet that looks like America and 50 percent of America is women," she said.
Given her delegate lead, Clinton suggested the end of the campaign trail is near for Sanders. "What he and his supporters are now saying just doesn't add up," she said. "We are going to work together, but I am ahead and let's start from that premise when we talk about what happens next."
During an MSNBC interview Tuesday, Sanders said he'd consider a female running mate and maintained that he still had a chance at the nomination. "I do not accept that there is no path for us," he said.
In a town-hall interview on the network Monday, he suggested he may not be able to convince his backers to support Clinton if she's the nominee and said it's up to her, not him, to do that work. "We are not a movement where I can snap my fingers," he said.
—With assistance from Margaret Talev, Arit John, Ben Brody and Derek Wallbank.
Before it's here, it's on the Bloomberg Terminal.
LEARN MORE