Puerto Rico Economy Worsens With Crisis, Most Anywhere You Look
Economic activity, housing prices, population all on decline

As Congress stalls, it shows Puerto Rico's trouble with debt
In February, Puerto Rico offered investors willing to forgive its debts the chance to be made whole if the island economy takes off. The proposal was met with skepticism -- and soon dropped -- for good reason: When it comes to economic growth, there isn't any.
The American territory has stagnated since 2011. Its population is declining at an accelerating pace. The jobless rate is more than twice that on the U.S. mainland, poverty is three times as severe, and homes cost less than they did 15 years ago. Even tourism, a rare bright spot with hotel occupancy the strongest in a decade, is imperiled by an outbreak of the Zika virus.
The never-ending downturn has left a debt crisis for the government, which was slow to adjust and lived on borrowed money it hoped to repay once things finally turned around. In March 2014, Governor Alejandro Garcia Padilla issued $3.5 billion of bonds, enough to tide Puerto Rico over until last June. When that date came, he said its $70 billion debt -- some $20,000 for every one of its 3.5 million residents -- was too crushing to pay.
The outcome is now partly in the hands of Congress, where House Republicans are seeking to build support for legislation that would empower a federal panel to oversee Puerto Rico's budget and a restructuring of its debt. Given its economic state, investors view major defaults as increasingly inevitable: bonds backed by the government's full taxing power that mature in 2022 traded last week for 57 cents on the dollar, nearly half what they sold for a decade ago.
"With a population of less than 4 million people, with the GDP they have and the amount of poverty they have, how much debt can they afford to pay off?" said Matt Dalton, chief executive officer of Belle Haven Investments, which oversees $4.2 billion of municipal bonds. "Everybody is posturing. No one wants to lose any money. But you have to bring it down to the basics."
Headline Number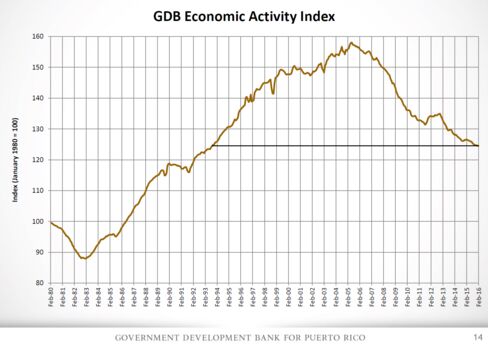 A major indicator is Puerto Rico's Economic Activity Index, a monthly figure compiled by the Government Development Bank that tracks payrolls, cement sales, power production and gas consumption. In 2015, that index decreased 1.8 percent to the lowest in more than 20 years.
The measure isn't perfect, given that it fails to capture some aspects of the economy, said Sergio Marxuach, policy director at the Center for a New Economy, a non-partisan, not-for-profit organization in San Juan that provides research on the island's finances and economic development.
"Nevertheless, it's what we have, and it does give a good indication at least of the general direction in which the economy is going," he said. That direction "has been downward, unfortunately."
Real GNP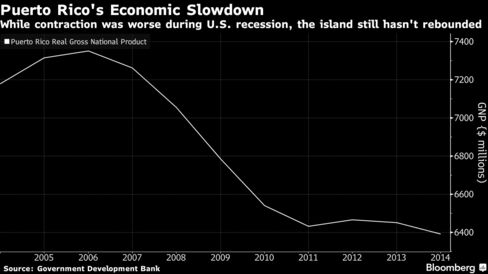 The island's real gross national product follows a path similar to the Economic Activity Index through 2014, the most recent data available. The measure has posted a year-over-year increase just once since 2007.
"Puerto Rico is not bankrupt -- Puerto Rico's government is bankrupt," said Antonio Fernos Sagebien, an economics professor at Universidad Interamericana de Puerto Rico in San Juan. "The first and foremost priority of Puerto Rico's government is to be an agent of job-creating momentum, and they haven't been able to do so for the last five or 10 years."
Population Exodus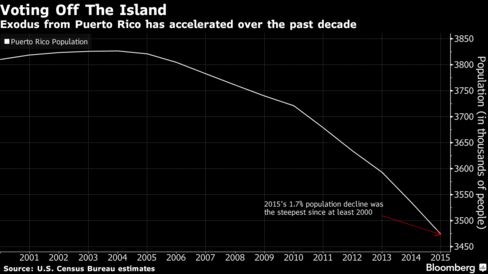 Population loss was one of the main factors that pushed Detroit into the largest U.S. municipal bankruptcy, and it's playing a major role in Puerto Rico's collapse, too.
The island's population has declined every year since 2005, Census Bureau estimates show. Last year, it declined 1.7 percent, the biggest drop since at least 2000. Many who are staying are struggling: About 46.2 percent of Puerto Ricans live below the poverty line, compared with 14.8 percent in the U.S., Census Bureau data show.
"Inaction by Congress will only cause Puerto Rico's situation to deteriorate," Victor Suarez, the island's Secretary of State, said in a statement. "Outmigration will continue increasing, our labor force and tax base will continue shrinking and we will be left with an elderly low-income population that is ever more reliant on a government that is services insolvent. In the end, these trends will reduce creditors' recoveries."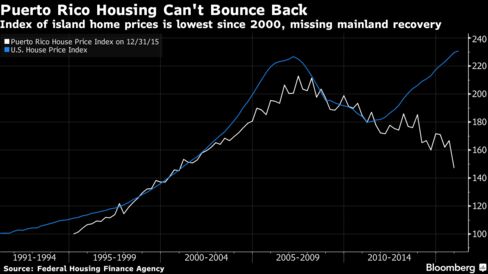 As Puerto Ricans leave, home prices have suffered, with a Federal Housing Finance Agency index showing they're the lowest since the end of 2000. The same index for the U.S. as a whole is at a record high.
The number of foreclosures is up 89 percent from 2008, according to data from the Commissioner of Financial Institutions of Puerto Rico. That's a troubling trend because residents used to do whatever it took to avoid losing possession of their home, Marxuach said.
"In Puerto Rico, it tended to be the case that delinquency rates were higher than the United States, but foreclosure rates were generally low," he said. "Now they've decided to either let the houses go, because they were underwater, or they just migrated."
Underlying Unemployment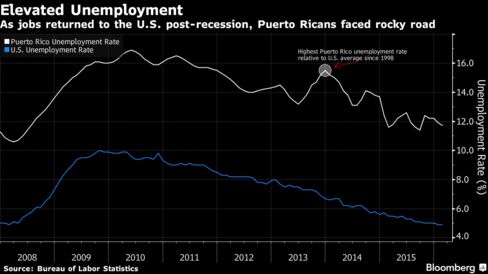 Most are leaving because they can't find work, Sagebien said. Puerto Rico's unemployment rate, at 11.7 percent, is down from as high as 16.9 percent after the recession, though that's still above the 5 percent in the U.S., Labor Department data show.
But those statistics mask the fact that many Puerto Ricans have dropped out of the workforce altogether, so they aren't considered unemployed. The island's labor-force participation rate, or the share of the population that has a job or is looking for one, has fallen about 9 percentage points since 2007 to 40.6 percent. That's triple the decline seen in the U.S., where it fell to 63 percent from 66.4 percent over the period.
Total employment on the island, at about 1 million people, is down nearly 300,000 from 2007. Government payrolls account for about 70,000 of the decline.
To help pay its bills, the government raised sales and use taxes on July 1 to 11.5 percent from 7 percent, a step that produced needed revenue but is likely to act as a drag on the overall economy, according to Marxuach. Collections from that levy have pushed the island's net general-fund revenue to $5.3 billion in the first eight months of the current fiscal year, the highest in at least a decade, according to data from the Puerto Rico Treasury.
"We have cut government payroll, we have increased taxes several times, and all those things in an economy that isn't growing will tend to have a negative effect and exacerbate the weakness," Marxuach said. "With this massive tax-supported debt, if your tax base is leaving the island, it's going to make it that much harder to pay off those debts without any relief from Congress, or on a negotiated basis with creditors."
Watch Next: Puerto Rico's Swelling Debt
Before it's here, it's on the Bloomberg Terminal.
LEARN MORE