Democratic Campaign Chief Cautions Candidates on Rhetorical Tone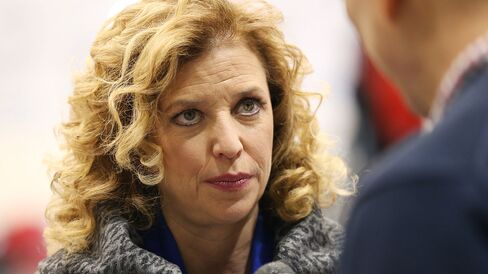 Don't make it harder to reunite party, Wasserman Schultz says

Intramural jabs `pale in comparison' with Republicans' drama
Democratic National Committee Chairwoman Debbie Wasserman Schultz is giving the slightest of warnings to her party's presidential candidates to tone it down.
"We need to make sure that the rhetoric that each candidate uses is such that it doesn't make it more difficult for us to reunify," Wasserman Schultz said on "Fox News Sunday." "We need to make sure that we focus on the endgame" of beating Republicans in November.
Wasserman Schultz declined to criticize directly Bernie Sanders, who has been urged by other Democrats to mute his remarks on the campaign trail as front-runner Hillary Clinton tightens her grip on the nomination. The Democrats' barbs "pale in comparison" to the drama among Republicans, she said, and are probably less intense than in 2008.
"We are going to be unified, and that is certainly not the case on the other side," said Wasserman Schultz, who is also a U.S. representative from Florida. "The Republicans are clearly headed for a brokered convention that is going to descend into chaos."
She also dismissed the FBI investigation into Clinton's private e-mails as secretary of state.
"She used private e-mail and was allowed to use private e-mail," Wasserman Schultz said. "That's not in dispute."
Voters, she said, will focus on issues of policy.
"What they are not going to vote on is distractions like this one," she said.
Before it's here, it's on the Bloomberg Terminal.
LEARN MORE