Sanders Says His Losses to Clinton Show 'Poor People Don't Vote'
U.S. would be `transformed' by higher turnout, Democrat says

Clinton has done well among voters making under $50,000
Bernie Sanders said he's lost Democratic presidential nominating contests to Hillary Clinton in states with high levels of income inequality, an issue he's centered his campaign on, because not enough low-income people go to the polls.
"Poor people don't vote. I mean, that's just a fact," Sanders said in an interview that will air Sunday on NBC News' "Meet the Press." "The last election, in 2014, 80 percent of poor people did not vote."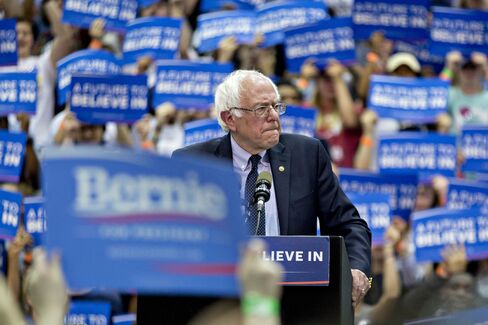 NBC anchor Chuck Todd told Sanders that 17 of the 25 states with the highest levels of income inequality have voted so far in 2016, and that Clinton has won 16.
Sanders said his campaign has "had some success with lower-income people" but that the U.S. has one of the lowest voter turnouts of any major country.
"If we can significantly increase voter turnout so that low-income people and working people and young people participated in the political process, if we got a voter turnout of 75 percent, this country would be radically transformed," Sanders said in a transcript provided by the network.
Unequal Incomes
Among the states that rank highest in income inequality are Northeast states like New York and Massachusetts, which also rank highly in total per-capita income, and Southern states such as Louisiana and Alabama that have low per-capita income, according to U.S. Census Bureau data. Clinton won in all four states.
States with the lowest inequality include Utah, Alaska and Wyoming, all of which also rank among the top 14 states for per-capita income. Sanders won all three of those states in caucuses, which because they require more time from voters, typically have even lower participation rates than primaries.
Clinton has outperformed Sanders among voters making less than $50,000 a year, according to CNN exit poll data. In Florida, half of voters were in that category -- and 65 percent backed the former secretary of state. In Texas, 38 percent of voters made less than $50,000 and Clinton won 66 percent of their vote. In Georgia, 43 percent of voters made under $50,000, and seven in 10 voted for Clinton.
Turnout Lags
In New York, which had the highest level of income inequality in 2014, Clinton won among voters making less than $50,000 a year and among more affluent voters by about the same margins.
U.S. voter turnout exceeds only three countries in the 34-member OECD, according to the Pew Research Center. Turnout in the past 10 presidential elections has ranged from 49 percent in 1996 to 57 percent in 2008.
A 2014 Pew study estimated that about 46 percent of non-voters in the U.S. have family incomes of less than $30,000 a year, and that only 19 percent of voters are from low-income families. Fully 45 percent of non-voters in that study said they had trouble paying bills in the past year, versus 30 percent of voters.
Exit polling is only partially available for 2016 voters with incomes below $30,000 a year. In Ohio, Clinton won 59 percent of that demographic to Sanders's 38 percent on her way to a win. In Wisconsin, won by Sanders, Clinton trailed among low-income voters by 41 percent to 58 percent. In Oklahoma, also won by Sanders, his support was consistent at 54 percent among all but the wealthiest demographic.
Before it's here, it's on the Bloomberg Terminal.
LEARN MORE