UN Seeks Urgent Meeting to Rescue Crumbling Syria Cease-fire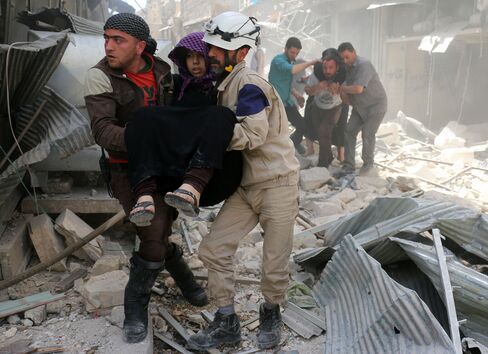 Envoy says two-month-old cease-fire is in `great trouble'

About 20 killed, dozens injured in air strikes on Aleppo
The United Nations special envoy for war-ravaged Syria called for an urgent international meeting to rescue a two-month-old truce that he said was in "great trouble" amid a surge in violence and a walkout by the main opposition group.
"The cessation of hostilities is still in effect, but it is in great trouble if we don't act quickly," Staffan de Mistura told reporters in Geneva on Friday. "It can definitely get back on track, but it will require urgent efforts." Major powers led by Russia and the U.S., which brokered the partial cease-fire, must intervene, he said.
On Friday, the Syrian government unleashed the heaviest airstrikes on the key northern city of Aleppo since the start of the Feb. 27 cease-fire, according to the Syrian Observatory for Human Rights, a U.K.-based opposition monitoring group. Airstrikes hit several neighborhoods in the city, once Syria's commercial hub, killing about 20 people and wounding dozens of others, it said on its website. De Mistura described the situation as "very worrisome."
Battle for Aleppo
Russia, which has been waging an air campaign in Syria for six months in support of President Bashar al-Assad, has defended the offensive around Aleppo as a response to "provocations" by an al-Qaeda wing. The opposition blamed government forces backed by Russia and Iran for the near-collapse of the truce and warned they are seeking to seize control of the city.
Armed opposition groups that have signed the cease-fire must end their ties with the al-Qaeda-linked Nusra Front to avoid getting attacked, Alexei Borodavkin, Russia's ambassador to the UN in Geneva, who represents his country at Syria peace talks, said in an interview. The cease-fire doesn't apply to the Nusra Front or Islamic State.
Speaking in London on Friday, U.S. President Barack Obama said he's "deeply concerned" about whether the peace talks are "sustainable." He said he discussed ways of keeping the cessation of hostilities alive during an April 18 phone call with Putin.
'All Options'
"This has always been hard and it's going to keep being hard," Obama told reporters at a news conference alongside U.K. Prime Minister David Cameron. "We are going to continue to make progress, but we are not going to solve the overall problem unless we can get this political track moving. I assure you that we have looked at all options. None of them are great. And so, we are going to play this option out."
De Mistura said that he would continue the peace talks until the middle of next week despite the walk-out by the opposition High Negotiations Commission, adding that the bloc was continuing to hold "technical" discussions.
The five-year civil war has killed 400,000 people, according to the UN envoy, forced millions from their homes, sparked Europe's biggest migrant crisis since World War II and enabled Islamic State to gain control of territory from which it plotted terrorist attacks in Paris and Brussels.
Syria has said opposition calls for Assad, 50, to leave the office he's held since 2000, are a "red line." The Syrian leader is offering opposition figures he considers acceptable a limited role in a national unity government.
"Neither of the two sides believe they will ever have a military victory so it is time to talk," De Mistura said.
Before it's here, it's on the Bloomberg Terminal.
LEARN MORE