Trump Plays Political Insider and Outsider to Skeptical RNC
Republican leadership left the beach-side conclave still leery of Trump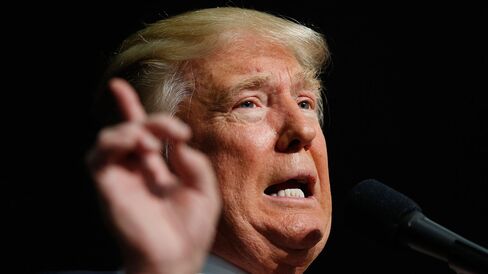 Donald Trump is walking a fine line between being a political outsider and political insider as he tries to claw his way to the Republican presidential nomination.
One of the biggest takeaways from a 3-day gathering of Republican National Committee members at a luxury oceanfront resort in Florida this week is Trump's willingness to play an insider game, as he works to reset his political brand in a final push for his party's crown and a potential general election ahead.
While the billionaire kept his distance from the conclave, several of his top operatives aggressively worked the hallways, meeting rooms, bars and beach-front lounge chairs to convince the party elite that the businessman isn't such a risky bet.
Few uncommitted attendees seemed ready to jump into the Trump fold, but they appreciated the promises Team Trump dangled – fundraising, help winning Democratic-leaning states and down-ballot races in November, plus a new and improved front-runner who's more like his backstage presence.
Kathy Hayden, the GOP's national committeewoman for Virginia, said that while it's encouraging to hear assurances about unity and a moderated tone, "I am somewhat skeptical. They've been saying that now for some time and we haven't seen it."
There were many questions about Trump's ability to be a team player, following his repeated bashing of the party's nomination process and leadership.
"It's a question of duality or duplicity," said John Hammond, the state party chairman from Indiana, where anti-Trump forces hope to create a speed bump for the front-runner in a May 3 primary. "We need to understand what that participation with the national and state parties would look like."
Even if Trump and the RNC don't form a better relationship before the national convention in Cleveland, Hammond said the businessman would have no choice but to work in a cooperative fashion with the RNC in a general election because he would need grassroots organizing help, voter data and perhaps money.
"We have the leverage," he said. "There will be a lot of help needed to win the presidency."
That leverage goes both ways, Trump's chief strategist Paul Manafort said.
The "magic of Trump" will help the party in many ways, such as expanding Republican wins on the general election map, Manafort promised the committee in a closed-door meeting Thursday. An audio recording of the meeting was provided to Bloomberg News by an attendee.
"What he's totally committed to, as the nominee of the Republican Party, is carrying the brand of the Republican Party into more than the traditional states," Manafort said.
Manafort said Trump asked his strategists to "begin to link in the establishment institutions."
"What you represent," he told them, "what the state parties represent, the lot in Washington, the think tanks, the members of Congress –- we started all those conversations because we think the more you get to know that he's available to meet with you, that he cares about a united team, some of the personal concerns on his negatives will start to melt away."
Oregon Republican chairman Bill Currier said that so far Trump has made his campaign about public visibility, not about investing in party mechanics in the states. Trump's new political director, Rick Wiley, met with the Oregon delegation this week and impressed them with his plans for working together on a general election ground game and sharing voter data, Currier said.
"That's an example of a change in perspective on what it takes," he added.
The momentum Trump gained from his win this week in New York's primary and his expected strength in five Northeast primaries next week made the timing good for his campaign's pitch to RNC members.
"The magnitude of the win in New York state, just before people came here sort of started the buzz," said Steve Duprey, a longtime RNC member from New Hampshire. "People are impressed by that."
The RNC gathering was the party leadership's final meeting before July's convention in Cleveland.
RNC members hedged when asked whether they think Trump can win the nomination ahead of the convention.
"It's anybody's guess still," said Peter Goldberg, a state party chairman from Alaska. "I think most people suspect we'll go to more than one ballot in Cleveland."
Stop-Trump operative Katie Packer Gage flew to Florida for the final full day of the meeting to counter the messages being spun by Trump's staff. Gage warned RNC members against reluctantly sliding into the Trump camp.
"Now is not the time to rally around someone they find objectionable," she said. "You know, frankly, you don't have to love" Trump rivals Ted Cruz or John Kasich. "If this thing gets to a wide-open convention, who knows where this thing goes. I don't know what happens on a third ballot."
Asked if she thinks a candidate other than the three finalists might be nominated, Gage said: "I'm not saying that's going to happen. I'm saying I don't know and I don't think anybody else does either. But if there was somebody else you like, now's your chance."
Before it's here, it's on the Bloomberg Terminal.
LEARN MORE