Obama Lunches With Queen Elizabeth as Brexit Debate Intensifies
The Obamas celebrate Queen Elizabeth's 90th birthday

The first president she met was Harry Truman in 1951
President Barack Obama broke from the roiling political debate over a so-called Brexit on Friday to engage in some royal diplomacy: lunch with Queen Elizabeth II of England to celebrate her 90th birthday.
Obama and First Lady Michelle Obama were greeted by the queen and the Duke of Edinburgh after the presidential helicopter landed at Windsor Castle, and the four were whisked away in a black Range Rover toward a private dining room.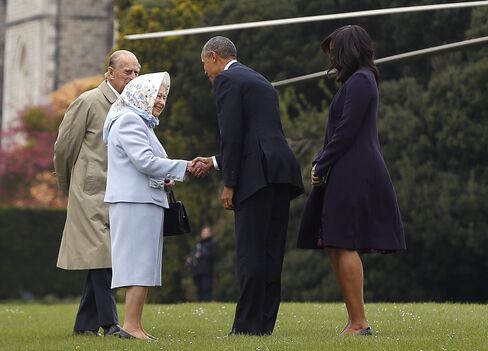 The Obamas' gift for the queen, who wore a periwinkle-colored outfit and a white scarf, was a photo album of her meetings with U.S. presidents and first ladies. The queen's first visit to the U.S. was in 1951, as Her Royal Highness Princess Elizabeth, Duchess of Edinburgh, when she met with President Harry Truman, according to the White House.
The queen has been on the throne since 1952 and has met 11 presidents, according to Buckingham Palace. Obama has met with her twice before, in 2009 and 2011.
Obama joked about the lunch in an op-ed published by London's Daily Telegraph Newspaper soon after he arrived in the country, where proponents of Brexit have complained it is inappropriate for the U.S. president to weigh in on a British political matter.
"I realise that there's been considerable speculation -- and some controversy -- about the timing of my visit," Obama wrote. "And I confess, I do want to wish Her Majesty a happy birthday in person."
Before it's here, it's on the Bloomberg Terminal.
LEARN MORE