Christie Post-Election Contends With Defiant Lawmakers Back Home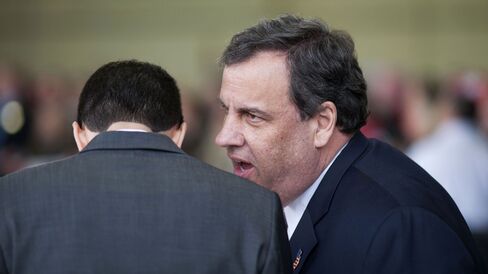 Governor abandons push to reshape court after Democratic block

Republicans once in lockstep with governor now speaking out
Chris Christie touted his ability to "get things done" in New Jersey while on the presidential campaign trail. Two months after dropping out, he faces an emboldened legislature eyeing a post-Christie world.
Just last week, the Republican governor gave up a six-year effort to tip the balance of the state Supreme Court to favor his party. His plan to save Atlantic City from bankruptcy is in limbo. Republican lawmakers are siding with majority Democrats on an alternative plan for the gambling hub, and some have openly criticized him for the first time.
It's a far cry from Christie's first term, when Republicans were lockstep with him, Democrats supported his push for worker givebacks and his approval was sky-high. With 21 months until he leaves office, his rating is near lows after spending more than half of 2015 out of state. His endorsement of Donald Trump cost him even more love. That all bodes well for Democrats seeking to protect pensions and benefits, raise the minimum wage and take back the governor's office in 2018.
"Some people are starting to feel more independent," said Senator Christopher Bateman, a Somerville Republican who has clashed with Christie over his plans to merge state universities and rescue Atlantic City.
About Face
Bateman was one of three Republican senators who broke ranks during an October vote on a gun-control bill, helping achieve the first-ever successful override of a Christie veto in that chamber. That was a blow for Christie, who bragged on the campaign trail of how the legislature had failed in override attempts more than 50 times under his rule.
Christie was the first Republican elected New Jersey governor in more than a decade in a state where registered Democrats outnumber Republicans by more than 700,000. His approval surged to more than 70 percent in 2013 after he won praise for his response to Hurricane Sandy. His popularity began to slide in 2014 after e-mails revealed that allies arranged traffic jams in a town whose mayor didn't endorse the governor for re-election.
Trump Factor
On Feb. 10, Christie ended his White House campaign after finishing sixth place in New Hampshire's primary. After endorsing Trump on Feb. 26, his approval among registered New Jersey voters fell to 27 percent, a poll by Fairleigh Dickinson University's PublicMind showed.
"Nobody's afraid of the Big Bad Wolf anymore," said Senator Raymond Lesniak, a Democrat from Elizabeth. "He's definitely weaker and we're seeing a gradual erosion of his power."
Brian Murray, a Christie spokesman, said the governor has been "as active, innovative and effective in bringing about real reforms and improved services to the people of New Jersey as ever." He cited his recent work expanding recovery coaches for addicts and adding funding of drug courts, a $200 million reduction in unemployment taxes for businesses and a jobless rate now 0.6 percentage points below the national figure.
"This administration continues to reduce burdensome taxes on the people and businesses of New Jersey, while fighting endless efforts by Democrats to raise taxes," Murray said in an e-mail.
Nominees Blocked
One of Christie's biggest battles as governor has been his effort to reshape the state's highest court. His nominations, though, need approval from the Senate. Only three weeks ago, Christie re-nominated a Republican who had never received a conformation hearing, and spent the ensuing weeks criticizing Senate President Stephen Sweeney for not considering him.
Last week, the governor withdrew that nomination and named a Democrat, with Sweeney by his side. "We're getting our jobs done, and that's what this has been about right from the beginning," Christie said.
Christie and Sweeney also agreed on a takeover of Atlantic City's finances. That plan has been stymied by Assembly Speaker Vincent Prieto, a Secaucus Democrat who opposes a provision that would let the administration change or end contracts with workers.
'Intestinal Fortitude'
Prieto introduced an alternative plan that won unanimous approval last week from the Assembly Judiciary Committee, which includes two Republicans. Assemblyman Chris Brown, a Republican from Atlantic County, said Prieto's measure was a more "fair and equitable way to do it."
Another Republican, Assemblyman John DiMaio, criticized Christie during a budget hearing last week, asking if his administration had the "intestinal fortitude" to cut spending if he was granted a takeover of the city.
While Christie was in the race, he attacked Trump as unprepared to be president. His surprise endorsement during a joint appearance in Texas followed two weeks of near invisibility in his home state. The following month, he made headlines for standing behind Trump at a Super Tuesday victory speech with a stone-faced expression.
Photos of that moment are plastered on more than a dozen billboards across New Jersey calling on the governor to renounce the real estate investor's "hateful rhetoric." The "six-figure" ad campaign was purchased by Bridges Over Politics for New Jersey, a nonprofit headed by Aaron Keyak, co-founder of a Washington-based communications firm that represents several Jewish groups. Keyak declined to disclose its donors.
In recent weeks, Christie's schedule has focused more on New Jersey and less on Trump. On Wednesday, he joined the frontrunner for a quick trip to Indiana before returning home for his monthly radio call-in show that night.
"He's absolutely weaker, any lame duck governor is going to be weaker," said Ben Dworkin, director of the Rebovich Institute for New Jersey Politics at Rider University in Lawrenceville. "The fact that he has approval ratings in the 30s makes him that much weaker."
Christie ally Senator Kevin O'Toole, a Republican from Cedar Knolls, disagreed. He said the governor is now free to make decisions without worrying about political consequences.
"Contrary to the people who wanted to write his epitaph a few months ago, he's come back in full force," O'Toole said. "He's not distracted and he's not running for president. He doesn't have any hanging chads over his head and that's liberating."
Before it's here, it's on the Bloomberg Terminal.
LEARN MORE