Anti-Trump Super-PACs Unleash Big Money With Little Impact
Some of the Republican Party's most prolific donors are behind the effort.
Well-heeled political donors are learning the hard way that their wealth is proving little match for Donald Trump.
Super-political action committees and other outside groups have spent about $40 million so far on ads, mailings and other efforts to derail the real-estate mogul's bid for the Republican presidential nomination, according to Federal Election Commission records. Nevertheless, Trump remains the clear front-runner.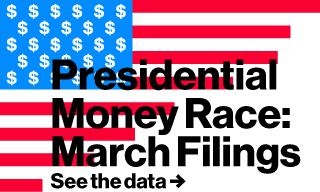 Efforts to oppose Trump escalated last month after a string of victories across the south gave him a formidable lead. One of the groups, Our Principles PAC, raised $8.4 million in March—more than it had in the two previous months combined—to go after the front-runner. The money, which has been largely spent attacking Trump, wasn't enough to keep him from a victory in his home state of New York this week. Now he's the only candidate who could still win enough delegates to lock up the nomination before the party's convention in July.
Some of the Republican Party's most prolific donors are behind the effort, which also includes Club for Growth Action, a super-PAC. Joe Ricketts, founder of TD Ameritrade, and his wife, Marlene, together have given $5.5 million. Investment banker Warren Stephens and his brother, Jackson Stephens, have combined to give $7.1 million. Richard Uihlein, chairman and CEO of packaging supply firm Uline, contributed $2 million. Paul Singer, the hedge fund manager and moderate Republican, has put in $1.5 million. The two super-PACs have spent a combined $21.9 million attacking Trump, FEC records show.
Attacking Trump
"The anti-Trump efforts have been quite effective," William Oberndorf, a San Francisco investor, said in an e-mail, pointing to the group's work in helping John Kasich win Ohio and preventing Trump from locking up the nomination early. Oberndorf, who's given $750,000 to Our Principles through March, said he's now hoping for Kasich to prevail at the convention with Florida Senator Marco Rubio as his running mate. He called Ted Cruz "as dangerous and unelectable as Trump."
Clifford Asness, the libertarian founder of hedge fund AQR Capital Management in Greenwich, Connecticut, gave $1 million to Our Principles in early March. Later in the month, he wrote in an op-ed online that he's long opposed Trump for his positions on immigration and free trade, but that he was softening his stance after his father, a Trump supporter, died of a brain tumor.
"I can't dismiss Trump as easily as before," Asness wrote on March 14.
Our Principles and Club for Growth are just two of a number of big-money groups ganging up on Trump. American Future Fund, a conservative nonprofit that doesn't disclose its donors, spent about $4.2 million on anti-Trump ads in Florida, and about $6.6 million overall opposing Trump.
Super-PACs backing other candidates have also attacked Trump. The groups supporting Cruz and Kasich have spent more than $3.1 million against Trump. The super-PAC backing Rubio spent $4.8 million on the effort before he dropped out of the race last month.
The groups have seen some signs of success. Our Principles spent $1.3 million in Wisconsin before its April primary, helping lift Cruz to victory.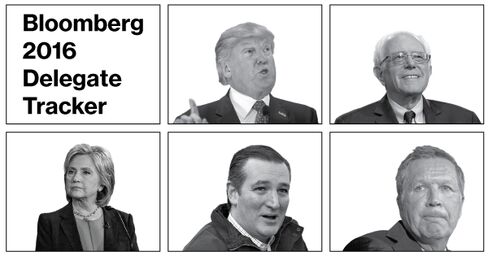 After his big win Tuesday, Trump has secured 845 of the 1,237 delegates he'll need to clinch the nomination on the first ballot, according to an Associated Press tally. He'll need to win about 64 percent of those remaining to reach that number. Should he fall short, many convention delegates would be free on subsequent ballots to vote for another candidate.
As he heads into the final stretch of primaries, Trump's poll numbers are still rising. The most recent Wall Street Journal/NBC poll showed about 40 percent of Republican primary voters preferred him, 10 points higher than in March.
Trump's campaign has relied far more on earned media than paid ads. His campaign spent $13.8 million in March. Some of that was covered by $2.7 million raised from donors, mostly in increments of less than $200. He also put in $11.5 million of his own money, bringing his total personal outlay in the race to $35.9 million.
So far in 2016, big money hasn't been a big help. Former Florida Governor Jeb Bush was backed by the best-funded super-PAC in the field, but he was never able to gain enough popularity to win a single state contest. Rubio, backed by a super-PAC that had raised $57.6 million, dropped out in March after losing to Trump in his own home state of Florida. That was also the primary in which Our Principles and Club for Growth spent most heavily—$7.5 million in the lead-up to the vote. Trump won by 18 percentage points.
Still Spending
Despite the lack of success so far, the anti-Trump groups continue to push on.
Rory Cooper, a spokesman for the Never Means Never PAC, another super-PAC opposing Trump that raised $150,000 in the first three months of 2016, released a statement endorsing either Kasich or Cruz in most of the remaining primaries, strategically trying to deny Trump an outright majority of delegates. "While some states on April 26 look favorable to Trump, there are opportunities for the #NeverTrump movement to deny him delegates," Cooper said in the statement.
Keep the Promise I, one of six super-PACs supporting Cruz, transferred $200,000 to Our Principles in March. "Our contribution is a fraction of the millions they've spent," said Kristina Hernandez, a spokeswoman for the super-PAC. "We supported specific efforts we viewed as beneficial to Senator Cruz."
Kasich's campaign released a detailed memo from chief strategist John Weaver outlining the approach that those opposing Trump should take in upcoming primaries in Maryland, Connecticut, Rhode Island, Delaware, and Pennsylvania, including calls to support Kasich in the states where he's strongest.
"If the #StopTrump movement is serious about stopping him," the memo read, "they should follow this roadmap."
Before it's here, it's on the Bloomberg Terminal.
LEARN MORE