Campaign Wrap: Cruz, Trump Poised for Indiana Showdown
After Donald Trump's resounding win in N.Y., both he and rival Ted Cruz are eying Indiana as the next key battleground that could determine whether the GOP presidential race is wrapped up before the national convention.
National Review reports that the Cruz campaign has prioritized Indiana's May 3 primary, looking past the 5 northeastern states that vote next week

Cruz's advisers think that if he can grab most of Indiana's 57 delegates, they have a much better chance of blocking Trump from reaching 1,237 delegates before July's convention
The campaign is hoping to replicate its success in Wisconsin, though the conservative infrastructure that helped boost Cruz in that state isn't replicated in Indiana

New York Times reports that whether Trump reaches 1,237 may come down to how well he performs in Indiana and then in California on June 7

Analysis assumes Trump does well in next week's 5 primaries while suffering losses in rural Western states that have yet to vote and where Cruz will be favored

Trump, who has hired new advisers who are reshaping his campaign strategy, is holding a rally in Indiana today
Trump met today with the state's conservative governor, Mike Pence, who hasn't endorsed in GOP race; also attending was New Jersey Gov. Chris Christie, who endorsed businessman after ending his own presidential bid

Cruz to meet tomorrow with Pence, a former House member who once considered White House run

New York Times notes no reliable polling has yet been done in Indiana and, complicating predictions, the state doesn't require voters to register by party

Its preponderance of white working-class voters plays to Trump strengths
But a large bloc of evangelical voters works to Cruz's advantage

Club for Growth Action super-PAC plans to spend $1 million in Indiana on anti-Trump ads, Indianapolis Star reports

ON THE TRAIL
Hillary Clinton weighed in on the Treasury Department's decision to replace Andrew Jackson with Harriet Tubman on the $20 bill
She tweeted: "A woman, a leader, and a freedom fighter. I can't think of a better choice for the $20 bill than Harriet Tubman"
Bernie Sanders' aide Tad Devine said on CNN that the campaign is farther behind in delegates than hoped in its battle with Clinton
"We lost a few more delegates yesterday than I thought we would, we're a little farther behind in delegates than we hoped to be," he said in aftermath of Clinton's strong showing in the New York Democratic primary
Trump told Fortune he may replace Federal Reserve Chair Janet Yellen if elected
"I don't want to comment on reappointment, but I would be more inclined to put other people in," he said
Washington Post reports Trump campaign memo describes him as "prohibitive favorite" for GOP nomination who will go into convention with at least 1,400 delegates
Cruz said at a campaign event in Hershey, Pa., that Trump is trying to act like "the race is over" and convince voters that "Pennsylvania is a suburb of Manhattan," Politico reports
Pennsylvania is among states with April 26 primaries, and Cruz said he's going to do well there
John Kasich tweeted "Now that Cruz is now mathematically eliminated, the only diff between him and Kasich is Kasich can defeat Clinton," echoing a take on the New York primary that his campaign pushed last night
Not enough delegates left to be picked for Cruz to lock down nomination through primary wins

ADS
Clinton campaign released ad to air in Connecticut and Rhode Island that features daughter of Sandy Hook victim
"No one is fighting harder to reform our gun laws than Hillary Clinton," says Erica Smegielski, daughter of school principal killed in 2012 shooting

ENDORSEMENTS
RNC Chair Reince Priebus met with the House Republican Conference this morning to discuss the nominating process, Politico reports

CAMPAIGN FINANCE
Clinton super-PAC Priorities USA raised more than $11 million in March, donors have committed another $49 million in coming months, CNN reports
Group has raised more than $67 million total
Cruz has $9 million in bank as of end of March, campaign manager Jeff Roe told reporters
Earlier, his campaign said he raised $32 million in 2016's 1st quarter of 2016
RNC raised $11.5 million in March

POLLS
CT: Clinton leads Sanders 51%-42%, according to Quinnipiac University poll
Among Republicans, Trump at 48%, Kasich 28% and Cruz 19%
NOTE: State holds April 26 primary
PA: Clinton has 52% support to Sanders' 39%, Monmouth Poll finds

ETC.
CNN reports that one of Clinton's talks at Goldman Sachs focused on global macroeconomics and wasn't critical of firm
Appearance in 2013 was structured as conversation between Clinton and Goldman CEO Lloyd Blankfein, according to one attendee who wasn't identified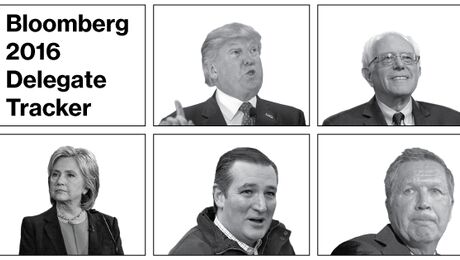 Before it's here, it's on the Bloomberg Terminal.
LEARN MORE