Bill That Angers Saudi Arabia Splits Senate Democrats, Obama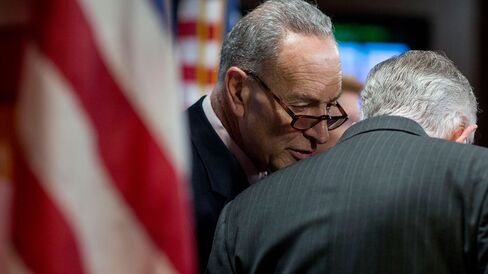 Durbin, Schumer pushing measure to allow suits over Sept. 11

White House cites `long list of concerns' over proposal
Two U.S. Senate Democratic leaders said they'll continue to push a Sept. 11-related bill that has angered Saudi Arabia and is opposed by President Barack Obama.
The measure, which would allow Saudi Arabia to be held responsible in U.S. courts for any role in the 2001 terrorist attacks, threatens to create a major rift with a key U.S. ally just as the president is gearing up for a diplomatic visit and pits Obama against many top Democrats.
"If Saudi Arabia participated in terrorism, of course they should be able to be sued," Senator Chuck Schumer of New York, the No. 3 Democratic leader, said in a statement. Allowing a lawsuit by victims of the attacks to proceed, and the Saudi government to be held accountable if it participated, ensures the Arab kingdom will "pay a price," he said.
But Obama said Monday that he is "opposed" to the bill. "This is not just a bilateral U.S.-Saudi issue," he said in an interview with Charlie Rose that aired Monday night on the "CBS Evening News."
"If we open up the possibility that individuals in the United States can routinely start suing other governments, then we are also opening up the United States to being sued" by individuals in other countries, he said.
The New York Times reported April 15 that Saudi Arabia has warned the administration that if the bill is enacted, the kingdom might retaliate by selling up to $750 billion in Treasury securities and other assets in the U.S. This comes amid a renewed push to declassify a 28-page section of a 2004 U.S. government report on the Sept. 11 attacks that is believed to detail possible Saudi connections to the plot.
Second-ranking Senate Democrat Dick Durbin of Illinois dismissed the reported Saudi threat, saying, "It has no bearing whatsoever on my position."
The No. 2 Republican in the Senate, John Cornyn of Texas, said Monday that he hopes the bill will move soon, perhaps even by the unanimous agreement of the Senate.
"I don't think we should let foreign countries dictate the domestic policy of the United States, so no, it doesn't bother me at all," Cornyn said in an interview.
Sovereignty Question
Tension with the White House over the bipartisan legislation, introduced by Cornyn and co-sponsored by 22 other lawmakers, escalated Monday.
White House Press Secretary Josh Earnest issued what amounted to a veto threat Monday, adding the measure puts "the whole notion of sovereign immunity at stake" and risks alienating a key ally in the fight against the Islamic State terrorist group and al-Qaeda.
"Given the long list of concerns that I've expressed about rolling back core principles of international law, it's difficult to imagine a scenario in which the president would sign this piece of legislation," Earnest said at the White House daily press briefing.
Cornyn rejected the White House's argument.
"This bill is very narrow," Cornyn said. "What it would do is waive sovereign immunity for terrorist activity that occurs on U.S. soil." He added that the law already does waive immunity for countries that are listed as state sponsors of terrorism.
The New York Times report said the White House and State Department's lobbying against the bill, S. 2040, has angered some lawmakers and families of Sept. 11 victims.
The skirmish over the measure threatens to add strain to President Barack Obama's visit this week to Saudi Arabia, where he is scheduled to meet with Saudi King Salman.
Earnest, without confirming the Saudi threats to sell U.S. Treasuries, dismissed the reported threat.
"I feel confident in telling you that the Saudis recognize the shared interest that the United States and Saudi Arabia have in protecting the stability of the international financial system," he said Monday.
Classified Section
Durbin said he wants the public to see a classified portion of the 9/11 Commission report. Former Senate Intelligence Committee Chairman Bob Graham, a co-author of the commission's 2004 report, said during a report on "60 Minutes" earlier this month that those 28 pages should be declassified to shed light on possible Saudi support for some of the hijackers.
"The truth should prevail," Durbin said. "People have a right to know exactly what happened here. And I understand it's a complicated situation with Saudi Arabia, but their threats should not discourage us."
Obama said Monday in the Charlie Rose interview that he hopes the declassification process "will come to a head very soon."
Fifteen of the 19 hijackers were Saudi citizens, but the Saudi Arabian government has long denied any involvement or role in the Sept. 11 attacks.
Former Secretary of State Hillary Clinton, the front-runner for the Democratic presidential nomination, said she supported Schumer's legislation, and fellow Democratic candidate Senator Bernie Sanders of Vermont has also said he backs the measure.

Speaking to reporters at a campaign stop Monday in New York, Clinton refused to comment on whether she has read the 28-page section of the 9/11 Commission report or on whether the material should be declassified.

"The administration should take a hard look at them and determine whether that should be done consistent with national security," Clinton said.
A group of 15 Sept. 11 survivors and victims' families signed a letter to Obama asking him to declassify the 28 pages and to support the Senate bill that could allow the families to pursue Saudi Arabia in court over the attack.
It's not acceptable, they wrote, "to succumb to the demands of a foreign government that we abandon principles of American justice while we pursue our diplomatic goals. We can, and we must, be good enough to do both."
Before it's here, it's on the Bloomberg Terminal.
LEARN MORE