Mexico Won't Be 'Bullied' by Trump's Threat to Fund Border Wall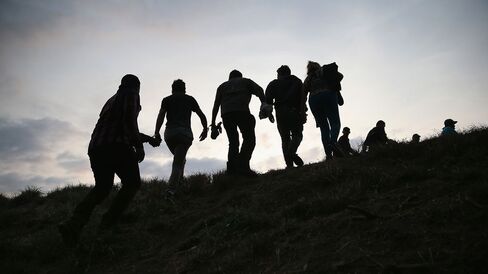 It's also a matter of `dignity,' finance minister says

Country plans to buy back some debt in coming weeks: Videgaray
Mexican Finance Minister Luis Videgaray called billionaire Donald Trump's proposal to force the country to pay for a wall along the U.S. border, or face economic consequences if it doesn't, a kind of diplomatic harassment that's doomed to fail.
"Mexico will not pay for that wall, not only because it doesn't make any sense for either Mexico or the U.S. to enter into that type of threat rhetoric, but it's also a matter of dignity," Videgaray said Saturday in an interview in Washington. "There's no way in which Mexico can be bullied into doing such a thing."
The Republican presidential candidate said in a memo this month that as president, he would block payments that Mexican workers in the U.S. send to their home country, known as remittances, if Mexico's government refuses to foot the bill for a wall he wants to build along the roughly 2,000-mile (3,218 km) border. Trump has said the wall would subdue illegal immigration and cost $8 billion to $10 billion. Officials in Mexico have repeatedly said they have no intention of paying for it.
Mexico has taken action to counteract Trump's anti-immigrant message, including mounting an unprecedented effort to covert the country's many permanent residents in the U.S. into citizens, a status that would enable them to vote -- presumably against Trump. Officially, Mexico says it respects U.S. sovereignty and has no strategy to influence the result of the presidential race. Yet diplomats are mobilizing to assist immigrants in gaining U.S. citizenship, hosting free workshops on naturalization.
Campaign Promise
About 12 million Mexicans live in the U.S. and almost half lack legal status, according to a study released in November by the Pew Research Center. Still, more Mexicans left the U.S. than arrived from 2009 to 2014, according to the nonpartisan research group. Trump, front-runner for the 2016 Republican nomination, kicked off his White House bid with invective directed at Mexican immigrants and a promise to build a border wall.
"The proposal to make Mexico pay for a wall and trying to achieve that through a set of threats is a proposal that has already failed," said Videgaray, who was attending the spring meetings of the International Monetary Fund and World Bank.
Mexico received $24.8 billion in remittances last year, the highest level since 2008, according to data compiled by Bloomberg. In 2012, 98 percent of remittances to the Latin American nation's $1.29 trillion economy came from the U.S., according to the Pew Research Center.
Debt Buyback
While Mexico's government says it won't pay for Trump's wall and has already cut expenses this year, Latin America's second-largest nation has new plans for outlay, Videgaray said: buying back some of its debt in the coming weeks. The government will provide details about which debt it will repurchase at that time to avoid distorting prices in the interim, he said.
"We like the structure of our current debt, so it's not going to be focused on a single issuance," Videgaray said. "Of course, we might have some emphasis on things that are due in the coming months to minimize rollover risks."
Mexico's Finance Ministry announced on April 11 that it would use $13.6 billion from a central bank surplus to pay down debt and boost its rainy day fund. The ministry said it would spend 167 billion pesos ($9.5 billion) of the transfer to buy back debt and reduce bond issuance this year, while 70 billion pesos will go to boost the nation's budget revenue stabilization fund.
By boosting its rainy day fund, Mexico could have the flexibility to add gasoline to its oil hedge program in 2017 if the nation decides to remove set prices for fuel, the Finance Ministry's chief economist, Luis Madrazo, said in an interview earlier this month. Adding fuel to the program wouldn't necessarily expand the size or cost of hedging, as Mexico may even reduce the price tag by using more self-insurance in place of some hedging, he said. In Saturday's interview Videgaray said the government hasn't yet decided whether to hedge against lower gasoline prices.
"The hedge could be done through the markets or also through cash allocations in stabilization funds; it's not necessarily a market trade," he said. "And we're thinking about the risk to public finances."
Before it's here, it's on the Bloomberg Terminal.
LEARN MORE