Campaign Wrap: Dueling Clinton, Sanders Ads Shadow New York Primary
Democrats Hillary Clinton and Bernie Sanders released new TV ads ahead of Tuesday's N.Y. primary, showcasing the difference in each candidate's messages and underscoring the stakes in the contest.

ON THE TRAIL
Ted Cruz said the U.S. should have rules-based monetary policy as "the history of the Fed has not been very good in terms of being smarter than the market"
He told CNBC that monetary policy "should not be targeting a strong dollar or a weak dollar"
He also said Obama's been handling issue of inversions "entirely backwards"
Cruz touts his own tax plan, saying he would encourage companies to come to the U.S. for a favorable business environment and tax stability
Donald Trump released a WSJ op-ed last night bashing delegate selection rules and connecting them to "the system" that has "rigged" trade, economic and immigration policies
"What we are seeing now is not a proper use of the rules, but a flagrant abuse of the rules," he writes
RNC responded that "the rules surrounding the delegate selection have been clearly laid out in every state and territory and while each state is different, each process is easy to understand for those willing to learn it"
Trump campaign manager Corey Lewandowski said on CNN that he's "glad" that battery charges against him in Fla. were dropped

He said he called reporter Michelle Fields and "I never heard back," so "it seems she wanted to inject herself into making it a story"
Sanders praised the Catholic Church's moral teachings on the economy during a speech today at a Vatican conference
"We have to acknowledge that Pope John Paul's warnings about the excesses of untrammeled finance were deeply prescient," he said
Clinton said hedge funds are profiting from "the misery of the Puerto Rican people"
At an event in New York, she said Puerto Rico is suffering under "terrible economic pressures" and reiterated her call to give the island power to restructure its debt through bankruptcy

ENDORSEMENTS
Neb. Sen. Ben Sasse, an outspoken critic of Trump's, said he cast his ballot for Cruz in early balloting for his state's May 10 primary

ADS
Cruz released an ad that highlights Trump's support for N.Y. Mayor Bill de Blasio
"I think he's a smart guy," Trump says of Democrat de Blasio in ad

WALL STREET
Clinton's comment that she will break up big banks if they fail their living wills puts biggest banks on alert, Guggenheim analyst Jaret Seiberg writes in note
"Clinton's comment will make the 2017 living will submission a make or break for the biggest banks -- if she becomes president," he says

CAMPAIGN FINANCE
Washington Post analysis showed that 41% of the money raised by super-PACs came from 50 donors and their relatives, as of the end of Feb.

ETC.
RNC Chair Reince Priebus said on CNN he's "much more comfortable" with eventual GOP nominee running against Clinton than Sanders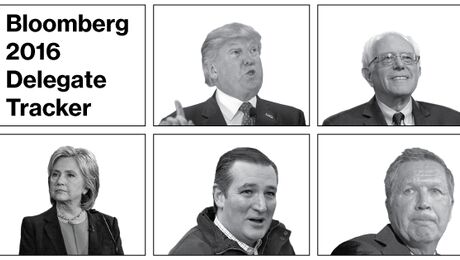 Before it's here, it's on the Bloomberg Terminal.
LEARN MORE