By the Numbers: Democrats' Brooklyn Debate Brawl
Clinton and Sanders put in their most assertive and aggressive debate performances to date.
New York Democrats aren't used to being the center of the political universe, but on Thursday night the state's former senator, Hillary Clinton, and native son Bernie Sanders met at the Brooklyn Navy Yard to duel over who'd make the better presidential nominee.
In an increasingly heated contest, it came as little surprise to political observers that the candidates put in their most assertive and aggressive debate performances to date. In fact, Clinton and Sanders mentioned each other by name or title more often Thursday than ever before, while their 48 attacks more than doubled the 21 counted during the Feb. 4 debate just before the New Hampshire primary.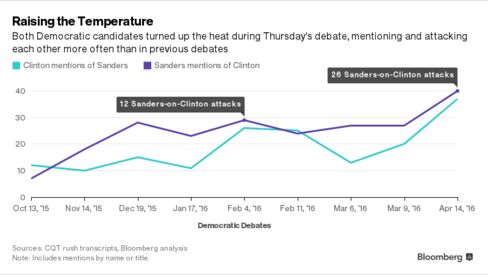 While the New Hampshire debate focused more on who was the true "progressive," Thursday's home-turf showdown went deeper. Asked by CNN moderator Wolf Blitzer whether Clinton was suited to serve as president, both candidates stepped back from the preceding week's watch-word, "qualified," and instead seized on a related word that Blitzer used: "judgment."
"I question a judgment which voted for the war in Iraq," Sanders said. "President Obama trusted my judgment enough to ask me to be secretary of state," Clinton countered.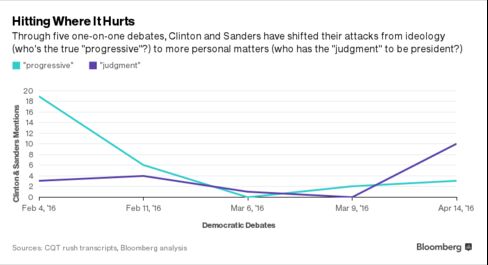 Virtually no subject appeared to be friendly territory for the former Senate colleagues, whether it was Sanders accusing Clinton of hedging her support for a $15 federal minimum wage, or Clinton rehashing Sanders' voting record on guns, and each pushing the other to release records: transcripts of paid Wall Street speeches in Clinton's case, tax returns in Sanders'.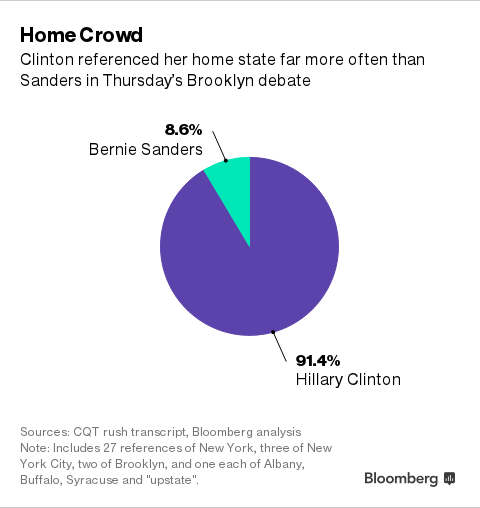 Clinton has a nearly 14-point lead in the latest RealClearPolitics polling average, and she clearly tried to drive it home Thursday, referencing New York 25 times, New York City three times, and Brooklyn, Albany, Buffalo, and Syracuse once each. In comparison, Sanders had just three mentions total, two for New York as a whole and one for Brooklyn.
Clinton also appealed to the Democratic base that will be voting in Tuesday's closed primary by invoking President Barack Obama and his policies on everything from Wall Street reform to the Paris climate change talks and his Supreme Court nominee. She also amplified her campaign theme of knocking down the "barriers that stand in the way of people getting ahead," listing out "racial barriers, gender barriers, homophobic barriers, disability barriers," and "economic barriers" in her closing statement.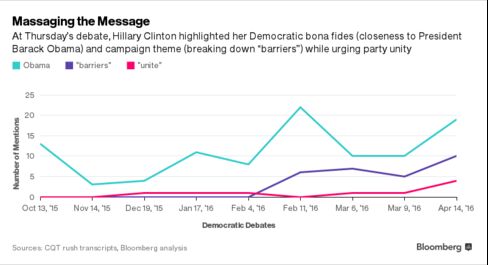 Clinton called several times for party unity once the primary season is over. For his part, Sanders pushed back against the delegate math disadvantaging him by reminding everyone of what he described as his campaign's momentum. His use of words relating to winning, polls, and states (as in the number of states he's recently won) went up dramatically compared to the previous eight Democratic debates.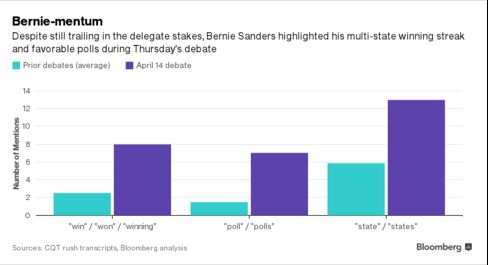 The Brooklyn audience certainly cheered like a home crowd. Thursday's event included 50 percent more applause and laugh lines than any prior Democratic debate, according to an analysis of rush transcripts.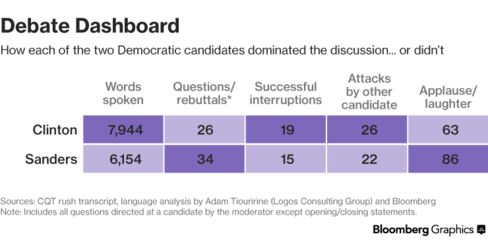 —Bloomberg contributor Adam Tiouririne of Logos Consulting Group advises senior business leaders on high-stakes communication and researches language, leadership, and the media.
Before it's here, it's on the Bloomberg Terminal.
LEARN MORE