Campaign Wrap: Clinton-Sanders Faceoff Ends Debate Hiatus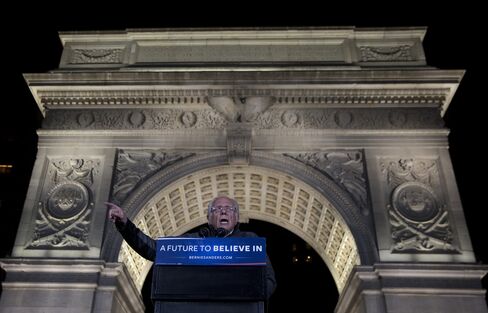 The Democratic presidential contenders last shared a debate stage more than a month ago in Miami, and Hillary Clinton was in no rush for any more debates after she swept 5 major primaries a few days later. But with Bernie Sanders now on a hot streak, the pair meet again in the state one was born in and the other adopted.
The Brooklyn-bred Sanders and Chappaqua-homeowner Clinton square off in New York City at 9pm on CNN as their competition has turned more hard-edged, with insults being swapped over trade agreements, who's best prepared to be commander-in-chief and other matters
The stakes are high, with Clinton needing a solid win in N.Y.'s April 19 primary to re-assert her primacy in the nomination race while Sanders seeks a better-than-expected showing to take momentum into the remaining contests
The Republican presidential contenders also will find themselves at the same venue tonight, but not for a debate—Donald Trump, Ted Cruz and John Kasich all will attend a fundraiser in Manhattan for the state GOP party

ON THE TRAIL
Bernie Sanders denounced the "corporate Democratic whores" phrase used by one of his supports at a NYC rally yesterday, saying Dr. Paul Song's remarks were "inappropriate and insensitive"
According to NBC News, Song said, "Medicare for all will never happen if we continue to elect corporate Democratic whores who are beholden to big pharma and the private insurance industry instead of us"
Song also apologized via Twitter
Sanders won't be meeting with Pope Francis during his visit to the Vatican this week, the New York Times reports
Jane Sanders told the Daily Beast that if Clinton's the nominee, she and her husband will support her, and they hope their supporters will, too
Hillary Clinton, at a rally last night in the Bronx, declined to attack Sanders and instead knocked Trump and Cruz, AP reports
"Mr. Trump wants to set Americans against each other. He wants us to build walls, I want us to build bridges," she said
Clinton called the ruling allowing families of Sandy Hook victims to move forward with lawsuit against gunmakers an "important step"
Donald Trump aide Ed Brookover met with 7 House members who endorsed the candidate to discuss delegate strategy
After the meeting, Brookover said it's "step one" of what will become weekly 9 a.m. meetings at Capitol Hill Club with Trump's "House Leadership Committee"
Trump said on Fox he's "not at war" with the Republican party, amid his comments that the nominating system is rigged
Cruz supports new N.C. law restricting transgender people to using only bathrooms that correspond with the gender on their birth certificate, AP reports
"Men should not be going to the bathroom with little girls," Cruz says at MSNBC town hall taping in New York, according to AP

TRUMP DRAMA
Florida's state attorney says evidence in the case of alleged battery of a reporter by Trump campaign manager Corey Lewandowski is "insufficient to support a criminal prosecution," NBC reports

ADS
Trusted Leadership PAC, which supports Cruz, is spending $500k on 2 ads and a radio spot that will air in N.Y.
One ad criticizes Kasich for supporting Medicaid expansion; other says conservatives "put their trust" in Cruz
GOP group American Crossroads is airing ad in N.Y. that compares Clinton's untrustworthiness to that of former President Richard Nixon
Sanders released ad in N.Y. that touts his support of Wall Street reform
"Nothing will change until we elect candidates who reject Wall Street money," ad says

POLLS
Cruz is rated unfavorably by 53% of Americans, up 10 ppts since Jan., ABC News/Washington Post poll shows
Trump is seen unfavorably by 67% of Americans, compared to 71% about a year ago
Clinton is seen unfavorably by 52%, 2 ppts from her worst—54% in April 2008
NATIONAL: Trump's nationwide lead in GOP race over Cruz has narrowed to 13ppts, 42%-29%, according to CBS poll; Trump led by 20 ppts last month
Kasich backed by 18% in latest survey
PA: Trump leads GOP field in state with 44%, followed by Cruz with 28%, Kasich with 23%

ETC.
Various Democratic Party entities and Hillary Clinton's presidential campaign will sue Arizona over wait lines for voting that plagued the state's presidential primary last month, Washington Post reports; aim is to prevent repeat in Nov. election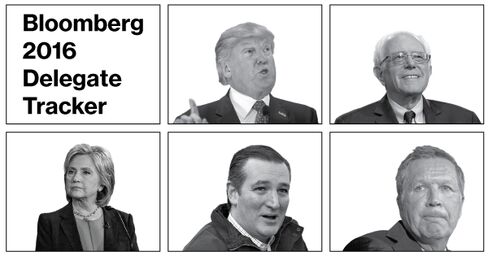 Before it's here, it's on the Bloomberg Terminal.
LEARN MORE