Mercer Funds New Group to Aid New York House Candidates
"This is going to be a tough year," a PAC organizer says.
Robert Mercer, the Long Island hedge-fund manager who is one of the biggest conservative donors in the country, is coming to the aid of Republicans in his Democrat-leaning home state.
Mercer gave $500,000 to form a new super-PAC known as New York Wins, according to a Federal Election Commission filing this week. George Winner, a former state senator from Elmira who helped set up the group, said it will focus on defending Republicans in House races.
"This is going to be a tough year," Winner said in an interview, given the likelihood that Hillary Clinton, a former New York senator, will win the Democratic presidential nomination. "It could be tough on top of the ticket, so we want to protect our down-ballot Republican incumbents."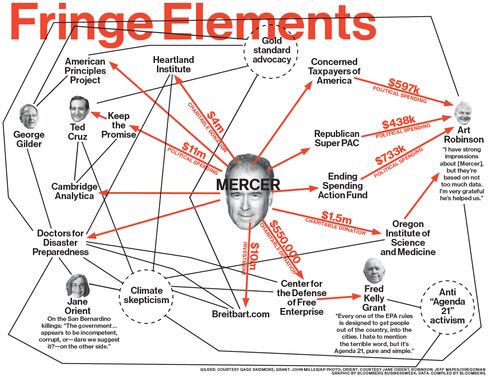 Although Mercer hands out contributions all around the country, he's given special attention to New York over the years. In both of the last two election cycles, he spent six-figure sums trying to get a Republican elected in his home congressional district, which encompasses the eastern end of Long Island. He succeeded in 2014, when Lee Zeldin defeated Democratic incumbent Tim Bishop.
In 2013, two of Mercer's daughters helped set up a nonprofit group called Reclaim New York, which advocates for lower taxes and lighter regulation at the state level.
A spokesman for Mercer had no immediate comment. Politico reported on the super-PAC's plans earlier today.
New York Wins hasn't committed to any races yet, but Winner said it was likely to support John Faso's bid to win the Republican nomination for the 19th congressional district, in the Hudson Valley, a seat being vacated by Republican Chris Gibson.
Mercer's contribution was the only one New York Wins received in its first three months in existence. Winner said he hopes other donors will join. During the last election cycle, Winner worked on a similar super-PAC known as New York 2014 that collected checks from many of Wall Street's top Republican patrons, including Mercer, Paul Singer, and Daniel Loeb.
Mercer is the co-chief executive officer of Renaissance Technologies, an East Setauket-based hedge fund that trades with the help of computer algorithms. He's spent $11 million supporting Republican presidential candidate Ted Cruz, making him the Texas senator's biggest individual backer.
Before it's here, it's on the Bloomberg Terminal.
LEARN MORE