Campaign Wrap: Ryan's Latest 'No' Further Clouds GOP Race
Paul Ryan's decision to definitively rule out accepting a presidential nomination is a blow to those insiders who have been touting him as the one person who could unite most Republicans and adds new uncertainty to the GOP race.
"Count me out," he said in Washington. "I am not going to be our party's nominee"
Ryan made his comments to quell speculation that he would step in if a nominee isn't picked on first ballot at the party's July national convention
Establishment Republicans have wanted Ryan to be open to a "draft" at a potentially deadlocked convention, fearing that either Donald Trump or Ted Cruz would prove a poor general election candidate

ON THE TRAIL
Hillary Clinton and N.Y. Mayor Bill de Blasio are getting flack for a joke at a weekend gathering in which de Blasio said he took so long to endorse her because he "was running on CP time," a reference to the racially stereotypical phrase "colored people time," AP reports
In a skit, Leslie Odom Jr., the African-American actor in the hit musical "Hamilton," said with mock outrage, "I don't like jokes like that, Bill."
Clinton then responded: "Cautious politician time. I've been there."
At an event today in New York City, Clinton made the case for equal pay for women, saying she hopes "the rest of the country will catch up with New York and California" and raise hourly minimum wage
Bernie Sanders' campaign surrogates criticized Clinton for opposing driver's licenses for undocumented immigrants, Politico reports
Activists, public officials and an undocumented farm worker knocked Clinton for her 2007 stance against then-N.Y. Gov. Eliot Spitzer's proposal to allow undocumented immigrants to get licenses
John Kasich said the policies and behavior of his rivals in the GOP race are "not worth of the office they are seeking," Politico reports
"Some who feed off of the fears and anger that is felt by some of us and exploit it feed their own insatiable desire for fame or attention," he said at a speech in New York City
Cruz last night in San Diego scorned Trump for "whining" that the nominating contest is rigged, AP reports
"Donald, it ain't stealing when the voters vote against you. It is the voters reclaiming this country and reclaiming sanity," he said
Trump's plan to halt remittances sent to Mexico by migrants in U.S. would represent violation of U.S. individuals' property rights, according to Banxico Governor Agustin Carstens



GOP CONVENTION
Some "high-profile" Republicans, including Jeb Bush, may skip the Republican National Convention in Cleveland, CNN says

ADS
Of the more than $132 million spent on negative ads during this cycle, nearly $70 million has gone to spots attacking Trump, according to a New York Times analysis of Kantar Media/CMAG data

ENDORSEMENTS
Phyllis Schlafly, who gave Trump her backing last month, is taking heat over her endorsement—she said she's facing down effort to remove her from Eagle Forum, the conservative group she founded, Washington Post reports

POLLS
NY: Trump has 55% support among likely voters in April 19 primary, 20% for Kasich, 19% for Cruz, according to Quinnipiac University poll; Clinton leads Sanders 53%-40%
CT: Trump has 50% support, followed by Kasich at 26%, Cruz at 17%, according to Emerson College poll
For Democrats, Clinton has 49% support, Sanders 43%

DELEGATES
Colorado Democratic Party said it misreported March 1 caucus results, and Sanders won one more delegate than earlier reported, according to Denver Post

ETC.
Jeb Bush visited U.S. Senate today, CNN's Manu Raju tweeted
Bush was there to "meet with a couple people" and thank them for their support in his failed presidential bid, according to Raju
The Clinton Library published more documents on the relationship between the Clintons and Trump, showing that Bill Clinton's aides tracked the businessman's potential White House bid in 2000, Politico reports
Documents don't show any close relationship between businessman and the former president or Hillary Clinton
Facebook CEO Mark Zuckerberg called for "bridges," not "walls" in the 2016 election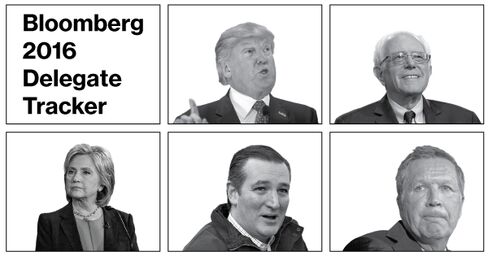 Before it's here, it's on the Bloomberg Terminal.
LEARN MORE