Sanders Renews Feud With 'Greedy' GE, Says Immelt Not Truthful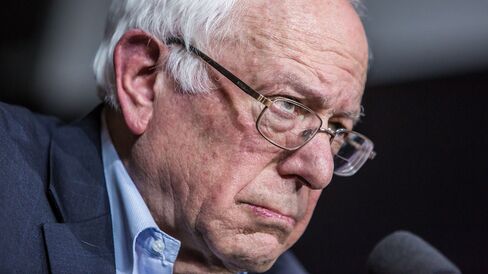 Democratic presidential candidate Bernie Sanders stepped up his feud with General Electric Co., denouncing the manufacturer as "greedy" and accusing Chief Executive Officer Jeffrey Immelt of not being truthful in responding to the attacks.
"General Electric is a company that is well known for negotiating contracts with its workers which call for concessions, sending jobs outside of this country, and not paying their fair share of taxes," Sanders said Sunday on CNN's State of the Union program. "That is, I think, a greedy corporation."
The jabs escalated the Vermont senator's criticism of GE, which he described last week to the New York Daily News as an example of a company "destroying the moral fabric of this country." That blast drew a denial from Immelt in a Washington Post commentary and an assertion that Sanders had "never bothered to stop by" a GE aviation factory in his home state.
Sanders said Sunday that he had visited the Rutland, Vermont, facility "years ago," without elaborating, and said Immelt wasn't "telling the truth."
Criticism of corporate America, especially big banks, is a pillar of Sanders' effort to grab the Democratic presidential nomination from front-runner Hillary Clinton. In taking on GE, the biggest U.S. industrial company, he chose a target with a global workforce and a finance unit that was once so big it was designated by the U.S. as too big to fail. Immelt is now selling off most of the finance business.
In the opinion piece, which appeared April 6 in the Washington Post, Immelt defended having a workforce presence in countries where it sells its goods and said it pays "billions in taxes."
"Repeating a lie over and over does not make it true," Immelt wrote.
David Lurie, a spokesman for GE, said the company had no further comment at this time.
Sanders, who soon faces former New York Senator Clinton in the state's April 19 primary, also repeated that there is "no question" his competitor "has the experience" to be president, while questioning her judgment.
"I have my doubts about what kind of president she would make," he said. In a separate interview on NBC's Meet the Press, Sanders said "something is clearly lacking" in the former secretary of state's judgment.
Sanders had earlier said that Clinton was unqualified for the Oval Office based on her super-PAC's activities, her vote in favor of the Iraq War while serving in the Senate, and her support for past trade deals.
Sanders also said it was too far off to speculate about whether he would attempt a delegate fight against Clinton for the party's nomination at the Democratic National Convention in July. He suggested he could try to win over super-delegates supporting Clinton, particularly if the regular delegates pledged to her don't give her a majority.
Super-delegates are party leaders and elected officials who promise their vote to a candidate but are not formally bound to that person.
"I think if neither candidate ends up having the kind of votes they need, yea, I think there'll be some discussion," Sanders said on CNN.
Also appearing on CNN, Clinton said she wasn't preparing for a nomination fight at the convention. "I intend to have the number of delegates that are required to be nominated," she said.
"I feel good about the upcoming contests, and I expect to be the nominee," Clinton said, noting that she's ahead of Sanders by about 2.5 million votes from the nominating contests so far, as well as ahead in pledged delegates.
—With assistance from Oliver Renick in New York.
Before it's here, it's on the Bloomberg Terminal.
LEARN MORE