Visa Headache Trump and Sanders Agree On in Focus Amid Shortage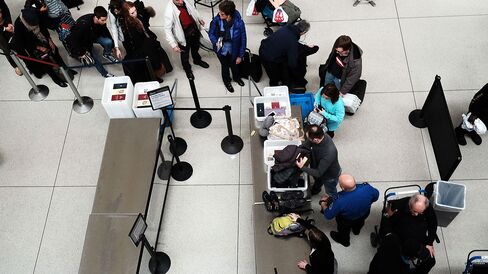 Skilled H-1B visa cap is hit within a week for fourth year

Candidates say program's wage system needs to be reformed
America's visa program for temporary skilled workers has hit its limit within a week for a fourth straight year. It shows that demand outstrips supply for the embattled program, which is likely to stay in the spotlight as the 2016 presidential campaign wears on.
The U.S. allots 85,000 new H-1B visas per fiscal year, mostly to workers in technology, engineering, science and research. Demand far exceeds that -- especially now, when unemployment in the country stands at 5 percent and job openings are elevated -- so the window to submit applications has only remained open for a week in recent years. U.S. Citizenship and Immigration Services announced Thursday that it had surpassed the cap, and the slots will now be allocated using a random lottery.
Both the process and the visa category itself are widely condemned. Companies say they lose needed talent each year because of the H-1B shortage, while politicians including Democratic presidential primary candidate Bernie Sanders and Republican Donald Trump say the visa's compensation rules - meant to protect jobs for American workers and prevent exploitation of foreign labor - aren't working.
"Every April 1st we have seen the demand for H-1B visas rise," Neil Ruiz, executive director at the Center for Law, Economics and Finance at George Washington University, said in an e-mail. "This will be an ongoing issue that will be a high priority for the next president to tackle."
Fair Pay
The basic H-1B visa is subject to a cap of 65,000, in place since 2004. In addition, the first 20,000 advanced-degree graduates to file are exempt, and another exception is made for people working at some non-profits, such as universities. Companies file applications on behalf of their employees, and must prove that they pay a fair wage based on the job's geography and skill level -- a provision that's at the core of the controversy.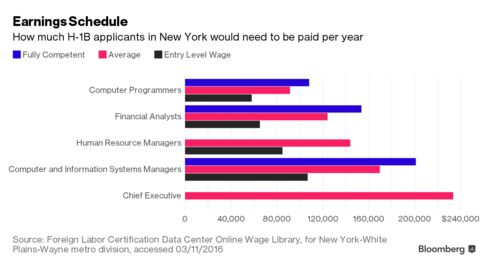 Trump, the front-runner in the U.S. Republican primary, has said the prevailing wage for H-1B workers should be higher. His website says that many visas are issued at the program's lowest allowable wage level, and companies should be required to seek to hire Americans before turning to H-1B labor.
"Raising the prevailing wage paid to H-1B's will force companies to give these coveted entry-level jobs to the existing domestic pool of unemployed native and immigrant workers in the U.S.," according to Trump's campaign website. Republican rival Ted Cruz has also weighed in, suggesting a six-month suspension of H-1B issuance to audit "pervasive allegations of abuse of the program."
Hot Debate
Sanders, who is trailing Hillary Clinton in the bid for the Democratic nomination, also wants reform of the program. "We must substantially increase prevailing wages that employers pay temporary guest workers," and "if there is a true labor shortage, employers must offer higher, not lower wages," according to his campaign website.
The candidates raise an issue that's hotly debated in immigration policy circles: are H-1B workers being paid too little, making them attractive substitutes for American hires?
"It's difficult to make those comparisons about what it means to be underpaid," said Chad Sparber, an economist who teaches at Colgate University and specializes in immigration. "When you're hiring workers, there are all kind of comparisons that you're making between different skill sets, and the underlying nature of work that an H-1B worker could be performing might be different than what a native worker might be working at."
Cut Corners
Vonda Vandaveer and Mike Brown, attorneys who represent H-1B employees in wage cases against employers, said they do see cases where companies mis-classify employees to pay them lower wages, but it's much more common for employers to avoid paying the wages that they've promised.
Department of Labor records document such incidents. H-1B hires have fought for and won compensation in cases against companies that didn't pay them when they were in between contracted positions, for example.
While it's difficult to quantify how widespread wage skimping in the H-1B program is, it's also clear that many employers legitimately use the program to fill specialized jobs. Those companies are harmed by the shortage put on display this week, said William Stock, an immigration attorney who helps to file H-1B applications.
"In my experience, companies are bringing in H-1Bs because they have to," said Stock, founding partner of Klasko Immigration Law Partners LLP. The legal and application fees can get pricey, so it's become less economical to file applications when they might be rejected in the lottery -- especially for small businesses filing with limited budgets. "Many times, they have to really take a deep breath if they're going to do it, and hope for the best," said Stock.
Bottom line: There's evidence that the H-1B program isn't working properly, whether you're an American worker, a non-visa immigrant or a company hoping to employ skilled foreign workers, and it's an issue the next president will need to address.
Before it's here, it's on the Bloomberg Terminal.
LEARN MORE