Rising U.S. Labor Force Belies Republican Criticism of Obama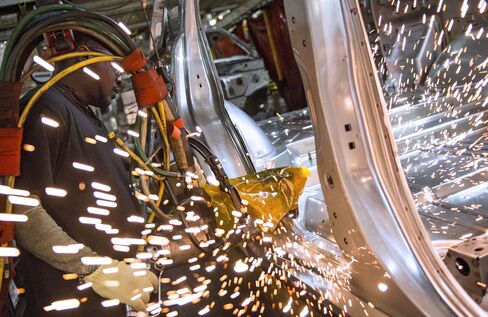 More than 2 million Americans join workforce since September

Increased participation is also good news for Yellen
It's standard Republican criticism of President Barack Obama's handling of the economy. Sure, unemployment has been halved from 10 percent in 2009 to 5 percent today. But that's mainly because so many people have gotten so discouraged that they've just given up looking for work. Factor that in and real joblessness is a lot higher -- 20 percent plus, according to an estimate by Republican presidential contender Donald Trump.
Don't look now, but over the last six months the narrative in the jobs market has changed for the better -- for Obama and for ordinary Americans. Encouraged by improving employment prospects, more than two million people have flooded into the work force since September, the biggest six-month gain in records going back to 1990, using data adjusted for changes in population estimates. And unemployment has continued to fall, though admittedly by a smidgen, from 5.1 percent.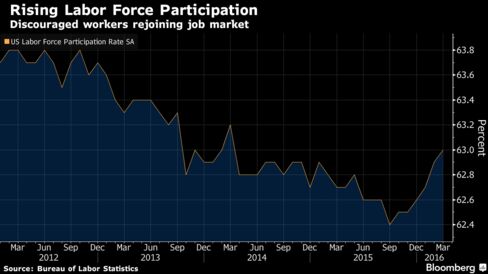 The big question is whether that happy combination can continue. Mary Daly, a senior vice president and job-market expert at the Federal Reserve Bank of San Francisco, thinks it can. She sees the labor force participation rate -- the share of working-age Americans who are employed or looking for work -- rising further as unemployment sinks to about 4.5 percent by the end of 2016.
"As the economy continues to grow and good jobs growth continues, you'll see workers being drawn back in" to the labor force, Daly said. "That could persist all the way through the end of this year and into early next year."
Holding Steady
Some other economists are less optimistic. Michael Feroli, chief U.S. economist for JPMorgan Chase & Co. in New York, sees the participation rate holding at about 63 percent through the end of this year as joblessness falls another half percentage point.
How it pans out is not only of interest to politicians on the hustings. It's also a critical consideration for Fed Chair Janet Yellen and her colleagues as they plot interest rate strategy. If more Americans can be persuaded to rejoin the labor force, the central bank can afford to keep rates super-low without having to worry about a tight jobs market triggering a damaging wage-price spiral.
Those on the right of the political spectrum aren't the only ones flagging the drop in participation. Elise Gould, a senior economist at the Washington-based Economic Policy Institute, which advocates for workers, has said the Fed should be patient in raising rates because wage growth remains too tepid, signaling there is still plenty of labor-market slack.
Four-Decade Low
Even if participation just stays steady, that would be an improvement from recent experience, which saw the rate fall from 66.2 percent in 2008 to a four-decade low 62.4 percent last September, engendering the Republican criticism of Obama.
Much of that decline was due to the retirement of baby boomers, a development that is continuing but one whose impact has been temporarily offset by the return of previously discouraged workers. (Many economists reckon that structural forces, principally the aging population, will tend to lower the participation rate by 0.2 percentage point to 0.3 percentage point per year, all else equal.)
Daly said it's no surprise that Americans are becoming more optimistic about the job market. Unemployment is near an eight-year low and is around the level that many economists believe is equivalent to full employment.
"People see job ads posted on the web, they see help-wanted signs in their neighborhood and that incents them to go out and look for work," Daly said.
Prime Working Age
Many of those entering the workforce are 25 to 54 years old -- what economists call the prime working age. And the pickup in that group has been mostly limited to the better-educated, according to research by economists Jose Mustre-del-Rio, Michael Redmond and William Xu of the Kansas City Fed.
What's not clear is how many more Americans can be coaxed into resuming the job hunt. The number of people who say they want a job but haven't actively sought one has fallen to 5.7 million from a 2012 high of more than 7 million. But that's still about one million more than the average of the 2001 to 2007 economic expansion.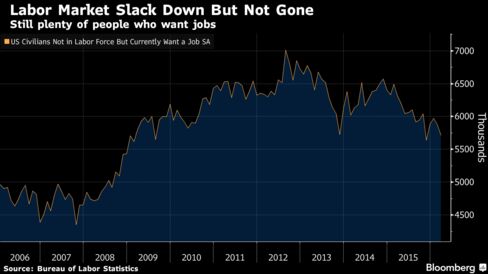 In trying to ascertain how much slack there is in the labor market, Fed policy makers shouldn't just limit themselves to looking at those people who say they want a job, said Andrew Levin, a professor of economics at Dartmouth College. The experience of the late 1990's shows Americans who don't profess a desire to work can be induced to take a job if the labor market is tight enough, he said.
Levin, who served as a special adviser to former Fed Chairman Ben S. Bernanke and then-Vice Chair Yellen from 2010 to 2012, reckoned there's at least a percentage point of remaining slack, including the labor force participation gap and people working part-time who haven't been able to find a full-time job.
Yellen herself suggested last month that there might still be some room to draw more Americans back into the workforce.
"We have seen some decline in what I would call the cyclical component of labor force participation, but it might be that there remains some cyclical depression, people who have become discouraged, who could be brought into the labor market," she told the Economic Club of New York on March 29.
Still, she said the Fed was "close" to reaching its goal of achieving the maximum amount of employment that's economically feasible.
Tell that to real estate developer Trump. In a recent interview with the Washington Post, he said unemployment is probably "into the 20s if you look at the real number."
That's a stretch. Even in the highly unlikely event that labor force participation was back at its pre-recession level, joblessness would still be nowhere near the levels seen by Trump.
Before it's here, it's on the Bloomberg Terminal.
LEARN MORE