Inside Pitch
Fox Sports Looks to Bring Political Ads to Baseball Games
The presidential candidates may soon be approving of this message.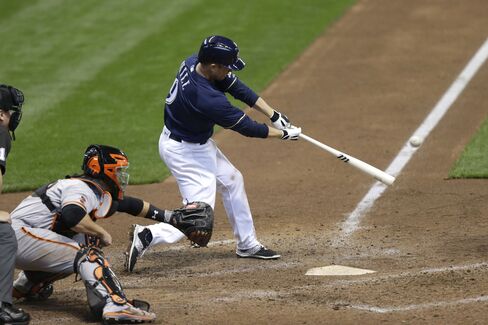 Derek Jeter's final home game as a New York Yankee drew a record audience on the team's YES Network in 2014, surprising no one. But Stephen Ullman, who oversees political ad sales for YES Network majority owner Fox Sports, was puzzled about why there was so little campaign advertising during the breaks, just a few weeks before a gubernatorial election in New York. Conversations with people overseeing ad buys for Governor Andrew Cuomo's reelection campaign, which ran a spot during the Jeter game, offered an insight: Campaigns often don't think of local or regional sports channels such as YES Network when they buy airtime. Many advisers "sort of live by the old dogma, which is that you've got to start every political buy with buying in the news," says Jeff Link, chief executive officer of Analytics Media Group, which advised the Cuomo campaign.
Ullman and Fox Sports are looking to change that. Baseball's season peaks in late October, just before the presidential election, but with primaries still to be contested in major states including New York, which votes April 19, the company sees a chance to gain a bigger share of the estimated $4.4 billion candidates and super-PACs will spend on TV advertising this election. "Most home team games are the No. 1 prime-time program," says Ullman. "Everybody—mothers, fathers, daughters, grandparents—is watching."
Fox Sports, a subsidiary of 21st Century Fox, sells ads for a group of about 40 regional sports channels across the U.S. After 2014, Fox Sports commissioned Link's Analytics Media Group, which grew out of the 2012 Obama campaign, and Republican-affiliated Deep Root Analytics to study viewing habits. Advertisers already like sports broadcasts, which people watch live without skipping ads. The researchers found that viewers of local sports tend to be undecided voters—exactly the people campaigns most want to reach. They're 2.5 times more likely to trust candidates whose ads they see during games, almost twice as likely to remember them, and twice as likely as people who watch local news to vote for them. "It's an untapped resource," says Brent McGoldrick, Deep Root's CEO. "TV media buyers tend to buy what they know, so they literally don't have the data or they don't really know the people to contact to buy on these programs."
Just as analytics changed modern baseball, the data-driven approach to political ad buying pioneered by President Obama's 2012 campaign has pushed candidates and outside groups such as super-PACs to look at buying airtime beyond local news and syndicated broadcasts. On April 4, the day before Wisconsin's primary, the Fox Sports Wisconsin broadcast of the Milwaukee Brewers' opening game against the San Francisco Giants was peppered with ads for Ted Cruz and Bernie Sanders. (The Brewers lost; Cruz and Sanders won.)
Local broadcast stations captured 85 percent of ads during the 2012 general election, but according to Kantar Media, that's shrunk to 70 percent so far this cycle as campaigns have increased spending on local cable and satellite, which allows buyers to target viewers in specific ZIP codes rather than blanketing entire cities. Sports events "budgets are getting much tighter right now for all of the campaigns and the PACs," says Mark Lieberman, CEO of Viamedia, which sells ad time on local cable networks. "It's really forcing the campaigns and the PACs to spend on a much smarter basis."
Before it's here, it's on the Bloomberg Terminal.
LEARN MORE