Torrid Tape Imperils Alabama Governor, $800 Million Prison Plan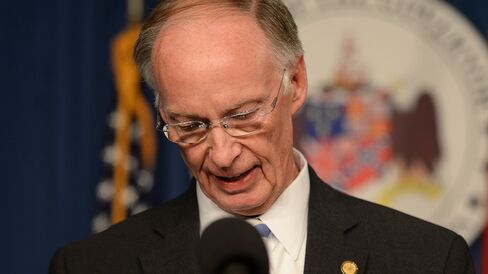 Bentley, a dermatologist and deacon, was smitten with adviser

Lawmakers try to force him out as he tries to rebuild lockups
Even before the calamitous week of March 23, Alabama's grandfatherly Republican Governor Robert Bentley wasn't a get-things-done powerhouse.
Now, with the centerpiece of his agenda -- an $800 million prison reform -- threatened by a cringeworthy scandal over a torrid taped conversation, lawmakers just want him gone. They returned from a break today bringing a bill to impeach him and another to allow a recall. Many hope he'll save them the bother.
"Ideally, the governor would resign," said Representative Will Ainsworth, a Guntersville Republican who will sponsor the recall measure. "That's the honorable thing."
Republican House member Ed Henry of Hartselle said Tuesday he is pushing for an impeachment vote by April 12. Bentley in a statement called the effort "nothing more than political grandstanding intended to grab headlines."
The scandal is the latest embarrassment for Alabama, the U.S. manufacturing base for Mercedes-Benz and Airbus Group SE. House Speaker Mike Hubbard faces trial next month on a 23-count corruption indictment. Two of the past five governors went to prison. Any impeachment trial would be overseen by Chief Justice Roy Moore, who in 2003 was himself thrown out of office for installing a granite Ten Commandments monument in the Supreme Court; he regained his seat in 2012.
Alabama has little time for distractions. The state is fourth-poorest in the U.S. and lags behind it in education, employment and income. Its archaic tax system is enshrined in its constitution, and leaves it perpetually in need of revenue. Its prisons are among the nation's most overcrowded, holding almost twice the inmates they were built for. A riot last month left a warden and a guard with stab wounds.
Bentley, a 73-year-old former dermatologist and Baptist deacon from Tuscaloosa, has said he won't resign and is soldiering on: He visited a prison and a pre-kindergarten program Monday.
"I have humbly opened myself up to the people of this state and I have asked them to forgive me," he said. "Let me continue to do the things they elected me for twice, and that's to try to make their lives better."
Private Moment
His woes began when the state's top cop, Alabama Law Enforcement Agency head Spencer Collier, held a press conference March 23, the day after Bentley fired him. Collier disclosed the governor's dalliance with his senior political adviser, a former beauty queen almost 30 years his junior.
An audio tape of Bentley sweet-talking adviser Rebekah Mason on the phone -- including kisses over a video chat and talk of putting his hands on her -- was published the same day by a columnist for the Birmingham News and by a Republican blog.
"If we're gonna do what we did the other day, we're gonna have to start locking the door," Bentley says on the recording.
Bentley held a press conference to say the relationship had been inappropriate, but not physical. Last week, Mason, who had been paid in part by a dark-money group supported by unknown donors, quit.
The hits kept coming, including revelations that Mason and Bentley shared a safe deposit box and allegations from two Best Buy clerks that the governor bought disposable "burner" mobile phones. The state auditor and a former campaign contender filed ethics complaints, including one questioning Mason's unorthodox payment. Lawmakers are pushing an investigation into whether public resources supported Bentley's crush.
Merely Moribund
Not everyone thinks Bentley should resign: Jack Williams, a Republican House member from the Birmingham area, said the governor can weather the storm, although his agenda is likely dead.
Patricia Todd, a Democratic representative from the same area, said she doubted that lawmakers would impeach Bentley, although she said he should resign.
"His credibility is shot," she said.
Bentley became governor almost by accident in 2011. A low-profile legislator, he was the only Republican standing after better-known candidates destroyed each other in a primary. Bentley wore his religion on his sleeve. He said after his inauguration that those who didn't accept Christ as a personal savior were neither his sisters nor brothers.
He spent his first term eclipsed by the Republican-led legislature, which enacted the toughest anti-illegal-immigrant law in the U.S. Lawmakers also stymied Bentley's efforts to keep the state's most populous county out of bankruptcy.
In his second term, he bucked orthodoxy. He pushed higher taxes, vetoed budgets that didn't include them and called special sessions to get them -- including one where lawmakers showed up and promptly adjourned. He won some increases, although not as much as he said Alabama needed.
In a state where every county went for Donald Trump, he endorsed Ohio Governor John Kasich for president, who he said exemplified the kind of courage needed in office.
Bentley still played to his party's base: Alabama spent more than $50,000 in legal fees unsuccessfully defending his termination of a $2,500 annual contract with Planned Parenthood last year, according to the Birmingham News. He was the first governor to announce a ban on Syrian refugees after the Paris attacks, despite having no legal authority to do so.
Bentley began this legislative session determined to sell bonds to replace most prisons, where, he said, "kitchens are falling out, the floors are falling out."
In addition to a March 11 riot at Holman Correctional Facility, inmates rioted at St. Clair Correctional Facility last year. Three other men's prisons face allegations of sexual abuse and violence, and the state settled a lawsuit with the U.S. Justice Department over abuse at a women's prison.
The state Senate delayed a vote on the prison proposal and bonds March 23, the same day the tape of Bentley's telephonic indiscretions leaked out.
Uneasy Listening
Rumors of an affair began after Bentley's wife of 50 years filed for divorce in August. Collier, the former law-enforcement chief, told reporters he learned of a relationship in 2014, after a bodyguard saw a provocative text and the governor's security head played Collier the recording that became public last week.
Collier said he cautioned Bentley not to use public funds or property to facilitate an affair but let it drop until the day after he was fired.
Bentley's version is that Collier was dismissed for possible misappropriation of funds. Collier says he was let go in retaliation for signing an affidavit favorable to a prosecutor in Speaker Hubbard's coming criminal trial. In his press conference, he said Bentley asked him to lie.
Collier said Mason, the "de facto governor," dressed him down for disobedience and that Bentley put him on medical leave and then fired him.
The governor said Monday that he considered the matter settled.
"This has been addressed a long time ago," he told reporters outside Limestone Correctional Facility. "It's all been clarified, it's all been addressed. I have put it in the rear-view mirror.
"Others have not, because it's obviously been brought out now."
Before it's here, it's on the Bloomberg Terminal.
LEARN MORE