Kasich Plots Delegate Strategy With 2012 Takeover in Mind
The Ohio governor is drawing on his success in reshaping his state's Republican Party to inform his strategy for winning the presidential nomination.
The Ohio Republican Party was riding high in 2012, two years after John Kasich was elected governor and Republicans won all other statewide offices. But Kasich wanted a state party and chairman who were more helpful to him.
So the new governor's team staged a campaign that targeted state central committee members, testing which ones were allies, and lining up candidates to run against them them, if necessary, to successfully take control of the party and elect a new chairman. Kasich thinks that intra-party battle experience will help him win over enough delegates to beat Donald Trump and Ted Cruz for the presidential nomination if Republicans have a contested convention in July in Cleveland.
"The skills and strategies are the same," Kasich spokeswoman Emmalee Kalmbach said. "Unlike Trump, who has never run a campaign before, and unlike Cruz, who's still a political novice, the Kasich team is battle-tested and knows how to run the kind of effort it takes to win the delegate contest on the convention floor."
Kasich, who is a distant third in delegates after winning only his home state so far, can't garner the 1,237 delegates needed for the Republican nomination in the remaining state contests. So his strategy is to stay in the race, help keep Trump or Cruz from hitting that number, and collect enough delegates to have some momentum heading into the convention.
The former congressman and two-term governor is making the case that he's best to be commander-in-chief and that only he can defeat expected Democratic nominee, Hillary Clinton, in a general election, citing surveys including a Quinnipiac University poll released on March 23 showing Clinton beating both Trump and Cruz and losing to him.
Kasich also has stepped up his criticism of Trump and recent comments about potentially using nuclear weapons and punishing women who receive abortions, saying the billionaire real estate mogul is unfit to be president. He's also criticized Cruz's tax plan and call for patrolling Muslim neighborhoods after the terrorist attacks in Brussels.
Delegate Wrangling
"The delegates really take this very seriously," Kasich said during a news conference in New York City on Thursday. "They begin to realize they are making a choice that can affect the United States of America and frankly the entire world."
Kalmbach said the Kasich campaign has dozens of staff members and volunteers dedicated to the delegate-wrangling process, including longtime Republican strategists Stu Spencer and Charlie Black. They both participated in the 1976 Republican convention, when Ronald Reagan unsuccessfully challenged President Gerald Ford for the nomination.
Many of the same staff members who helped in the 2012 campaign to take control of the state party are also involved, Kalmbach said. In that fight, Kasich allies identified which members of the 66-member party committee were aligned with the governor or could be persuaded to back him, and they ran loyalists against those who weren't.
In some cases, the Kasich team had multiple people talk to committee members to gauge whether their answers were consistent to test whether those who said they backed the governor were being honest.
After the election of committee members, Chairman Kevin DeWine, who had fought to keep his post, resigned when it became clear that the body was aligned with Kasich. The fight was so nasty that there were allegations of political arm-twisting by the losing side that were never substantiated.
While the presidential nomination involves 2,472 delegates and not 66 committee members, the process of gaining majority support is similar, the Kasich campaign said. In states where delegates were named before primaries or caucuses, the task is to identify who is loyal to Kasich and who could be persuaded to switch allegiances.
In states where delegates are selected at local conventions or other meetings after primaries and caucuses according to how the state voted, the key is to identify party regulars who can get named and would back Kasich.
Trump's Position
Trump has been saying he should be the nominee if he's the clear leader in delegates, and that choosing someone else as the party's standard-bearer would disenfranchise the millions of people who voted for him in the 20 states has had already won.
The billionaire has named Republican strategist Paul Manafort, who worked on conventions for presidents Ford, Reagan, and George H.W. Bush and 1996 nominee Bob Dole, as his campaign's convention manager.
"Paul Manafort, and the team I am building, bring the needed skill sets to ensure that the will of the Republican voters, not the Washington political establishment, determines who will be the nominee for the Republican Party," Trump said in a statement on March 29.
Cruz has touted his superior campaign organization and showed how effective it can be by being in a position to gain more delegates in Louisiana, despite the fact Trump carried the state, according to the Associated Press.
While most delegates will be pledged to a specific candidate at the convention in Cleveland, they will be free after the initial rounds of voting to back anyone they wish. Kasich often points out that in the 10 previous Republican conventions that were contested, the leading candidate going in was nominated only three times.
Kasich can win if there are multiple ballots at the convention because delegates bound to Trump will be mostly party regulars and elected officials who aren't likely to remain loyal once they are released, Black said. While some will go to Cruz, more will opt for Kasich, he said.
Black worked for Reagan in 1976 when he tried to beat Ford for the nomination, driving throughout the Midwest and the Northeast before the convention to meet with delegates. One of the field staff members helping him that year was a 22-year-old Kasich, he said.
The key is to reach out and "make friends with every delegate" and never give up wooing them until they flat-out refuse to back Kasich, Black added. He recalled Ford's campaign offering rides on Air Force One and visits to the White House to win over uncommitted delegates in 1976.
"The advantage he'll have is he'll work hard, have more personal contact with a lot of these people, but also it's the winnability, it's the electability argument," Black said. "Trump's going backwards in terms of his general election electability."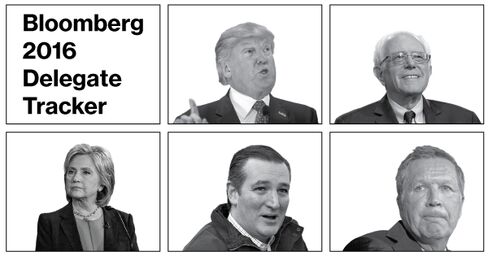 Before it's here, it's on the Bloomberg Terminal.
LEARN MORE