Christie Says Atlantic City's $100,000-Plus Workers Show Excess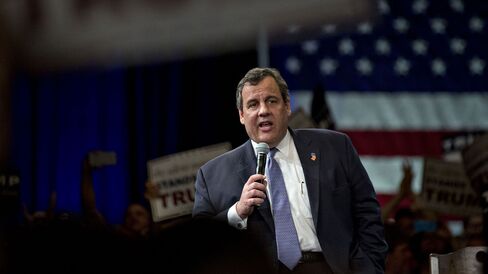 Governor urges Assembly speaker to move takeover legislation

Resort town's workers have `overly generous' benefits, he says
Governor Chris Christie said Atlantic City's finances are awash with extravagances -- including 119 municipal employees who make more than $100,000 a year and a "Lamborghini-level" health-benefits plan -- that he can't cut without a takeover bill stalled in the New Jersey Assembly.
Christie, a second-term Republican, urged Assembly Speaker Vincent Prieto to put up for votes next week bills that would provide a cash infusion to the struggling gambling hub and give the state control over its operations. The speaker, a Secaucus Democrat, opposes a provision that would let the administration change or end collective-bargaining agreements with unions.
Prieto has asserted that the governor has the power to fix Atlantic City's finances even without takeover legislation. Christie disagrees. He says the state lacks full authority to end the awarding of retirement pay, outsource waste-hauling services or eliminate the "wildly expensive and overly generous" health plan.
Christie, during a news conference at his statehouse office, broke out charts to illustrate Atlantic City's troubles. The city, he said, paid $6.6 million to retiring employees last year, including $320,000 to the deputy fire chief and deputy chief of police. Salaries of part-time council members total $300,000, he said. Most workers have a health-benefits plan "that's so rich that even this state government eliminated it nearly 20 years ago," the governor said.
The legislation would empower the state to negotiate union contracts more affordable for the city, he said. Workers have to be willing to compromise, just like casinos that are owed property-tax refunds and bondholders invested in Atlantic City, he said.
Patrick Colligan, president of the state Policemen's Benevolent Association union, was unimpressed. He said in a statement that a resolution would already have been reached "if Governor Christie would devote even a third of the time he is spending these days behind a microphone, at a game, on television or, apparently, drawing up charts."
Mayor Don Guardian warned last week that without assistance, the city would run out of money in April until tax collections trickle in during May. City workers Thursday were voting on a plan to avoid a government shutdown by extending their pay periods.
After five years of piecemeal efforts to fix Atlantic City, Christie and state lawmakers proposed more drastic measures, including a takeover. Another proposal, to end the city's gambling monopoly and allow casinos in the northern part of the state, passed the legislature this month and will go before voters in November.
Christie, who has supported the casino expansion measure, said he will oppose it if the Atlantic City takeover bill doesn't reach his desk. The governor predicted that voters would reject the expansion if "we don't get our act together" and fix Atlantic City's finances.
"I will campaign across the state against the referendum" if the bills aren't passed, he told reporters Thursday.
Before it's here, it's on the Bloomberg Terminal.
LEARN MORE