Brussels Attack Raises Urgency of Nuclear Security, Obama Says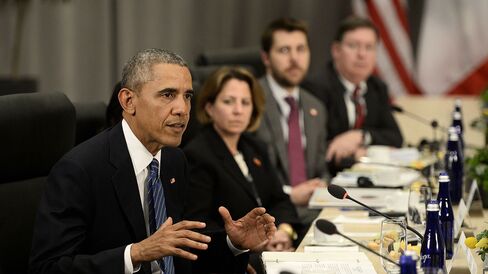 U.S. and French presidents discuss terrorism in Washington

Francois Hollande is attending Nuclear Security Summit
President Barack Obama said that the terrorist attacks in Brussels this month increased the urgency to secure materials that could be used for nuclear or radiological weapons after meeting with French President Francois Hollande on the first day of a summit in Washington.
"This is obviously an occasion in which we are deeply concerned about nuclear security," Obama said after the meeting.
He said that Islamic State, which has claimed responsibility for the bombings in Brussels on March 22 that killed 31 people, must be put "back on their heels" as it loses territory in Iraq and Syria.
Hollande, whose country is battling a growing terrorist threat, is one of a handful of world leaders granted a meeting with Obama during the Nuclear Security Summit, a gathering of more than 50 nations in Washington on Thursday and Friday.
"We note Daesh is losing ground thanks to the strikes we have taken with the coalition," Hollande said, using an acronym for the militant group. Islamic State's capital of Raqqa, Syria, may soon be a target for coalition forces, he said.
Refugees from Syria's civil war and from Libya are putting "enormous strain on European unity," Obama said. The two leaders said they discussed strengthening Libya's government to stem migration from the country.
Intelligence Sharing
Investigators have discovered links between the terrorist attacks that killed at least 130 people in Paris last year and the Brussels bombings, and the White House has proposed better collaboration and intelligence sharing among European counter-terrorism officials.
Islamic State militants claimed responsibility for both attacks, and Belgian police believe one of the suicide bombers in the Brussels attack was also involved in the Paris killings.
"Our European allies could more effectively share intelligence with one another and with the United States in a way that would enhance the security of all our citizens," White House Press Secretary Josh Earnest said Wednesday. "And we continue to make that case."
Obama said after the meeting with Hollande that the French president has been a leader in efforts to improve intelligence sharing. During the summit, Obama is convening a meeting on combating Islamic State militants, who have threatened further attacks in Europe.
Obama and Hollande have some differences. Hollande has described Europe as being "at war" with Muslim extremists, while Obama has refrained from using the term "radical Islam" to describe the antagonists in the U.S. war on terrorism, for fear of alienating Muslims.
Hollande said Wednesday that he would drop planned constitutional changes that would have allowed the French government to strip convicted terrorists of citizenship. The plan faced backlash from members of Hollande's own party.
Before it's here, it's on the Bloomberg Terminal.
LEARN MORE