U.S. Says Concerns Over Asian Trade Deal Could Be Handled Later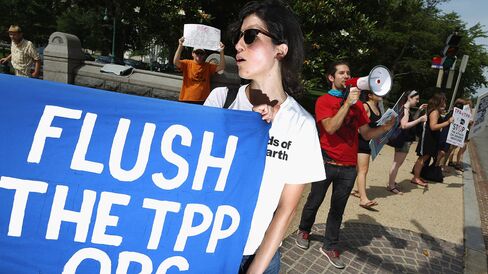 12-nation TPP pact can't be renegotiated, USTR's Froman says

Enforcement, implementation phases could address issues
The U.S. has ways to address some of the concerns surrounding the Trans-Pacific Partnership even though it can't re-open the 12-nation deal signed in February, U.S. Trade Representative Michael Froman said.
"TPP isn't something that can be renegotiated -- that doesn't mean that we can't address some of the issues that stakeholders have raised through other mechanisms, including in the implementation process, in the enforcement process, in the context of the broader trade agenda," Froman said Tuesday on a conference call with reporters.
The Obama administration still sees prospects for getting the deal through Congress this year and will move ahead "whenever the appropriate window opens up," Froman said. In the meantime, Froman said he's meeting with lawmakers and his agency is preparing draft legislation and other administrative reports.
Earlier this month, Froman said he had been "comforted by the general support" he's received from members of Congress and that the administration is looking into how to address issues that have come up. "We're working with stakeholders, whether it's in the pharmaceutical and biotechnology area or in some of the agricultural areas, or financial services where issues have come up, to see what we can do to address their concerns," he said at the German Marshall Fund's Brussels Forum.
Republican leaders have made it clear that they don't yet have enough votes to approve the trade deal, and Senate Majority Leader Mitch McConnell has said he will revisit the issue in the lame-duck session after the November election.
Participating nations in the trade talks are Australia, Brunei, Canada, Chile, Japan, Malaysia, Mexico, New Zealand, Peru, Singapore, the U.S. and Vietnam.
Before it's here, it's on the Bloomberg Terminal.
LEARN MORE