Scott Walker Endorses Ex-Rival Ted Cruz Ahead of Wisconsin Vote
His move comes as Donald Trump complains of unfair treatment by the establishment.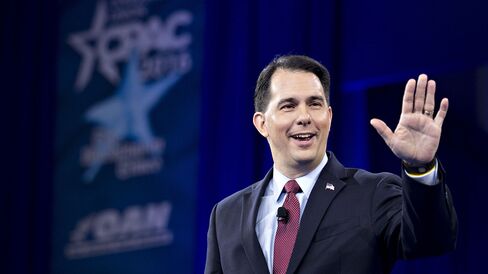 With a week to go until Wisconsin's key Republican primary, Governor Scott Walker endorsed Ted Cruz for president on Tuesday, further consolidating establishment opposition to Donald Trump.
"I just fundamentally believe that he is a constitutional conservative," Walker said of Cruz in an interview with conservative radio host Charlie Sykes, who also supports the Texas senator, on Wisconsin's WTMJ.
Walker brings Cruz popularity with many in the Republican base after his high-profile battles with unions and an unsuccessful recall attempt, though the governor has just a 39 percent job approval at home, according to a February Marquette Law School poll.
His endorsement is a blow to the third candidate left in the Republican race, Ohio Governor John Kasich, who argues he's the best candidate to run against Democrat Hillary Clinton in the fall but hasn't won enough delegates to carry the party's mantle other than through a contested convention this summer.
Walker had sought the 2016 nomination himself and was once a favorite to win Iowa, but he dropped out in September with parting shots at the billionaire front-runner.
Walker said Tuesday he was not endorsing Cruz just to stop Trump but also because he believes in the candidate, who has been consolidating anti-Trump support from various corners of the GOP. He becomes the latest former Republican presidential candidate to back Cruz, following Jeb Bush, Rick Perry, Carly Fiorina, and even Cruz Senate foe Lindsey Graham.
"Ted Cruz is in the best position by far to both win the nomination of the Republican Party and to then go on and beat Hillary Clinton," Walker said.
Wisconsin is home to several key Republican establishment figures besides Walker, most notably Republican National Committee Chairman Reince Priebus and House Speaker Paul Ryan, whose hometown Trump was scheduled to visit on Tuesday.
All three remaining Republican candidates are making multiple appearances in the state, with Trump looking to solidify his lead, Cruz hoping hoping to continue amassing support from those opposed to Trump, and Kasich needing to restart momentum with another Midwest win after capturing his home state.
Trump, who was endorsed by former rivals Chris Christie and Ben Carson, holds a narrow 1.7 percentage point lead over Cruz in a RealClearPolitics average of Wisconsin Republican primary polls.
He preempted Walker's announcement on Monday by writing to his 7.3 million Twitter followers, "After the way I beat Gov. Scott Walker (and Jeb, Rand, Marco and all others) in the Presidential Primaries, no way he would ever endorse me!"
He also flirted this week with skipping a televised CNN town hall-style event, and his campaign said he'd challenge the RNC over the possibility Cruz could end up with more Louisiana delegates despite losing that primary to Trump.
"I have millions more votes/hundreds more dels than Cruz or Kasich, and yet am not being treated properly by the Republican Party or the RNC," Trump tweeted Tuesday.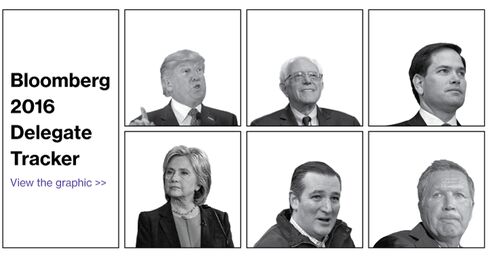 Before it's here, it's on the Bloomberg Terminal.
LEARN MORE